The desire to build, to tap into creative energy, and to contribute something lasting to the world can be strong in some people, I know I share those same feelings. Would I ever have a crack at building my own deck and constructing a large cubby house? NO! Would I ask my partner to do it? Damn straight! And that is exactly how Castle and Cubby was born.
It seems that the occasional handyperson coupled with the creative visionary make the PERFECT candidates for building and DIY'ing a cubby house for their children. I see so much of Jono and I in this family and I know exactly how much this changes your experience and that of your children. Well done guys, you nailed this and we are so happy for you family!
From our family to yours we wish you endless happy moments and memories to last a lifetime.
Kel x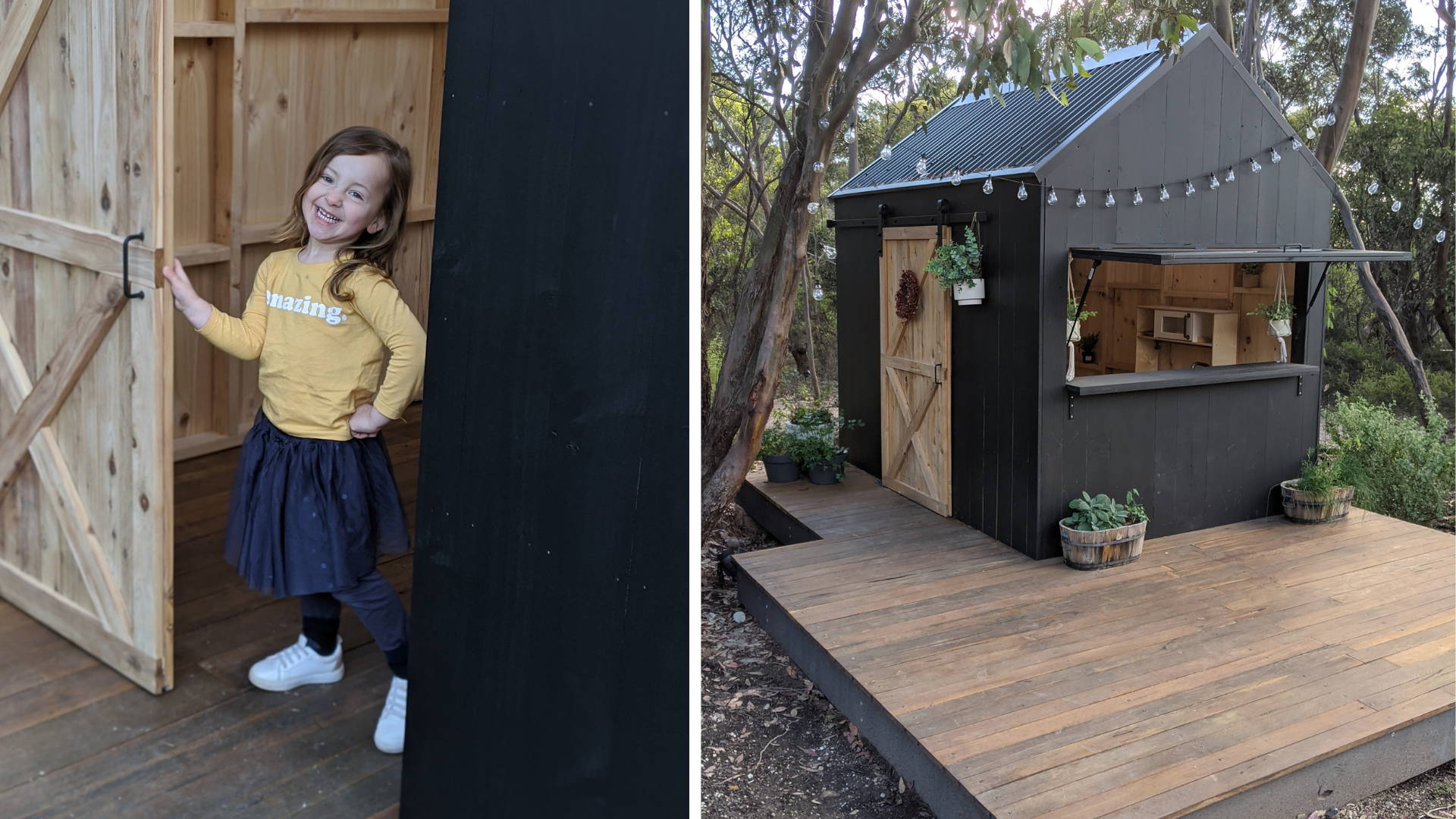 Do you have any memories of cubby houses from your own childhood? Did you have one, or did you always want one? Please share
Yes I do. My Dad wasn't really a handyman, but he knew people that were. He even knew someone that owned a rig for drilling holes to install telephone poles. So instead of having just a standard plane cubby, we ended up with a towering structure on 6 huge posts, complete with stairs, a sandpit windows and a slide. My 2 brothers and I had hours of fun in those endless summers days. It was so great. We even camped out in our cubby whenever Mum and Dad let us.
What made you decide to get a cubby house for your family? What did you hope a cubby house might add to your family? one? Please share
Truth be told, it was my wife Megan that strategically planted the idea in my head 6 months prior. It was to be a surprise 3rd birthday present for our daughter Indy, but my wife loved the design so much, (found it on her pinterest page) that sometimes I wonder if the cubby was actually for her and Indy's birthday was just a cover... lol. Either way, it's a win.
So what did I hope a cubby might add? A slice of happiness on our property was my hope. A place that could enjoy seeing my daughter play. To re-live the memories of my childhood through Indy.
To see the smile on my daughters face when we revealed it to her was absolutely priceless and I would do it all over again, even just for that moment.
I also now have an extra happy wife ;-)
Did you get the kids involved in the process of deciding and designing or was it a secret?
haha, this one was a secret.
But my wife was very involved. She was the instigator. I just made it all happen.
So you decided to DIY hey! Did you consider yourself a DIY kinda person beforehand, did you have any experience in DIY going into it?
haha. Well when your wife asks you if you can build a cubby for our daughter... I guess, like any man would, you just say 'yes, of course' (then you just figure it out)....
I've never built a cubby before, or anything serious but I have learned a thing or 2 since moving out of metro and onto a 5 acre property. It's been inspiring and I've been surprised how much fun it has been just creating things and just building stuff.

Tell us about how you found the DIY process and whether you had some big, or little, helpers along the way.  
My wife will tell you that I love a challenge and it was no different with this cubby project.
When we worked out where the cubby was going to go, I had the challenge of building a base for it on sloping land. The difficult part was measuring the area and getting the levels right. We had plenty of timber lying around, so the prep work was challenging and enjoyable.
Building the cubby was great. Even though all the lengths and panels were cut and joined, there was still plenty of work to paint, assemble, fix to the base and then bring together the finishing touches..
Enjoyed every moment spent on this.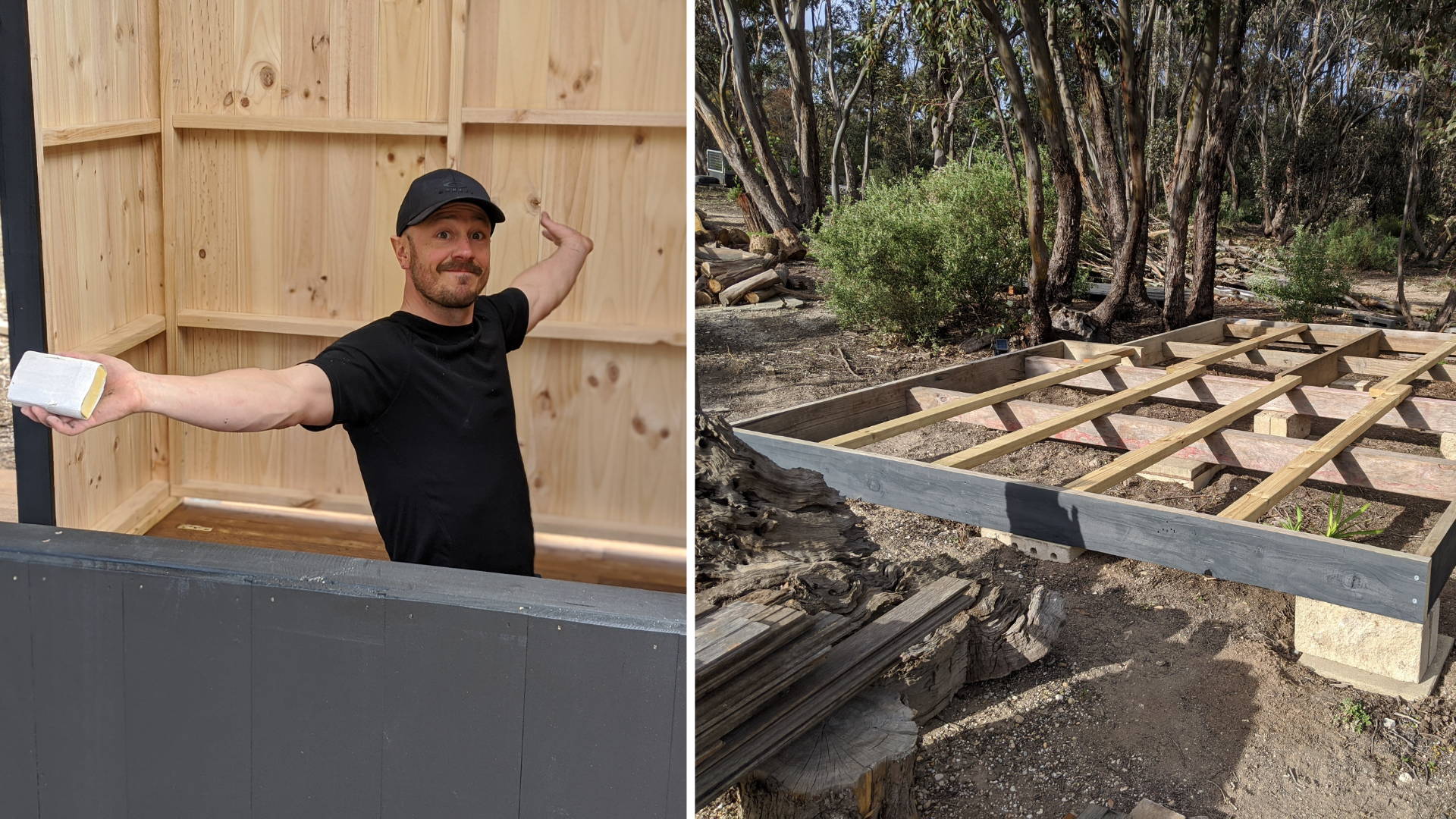 Have you styled it up, painted and decorated? Did you enjoy this experience?
Sure have. Painted it a low sheen stylish black all around. So far we've added some greenery and hanging plants and some pot plants around and most recently a string of solar powered festoon lights.
We're still going to add some pictures, book stands and a few family photos and then a rustic picnic table and mud kitchen out the front. We've also got plans to enhance the nearby fire place with some stone benches, bluestone around the fire pit and some more native plants to keep it all natural, cosy and low maintenance.
Styling has been thoroughly enjoyable, especially for my wife.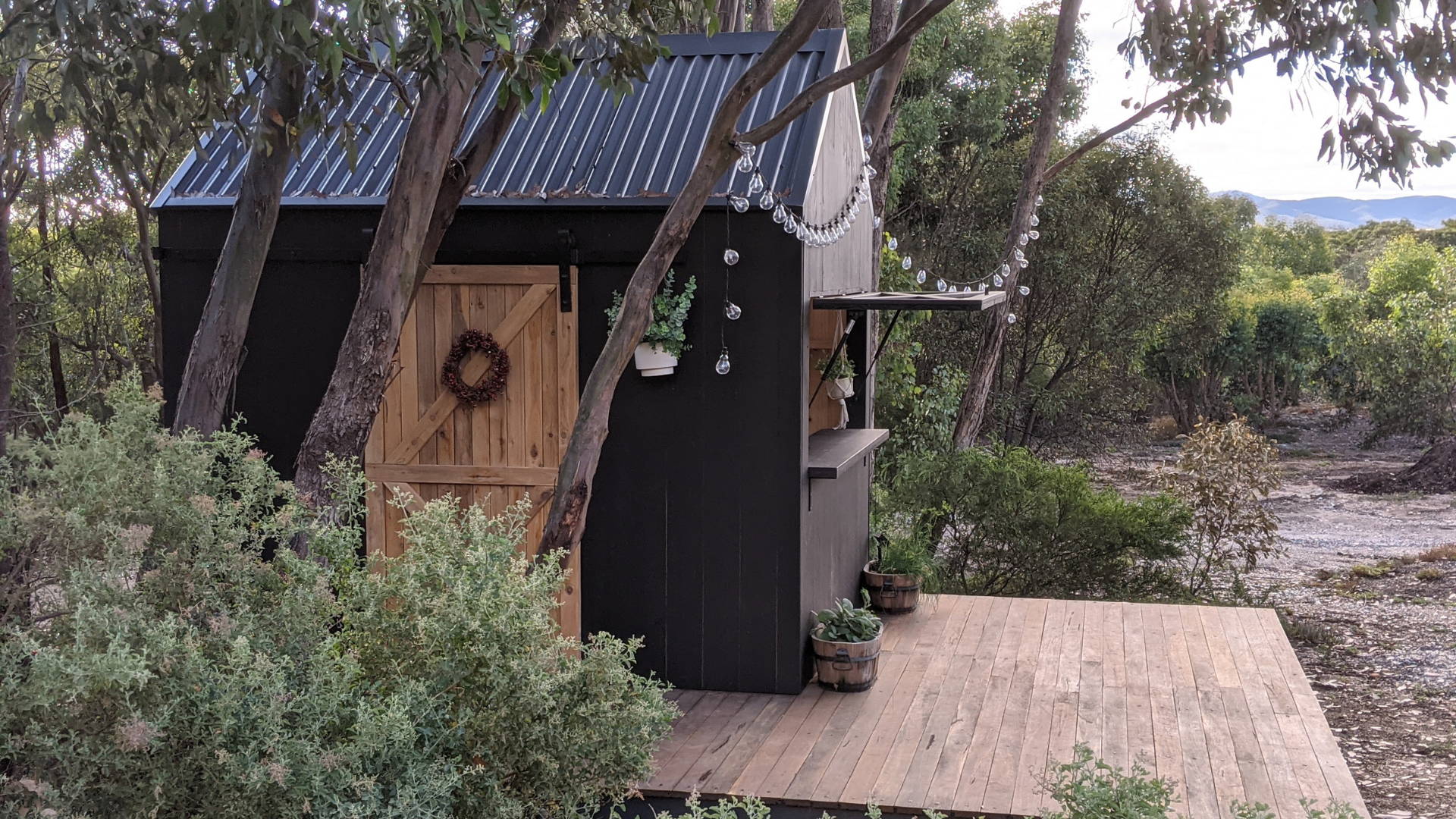 How did the kids react to the unveiling of the finished product?
"Oh wow. I can't put this into words... Indy was elated. The photo of her hugging me when we unveiled the cubby says it all"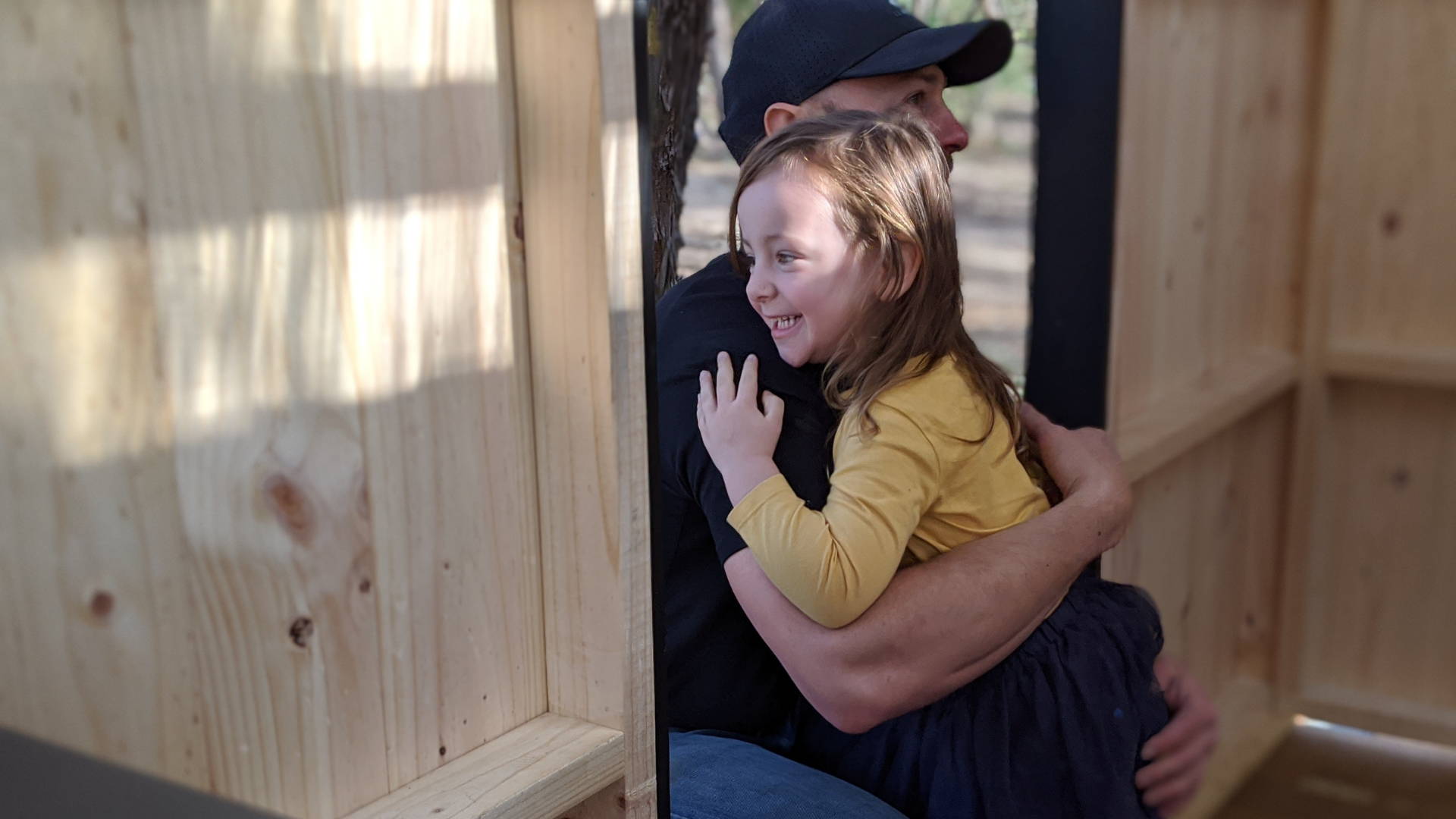 How are the kids using the space?
So, they've basically made it their own house. It literally get's used almost everyday. Indy calls it her bush cafe... it's so great. When her cousins come round they're all over there making soup, cooking for us and even providing the adults pretend drinks through the servery. They just love it, and so do we!
Has there been any unexpected outcomes?
Ok, this is random, but we recently had some friends come over and one of them dressed up a a dinosaur (yes an inflatable blue dinosaur suit) and was chasing the kids in and around the cubby for hours.
This was honestly more entertaining for the onlooking adults than it was for the kids.
(I'll send you photos of this)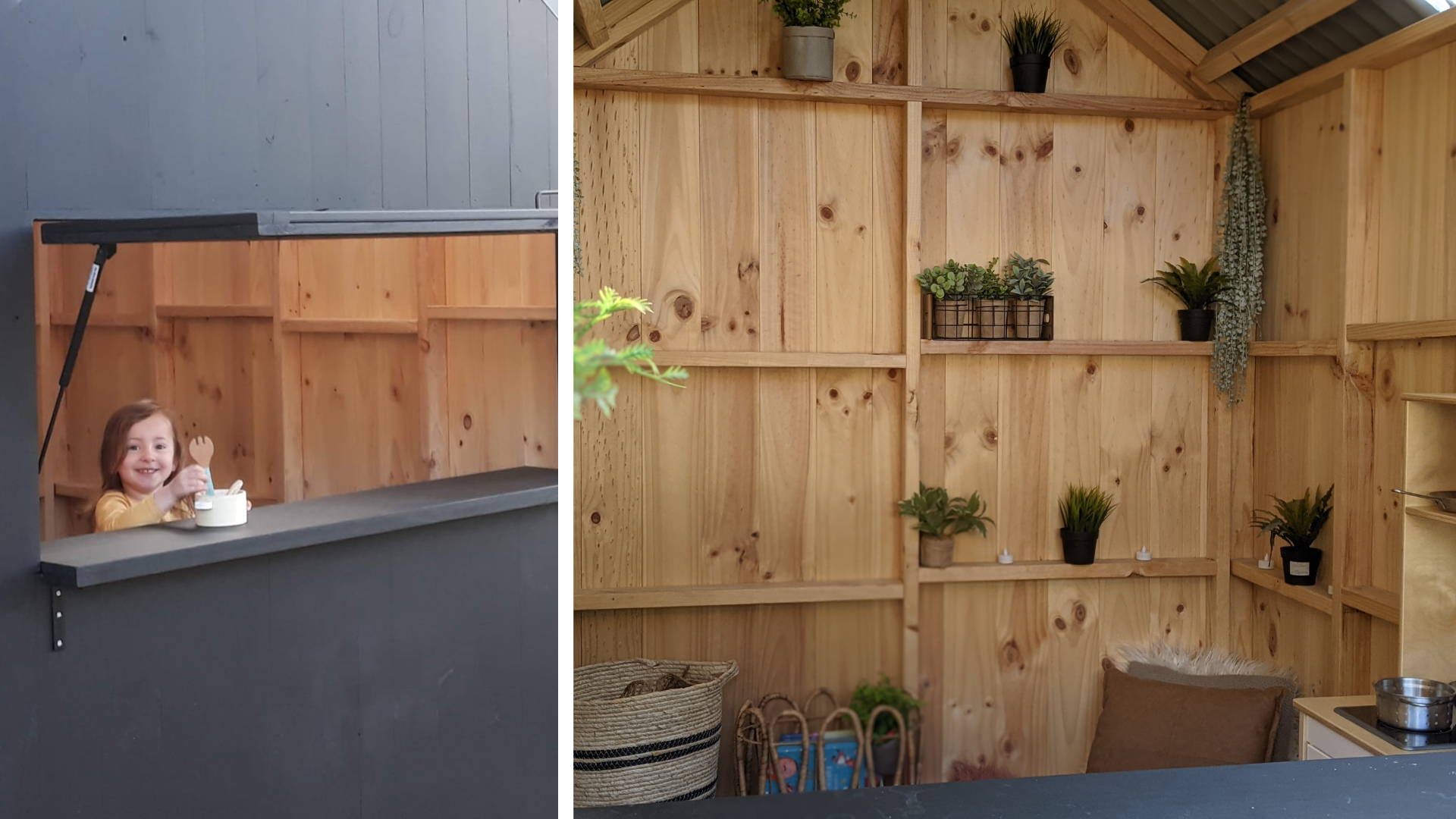 What has been your favourite conversations you have overhead the kids having in their new space?
It wasn't a conversation, but one night we had some friends over, talking and enjoying a wine by the fire, then next thing all of our kids pop out from inside the cubby and proceed to force us all to watch their meticulously planned theatre show. The cubby was their change-room and the deck was the stage for the performance. It was hilarious and a memory we will always have.
What have your visitors been saying about the new play space?
"This is soooooo great, the kids just love it."
"When did you get this?"
"How do I get one of these for my kids?"
"Very stylish guys"
"You could sleep in there"
"Hey, you should turn this into a bar"
What do you hope you and your kids will remember from their cubby days?
We already know that the memories we've created in just a few short months will be with our kids (and us) forever.
We really have been inspired to give our kids (Indy 3, Jaxon 1) a wonderful, tangible experience that they can cherish forever.
Just as I have fond memories of the cubby house that Dad had build when I was a kids, I wanted my kids to experience nothing less.
Meg and I hope Indy (and Jax) pass on and extend the same joy to their own kids one day. We believe it will be at that point that they truely appreciate the joy of parenting and memories through a generation.
If you could sum it all up for us in one statement?
It's hard to put a price on those precious moments when your kids are just pure joy, loving life and living the way they should - the way we remember.
If you want more of those moments with your kids (and less of the alternative), then don't hesitate. Invest in a new Cubby from Castle and Cubby and enjoy watching your kids do life better. It's worth every cent.