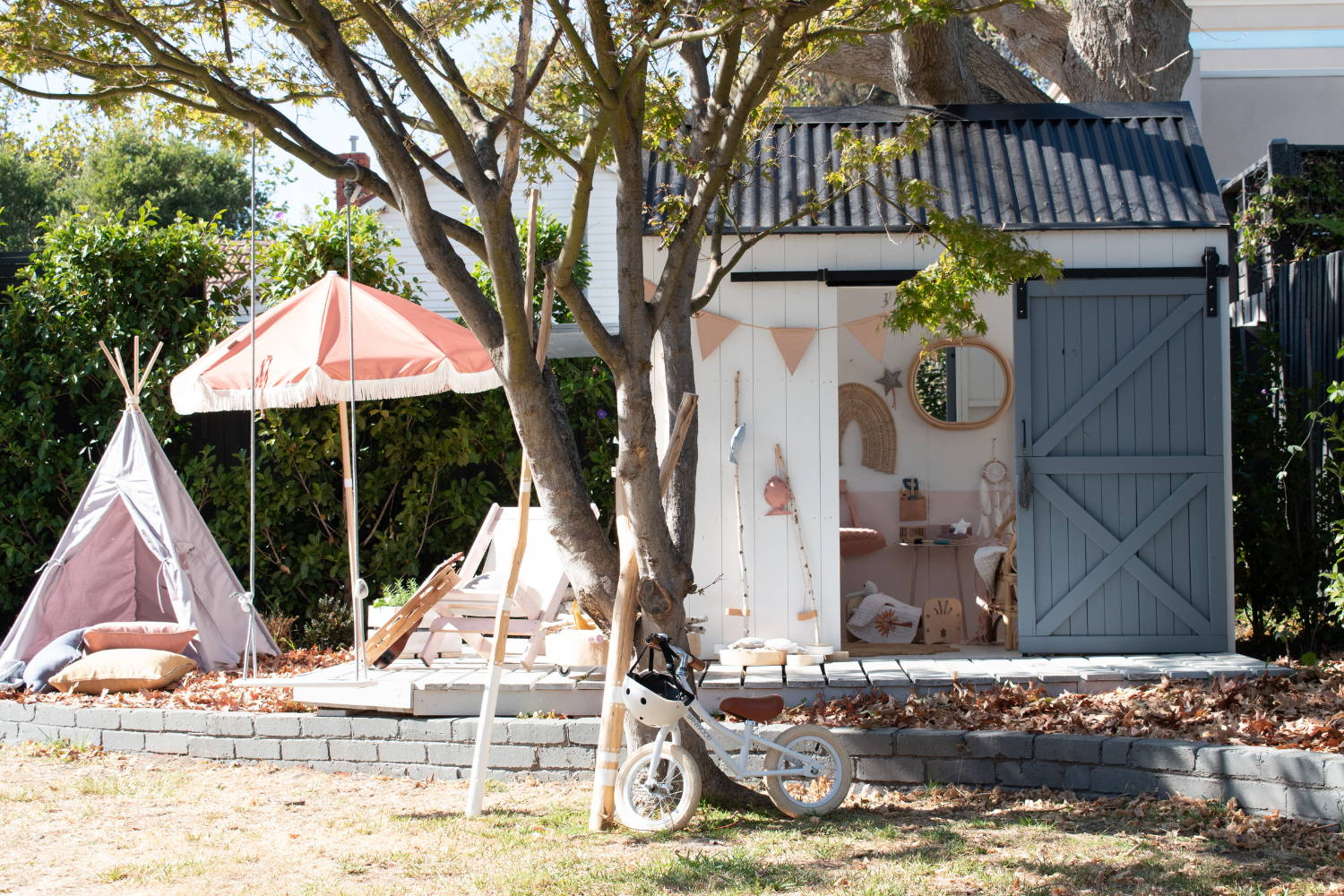 Norsu is a Melbourne based homewares and interior design firm who's wares and distinct style have been seen across a raft of design blogs, magazines and TV shows.  
Nat Wheeler, owner and director of norsu brought Scandinavian design to the fore in Australia, back when 'scandi' was the style du jour. Since then the norsu team have continued to craft this style to suit Australian tastes always maintaining the distinct aesthetic of natural and pastel palettes.
We were so excited when Nat wanted to style up our normally black barn cubby house for her own home and make it distinctly norsu! We delivered a raw barn to her home and with her team of painters and gorgeous wares form some of her supplier she set about creating a Scandinavian Woodland Cubby House retreat.
We have interviewed Nat about the norsu style, design tips for your home and lots more below. We have also added an Ester Gift with Purchase code below. Get a free internal kitchen with your cubby house purchase before Easter.
Happy reading!
Kel X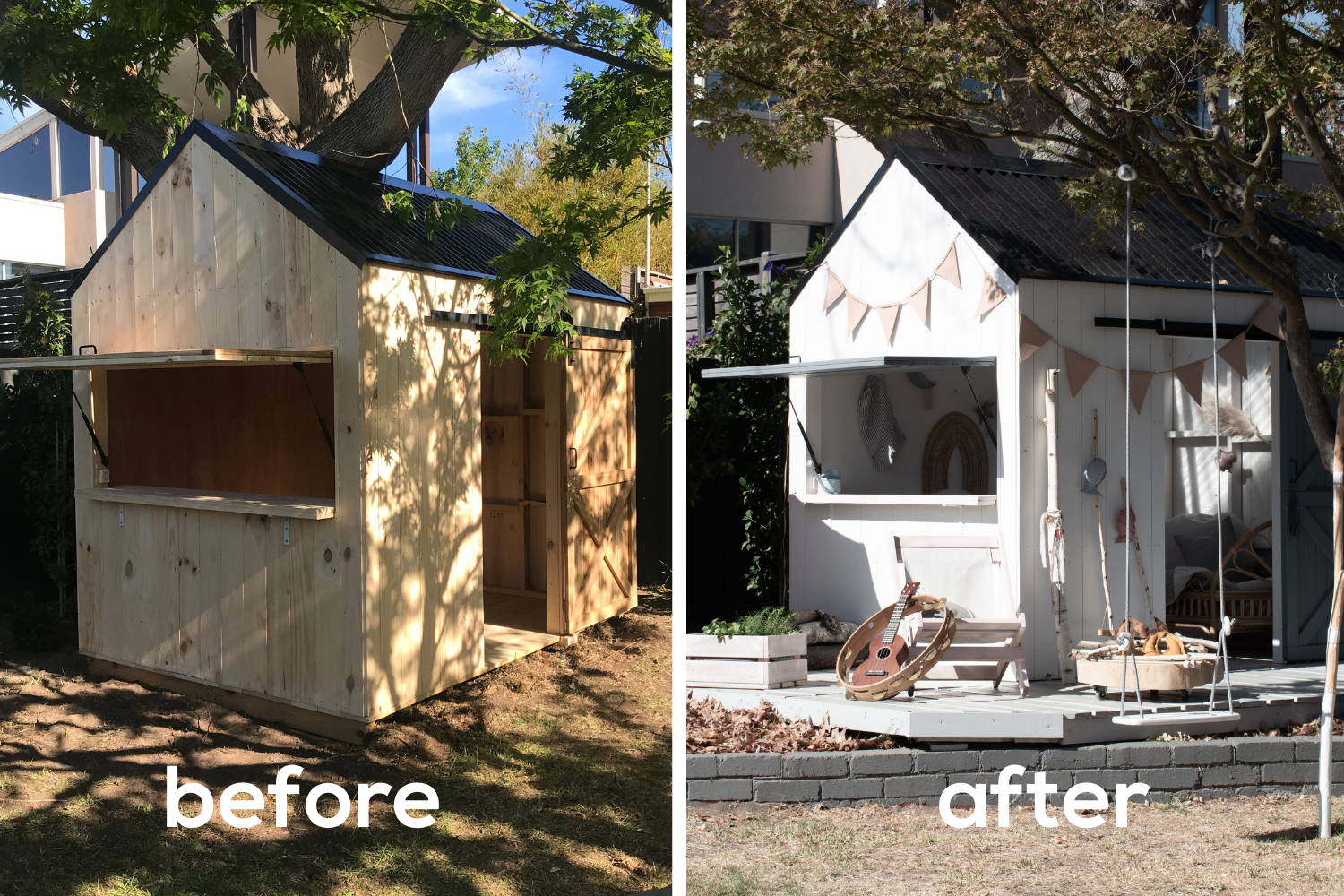 If you could describe Norsu in 3 words, what would they be? If you could describe your new cubby in 3 words, what would they be?
I'm breaking the rules in the first and giving you four!
Love where you live.
Love where you play.
What is Scandinavian design? What are the key features you use in your own styling?
Scandinavian design is all about minimalism, clean lines, simplicity, it's light and bright, and is traditionally very monochromatic. At norsu we love to merge this will our unwavering obsession of pastel tones.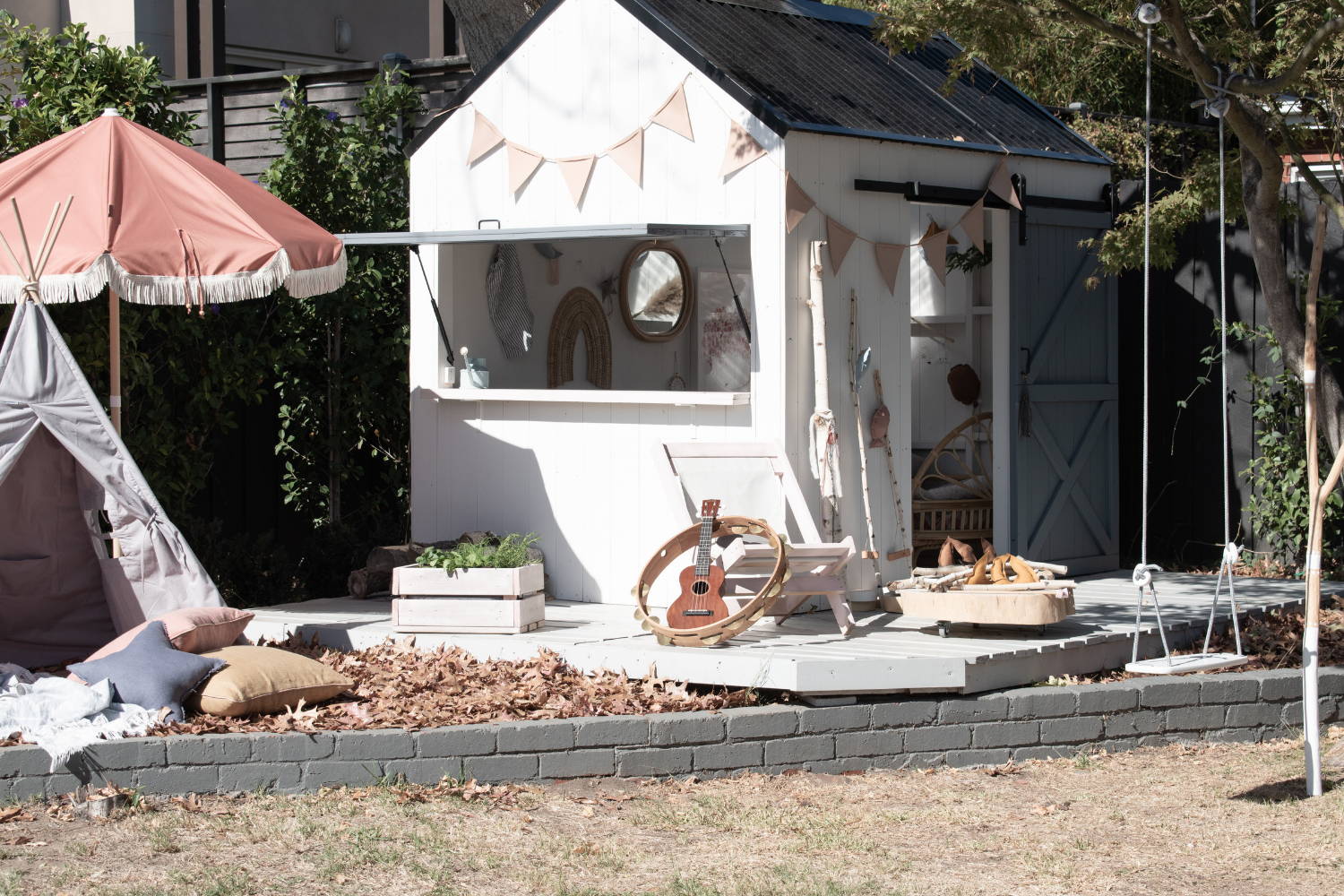 What are your top tips for anyone wanting to experiment with Scandinavian design in their home?
Think light and bright. Add natural materials such as oak and leather. Select soft furnishings in delicious pastel tones. Use textured natural fabrics such as luscious linens. Add layers upon layers to add warmth and cosiness. Hung art that makes your heart sing. Make your house a home. Love where you live.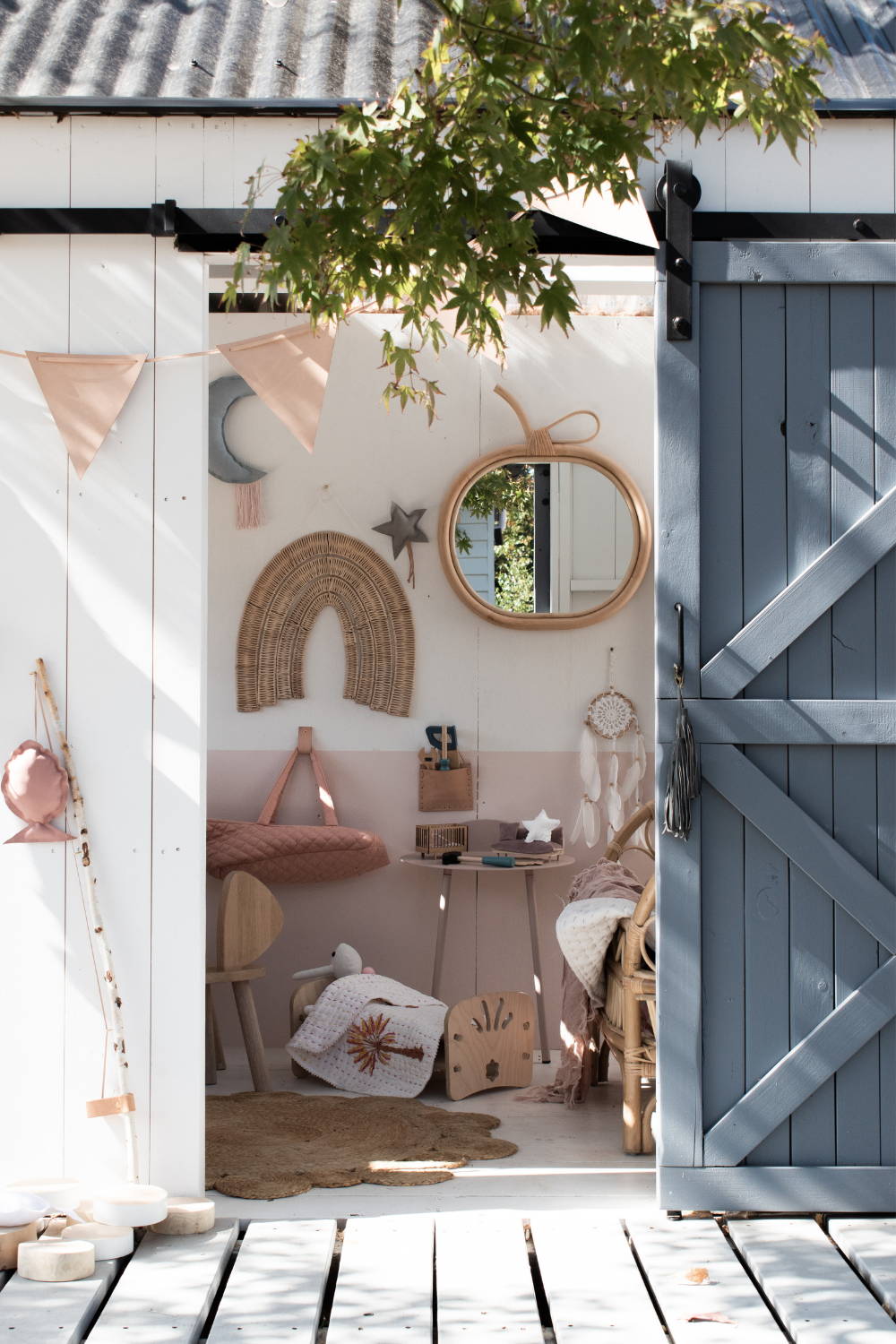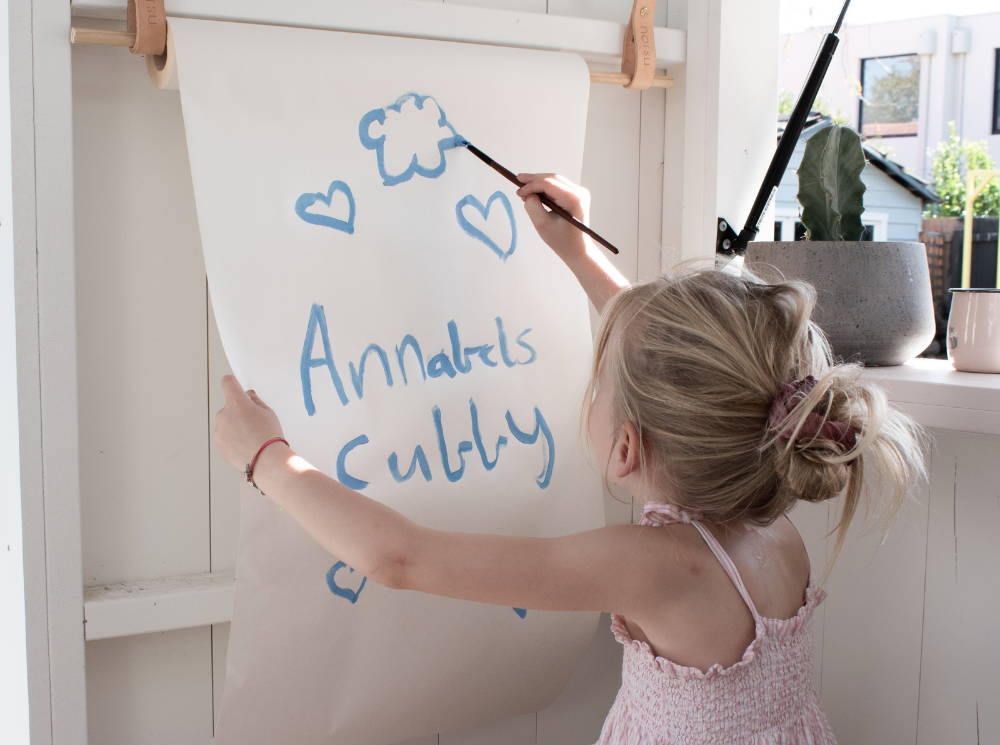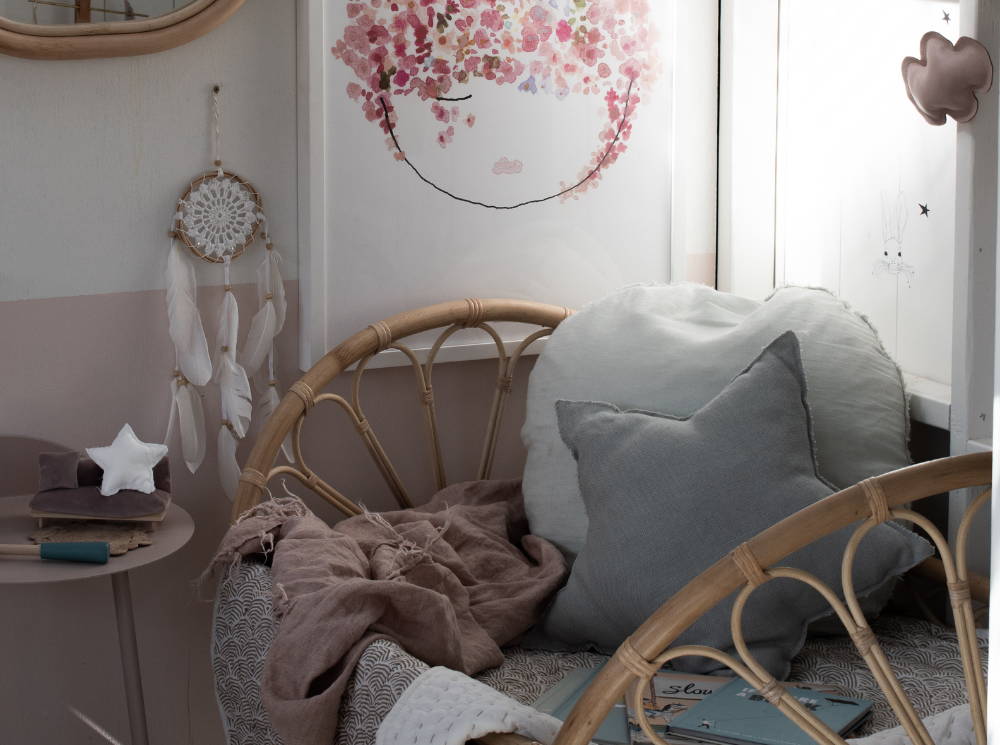 What were you most excited about when deciding to get a cubby for the kids?
Dan and I love where we live. Our home is everything to us; it's where our best moments are shared, it's where we feel the happiest, and it's our haven where we escape to after life's hectic days. For us, it was important to create this same 'feeling' for our little ones, Annabel (8) and Harvey (5). Our kids love the outdoors, spending endless hours digging holes and jumping on the trampoline. Thinking about providing them with their own little norsu HOME in their favourite space kept me awake at night with excitement!
How did you translate Scandinavian design into your cubby?
Our home is more of a modern take on Scandinavian design with materials used such as marble, brass and concrete. I've always had a love for the more rustic inspired Scandi look, so the cubby provided the perfect opportunity to get creative and explore this style. From the outset we were determined to design a little Scandi cottage, one imagined beside a peaceful lake in Nordic forest. Yes, we get a little carried away at norsu.
Do the kids share your love for Scandinavian design, and did they help with the styling of the cubby?
Our kids have grown up surrounded by interiors, in fact we first opened a shop when Harvey was four months old and he joined me behind the counter! It appears styling is in their blood. Given we were creating their slice of heaven it was an absolute negotiable that Bel and Harv were part of the styling process (with some influencing from Mum along the way, of course!).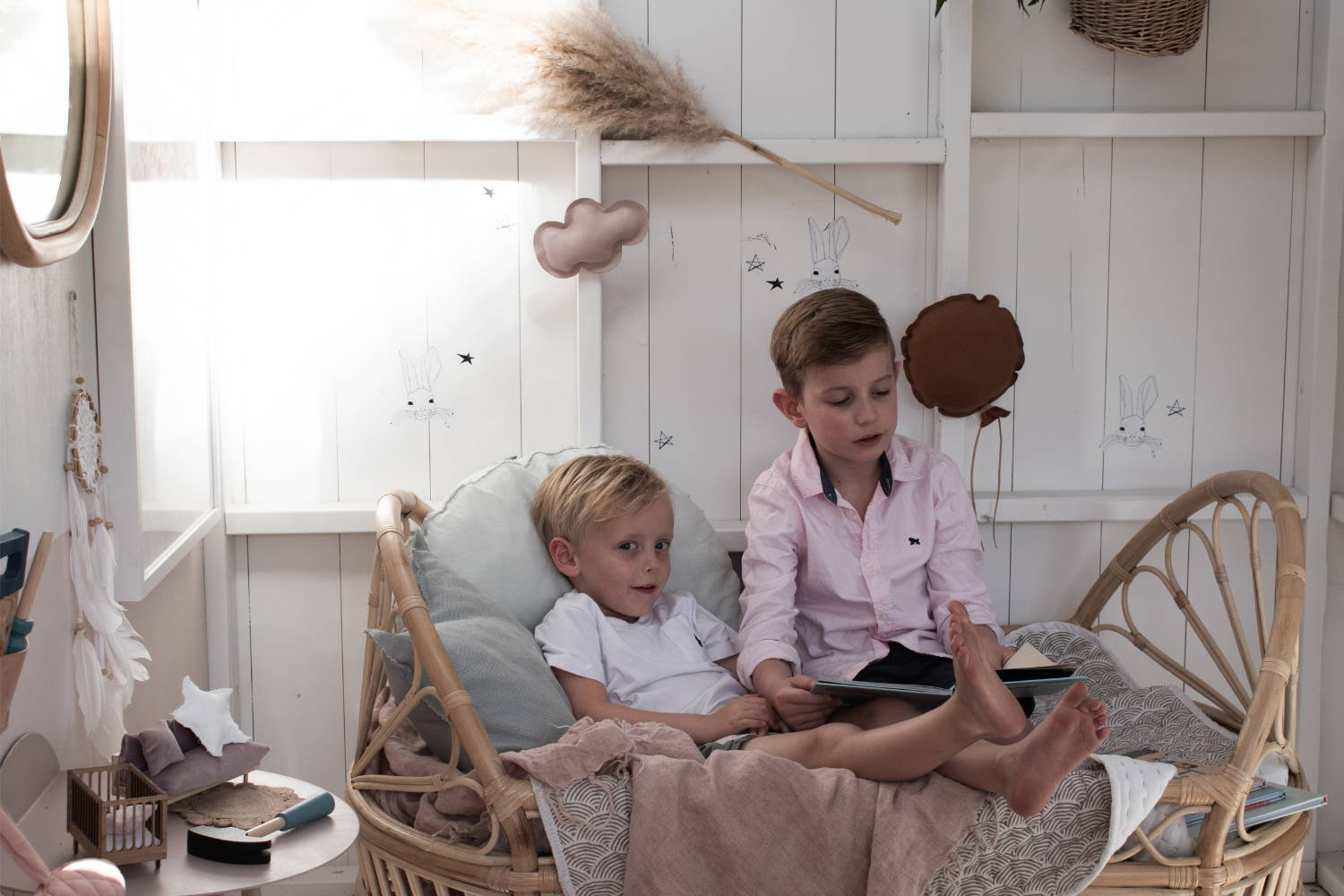 Can you take us through your design/build/styling process for the cubby?
When it came to selecting a cubby, we looked no further than Castle and Cubby, having fallen madly in love with their barn door creation the second we all laid eyes on it. Not only did we love its design, we were so thrilled we could decorate it ourselves. How did we tackle this? Like every styling job we do at norsu, we jumped online to source our inspiration – we scoured blogs, Instagram and Pinterest and even created our own little digital moodboard (gosh this is sounding a little OTT isn't it). We looked for imaginative ideas for adopting the cottage theme. For example, with the help of local artist HoneyHoney Creations we made little fishing rods out of silver birch branches, we constructed a pretend fire using earth toned linens, we planted fruit and herbs for cooking with, we set up a tee pee for some make believe glamping, and added a divine rattan day bed for afternoon snoozing. Another key component of our cubby design was painting it to perfection– with the help of our mates at Top Notch Coatings we adopted Nordic whites and pale greys and then even added a feature 'half wall' in norsu's infamous blush pink, and painted a blue-toned grey barn door to keep Harvey happy.
Did you have a cubby house when you were growing up?
I didn't have a cubby growing up and instead would play for hours on end in a little area under a tree. I made do with what we had and filled it with my favourite treasures and created so many amazing memories with friends. Remembering how much I loved this, convinced me that getting a cubby would be the best idea and so far, this couldn't be truer!
What has been your favourite thing about having a cubby house?
I am not a huge fan of technology and often feel saddened that electronic devices keep our kiddies inside and away from creative play. The best part of getting a cubby has been seeing our children outside and happy creating their own little world, surrounded by fresh air and greenery. We have all loved the space, even Dan and I have shared a beer or two on their deck, as they've performed their concert creations. It's this family time that makes us so grateful for our cubby.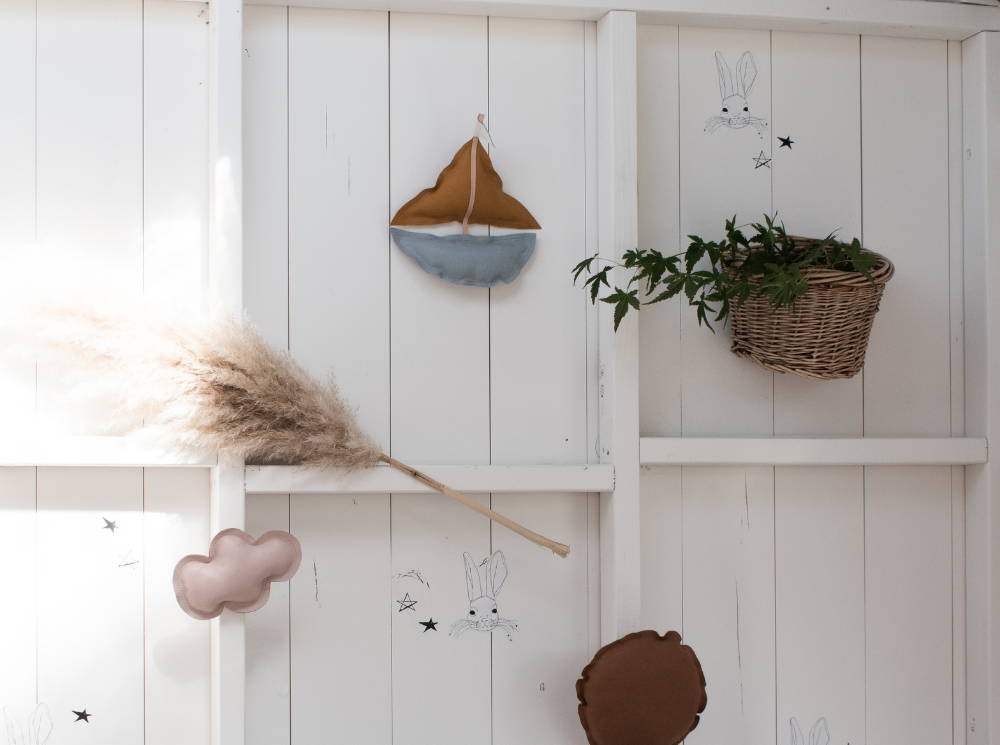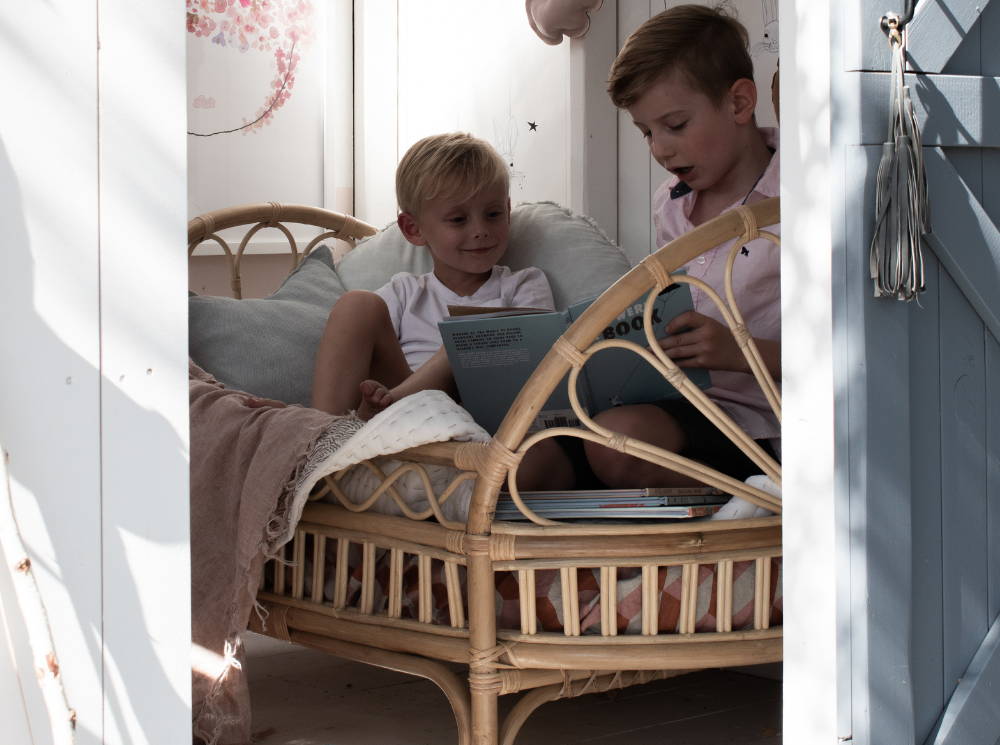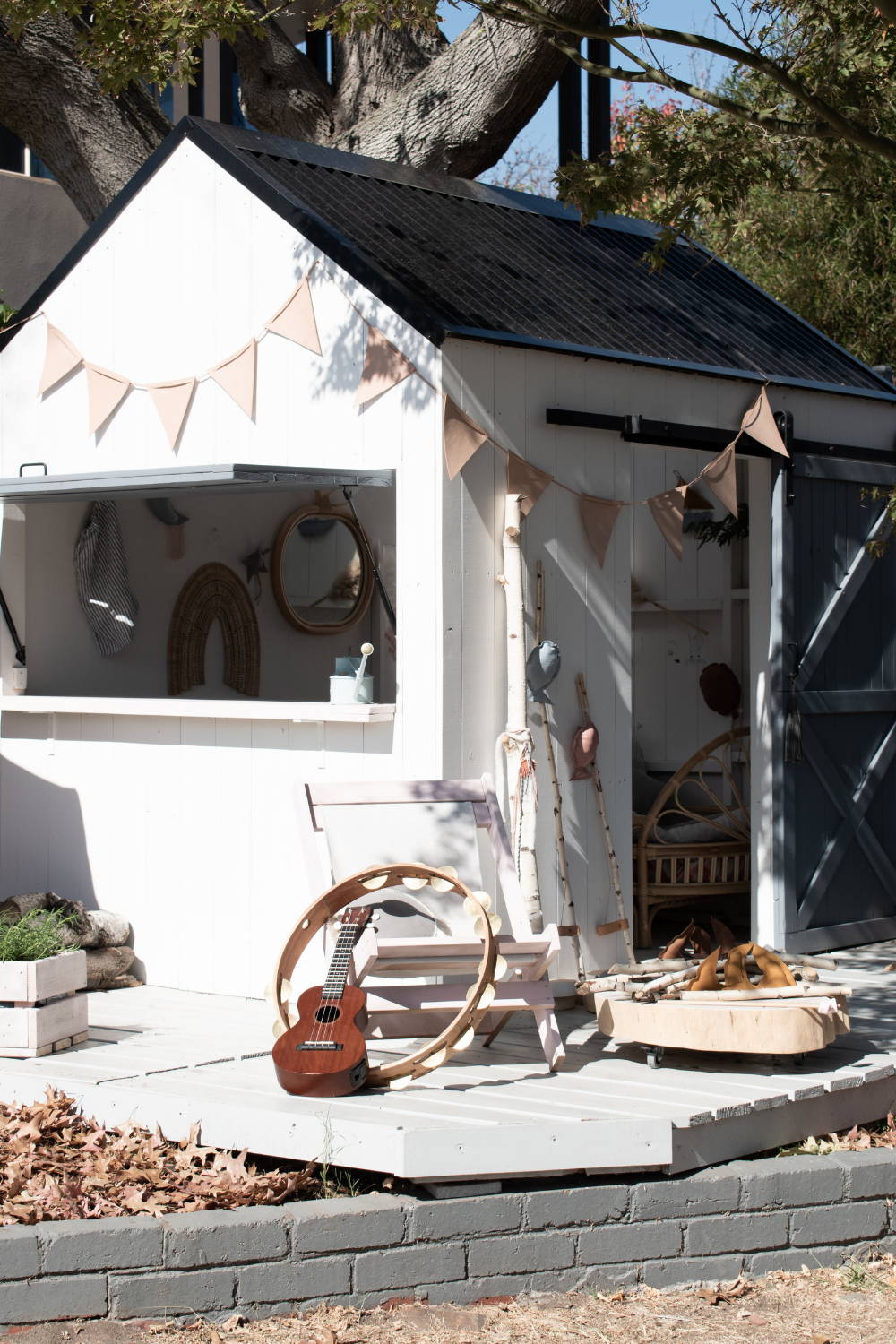 Any tips for parents when it comes to styling a cubby vs a kids bedroom?
Use this opportunity to do something different…push the boundaries and don't be
restricted by functionality. Involve your children in the process so they truly understand what it's like to create a space where they love to play.
Have you got any ideas in the pipeline for changes to make to the cubby as the kids get older?
Our cubby has the most divine pitched roof and is over sized so we often joke that when the kids are older, they can move into it permanently! But for the short term, my next plan is to add an outdoor shower so they can splash about in the warmer months. After all every home needs a bathroom and why should our beloved cubby be any different!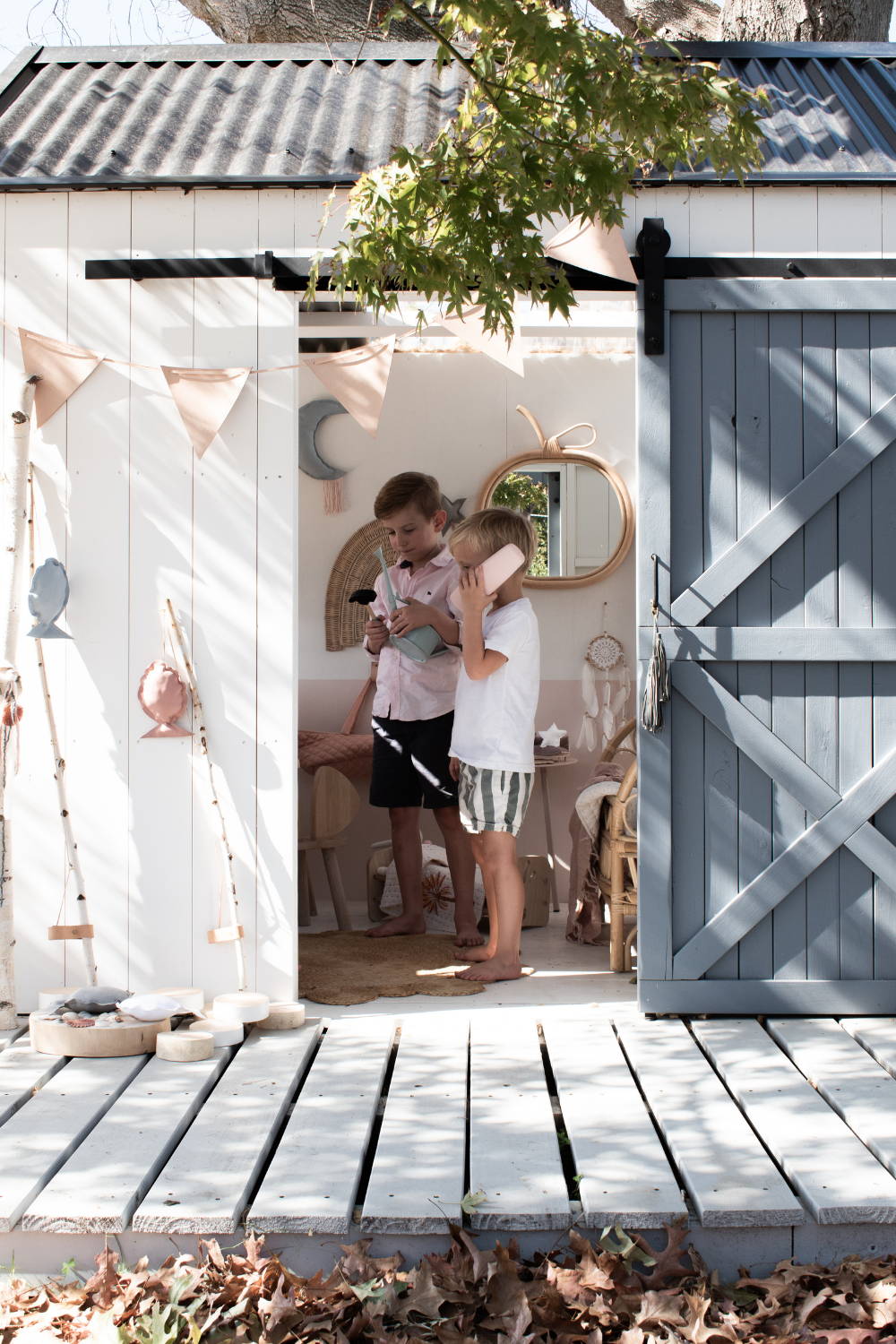 You have a lot of resources at your disposal to help you style and set up a cubby house, any tips for families trying to DIY?
We actually made lots of the goodies in our cubby and I encourage you to do the same…this way it's completely yours! For example, we spray painted an old play phone using blush pink paint, we covered mini deck chairs in our favourite tones, and coated old plant boxes given them a special edge. Remember the difference is in the detail.
Are there any castle & cubby add-ons you've got your eye on? I.e. garden boxes, mud kitchens, etc.
As we reach Summer I've been coveting the mud kitchens. So often the kids love to play cafes as our cubby even has a servery! Imagine the creations they'd muster up with a mud kitchen. I think we'd be up for some very special treats and we'll have the shower to wash them down after the mud pies are sure to be thrown!
EASTER DISCOUNT CODE: We are offering our clients a free internal kitchen values up to $300 with any cubby house purchased up until Easter Sunday, 4th April 2021. Simply add this code to your order EASTER21 and we will add the appropriate sized internal kitchen to your order for FREE!
Nat has provided us with some more information about the suppliers of the gorgeous products in her images here:
Rattan bed – Koko Collective
Outdoor vegan play mat – Hexxin Design
Tee pee - Cattywampus
Outdoor umbrella – Land and Sand
Handmade fishing rods, fire, leather art and craft paper roll – HoneyHoney Creations
Photos By: Tara at Coco Amelia
Products for consideration