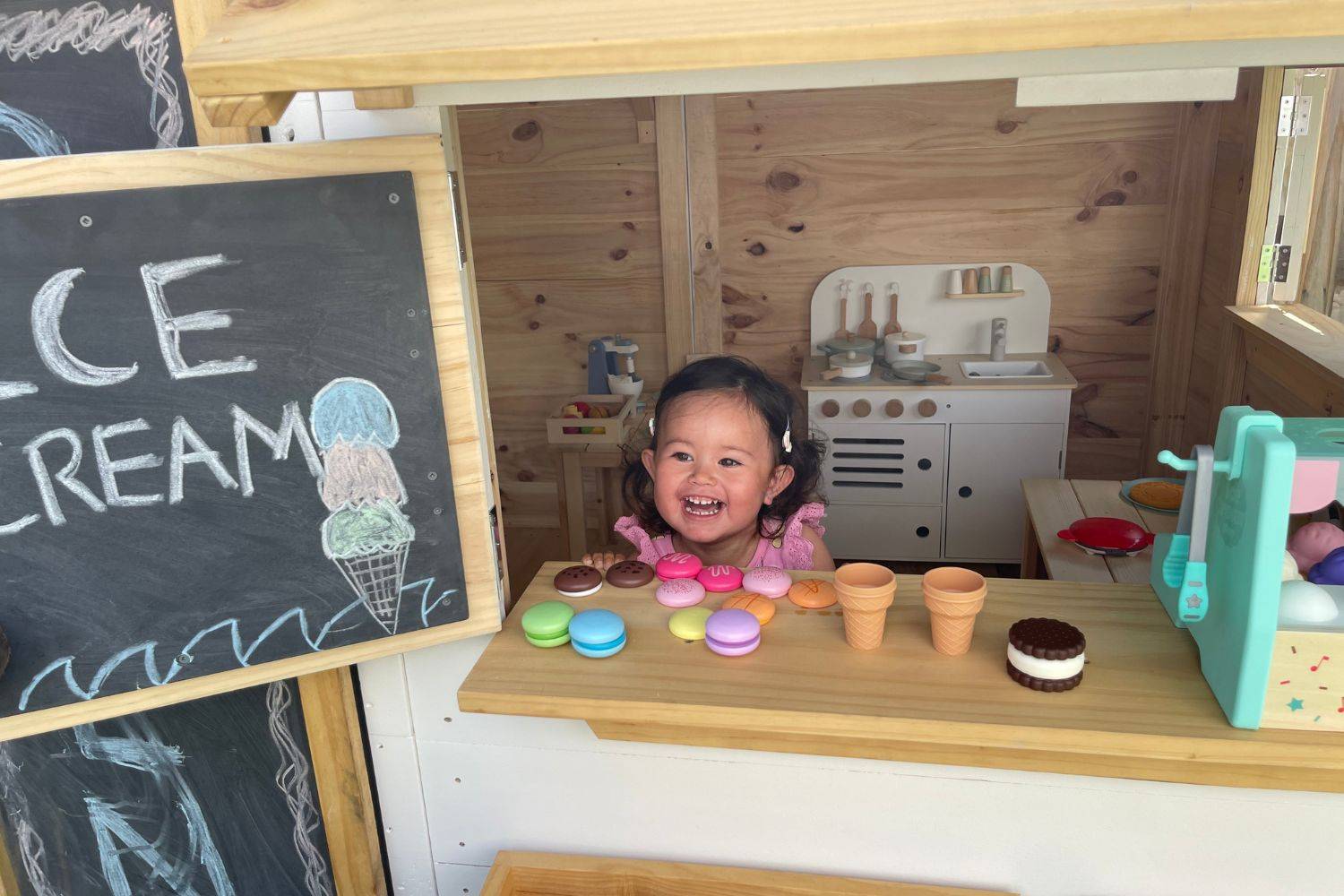 Our team recently installed this Midi Rectangle Signature Wooden Cubby House in Victoria and it was a lovely job to work on because our clients were happy, warm, engaged and full of appreciation. This family is obviously so full of love and we just LOVE being able to be part of their story. We hope you enjoy reading their story!

The BIG kids at Castle & Cubby
Do you have any memories of cubby houses from your own childhood?
I grew up as the youngest in a family of five girls so a beautiful cubby house was something me and my sisters often imagined and dreamt about. While I have no memories of a 'real' cubby house, I do remember playing 'cubby houses' under drooping trees and our verandah. My fondest childhood memories come from hours spent in our yard making potions, playing 'kitchens' and 'schools.' So being able to give my daughter her own special cubby house to have these memories in is a real dream come true.
What made you decide to get a cubby house for your family?
Ever since Audrey was only a few days old she has loved being outdoors. Her Meme (Grandma) calls her a 'nature girl.' We knew a cubby house would allow her to spend as much time as she wants playing and making magical memories in our own backyard. We have a very small backyard and thought this would be a lovely way to use the little space we have and make it more functional. We also observed that Audrey's favourite thing to do at the park is play with the little shop counter and the tan bark, so we fell in love with the shop aspect of the castle and cubby designs. We could picture her spending hours in her cubby peeping out and selling us things through the windows.
Did you get the kids involved in the process of deciding and designing or was it a secret?
Audrey was only 20 months old when we decided to design our cubby house so we kept it a secret and planned to reveal it to her as an early Christmas present. My husband and I had lots of fun though, going on the website together and scrolling through the Castle and Cubby Instagram page while we were choosing the design for her.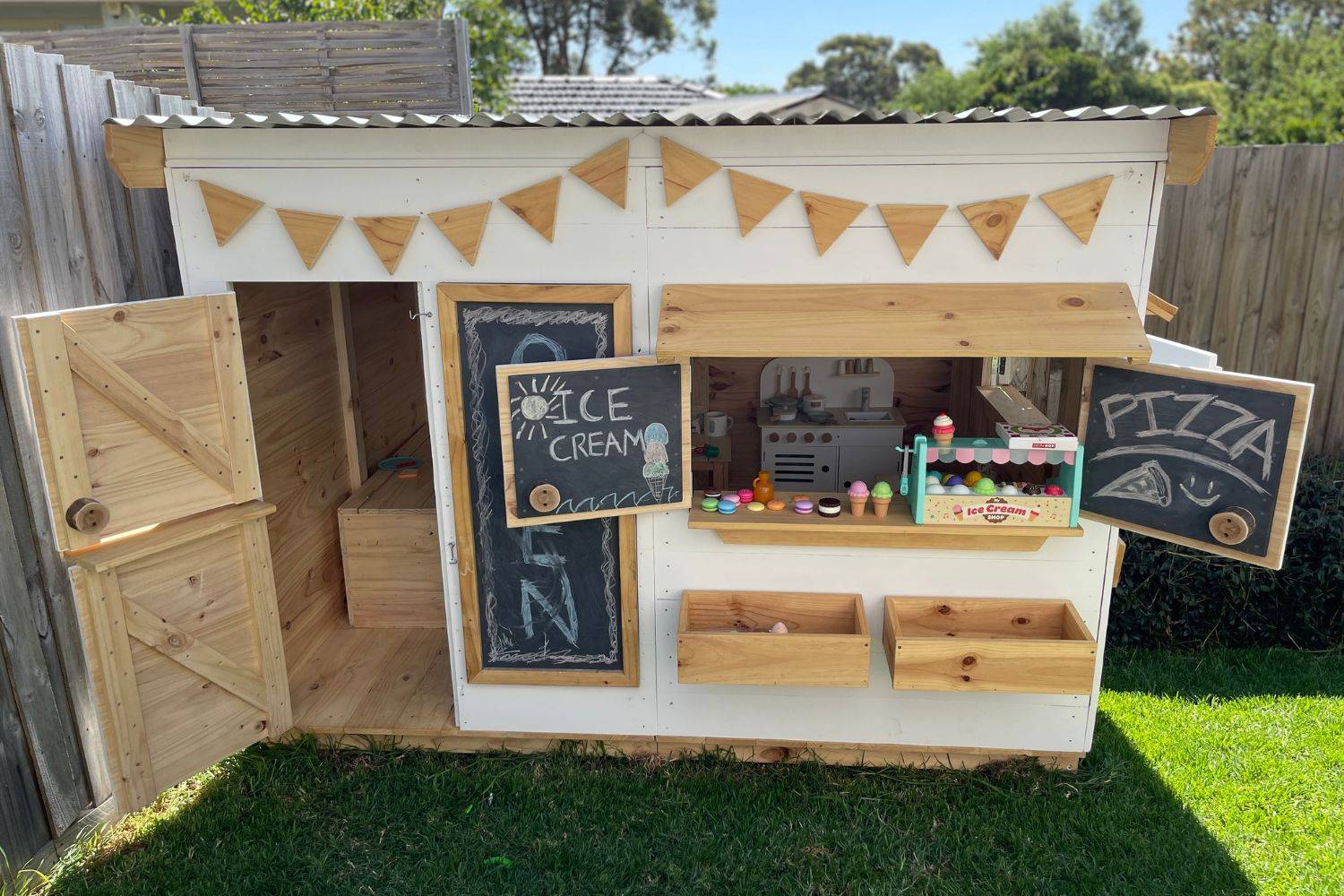 How did you find the experience of Castle and Cubby installing for you? Tell us about it
It was a very exciting day when they came to install the cubby house. Our backyard had quite a pronounced slope so we were interested to see how they would level it out and to see what the final product would look like. Audrey didn't really know what was going on but she loved watching the pieces of the cubby be carried into the backyard and she kept peeking out the back door to see what was going on. When she woke up from her afternoon nap it was all done so we loved how quick and convenient it was to have it installed for us.
Have you styled it up, painted and decorated? Did you enjoy this experience?
We have loved decorating the interior with a little play kitchen and lots of play food. Audrey loves pretend play at the moment so we have tried to make it a really fun and special space for her that suits her young age and current interests. We have also enjoyed writing on the chalk boards to make it a bit more fun and colourful. As she grows up we can't wait to see what she will add and change to her cubby house. Maybe one day we will paint it but for now we like the white and natural.
How did the kids react to the unveiling of the finished product?
Audrey's first reaction was very cute. When we first showed her the cubby house we didn't have any toys in it yet and she called it a 'box'. She was very pleased with her new 'box' and just enjoyed stomping around on the wooden floors and sitting in there on the floor with us. When we put her little kitchen in and all her toys she realised it was much more than a 'box' and now she calls it a 'cubby house'. You can see the cubby house from our kitchen window so every time we open the blind in the morning she says 'hello cubby house.'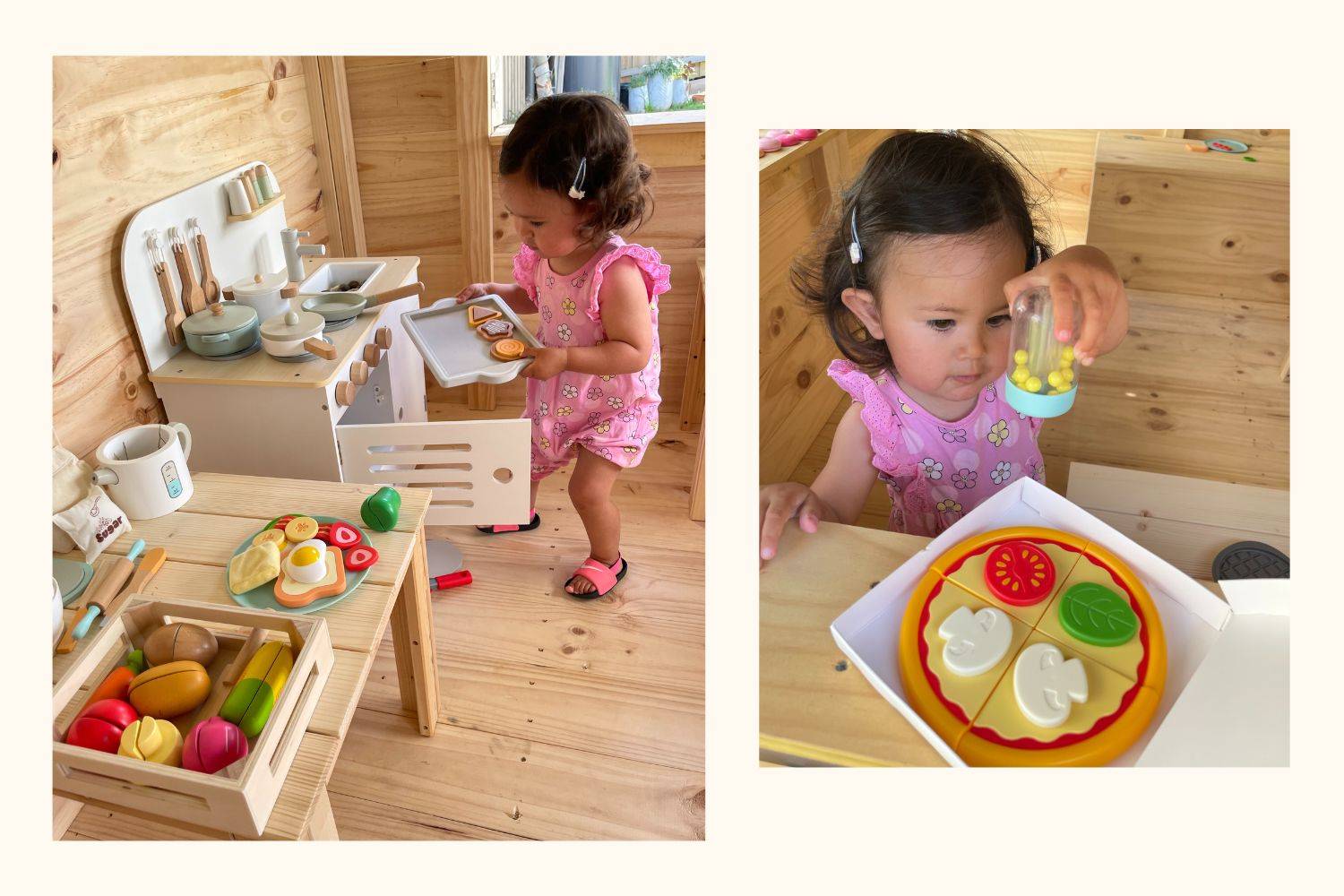 How are the kids using the space?
Audrey uses her new space every day! She loves to use it as a little cafe shop. She is very busy cooking, baking and serving ice-cream. She loves to serve her ice cream, cookies and macarons out the window while I sit outside on a chair and 'eat' all the food she serves me. I love seeing her happy little smile as she carries her food over to the window for me.
Has there been any unexpected outcomes?
I have been surprised how much I love playing in the space with her. It's so nice to have an additional place to play with her that is just so beautiful and relaxing. I have also been amazed how much Audrey is learning through her cubby house play. She has learnt her colours by selling ice cream to me through the window. I will ask her to get me a yellow ice cream and she will go and scoop me a yellow ice cream in a cone. She has also learnt her shapes from her pretend cookies and lots of new vocabulary.
What has been your favourite conversations you have overhead the kids having in their new space?
Audrey is still under 2 years old so she is still not having full conversations - but the other day she was putting her cookies in her oven when she shouts 'Alexa stop!' We have an alexa personal assistant in our kitchen that I use as a timer whenever I cook. I always say 'Alexa stop' when the buzzer goes off, so hearing her copy me was very cute.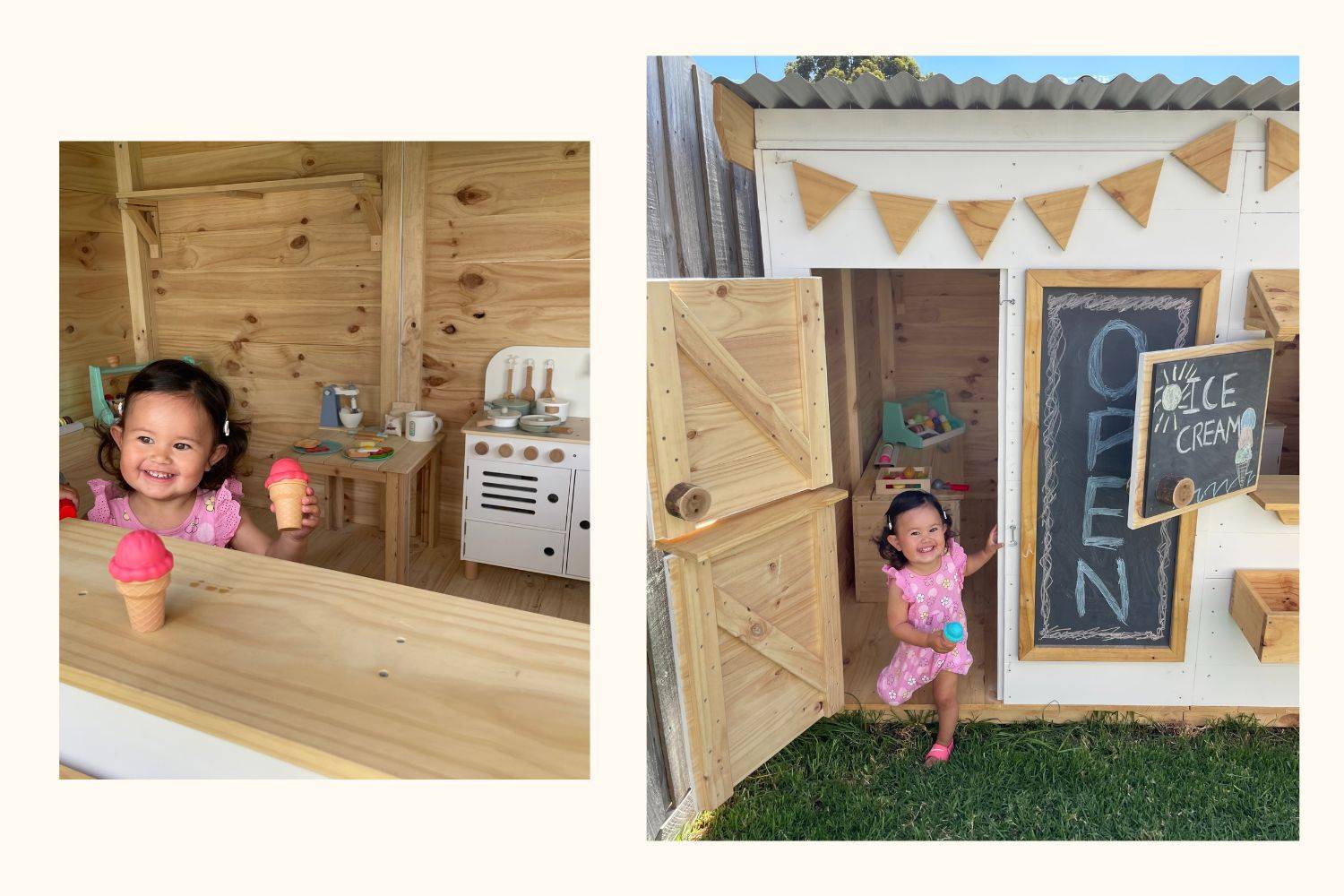 What have your visitors been saying about the new play space?
They love it! So many people have said how beautiful, cool, cute and adorable it is and it has reminded them of their cubby house days when they were kids. Everybody says she is very lucky and we couldn't agree more. I also love seeing her play with her grandparents there and I can't wait to have her little friends over for cubby house play dates.
What do you hope you and your kids will remember from their cubby days?
I hope Audrey will remember this special space and the hours of fun she had there playing by herself and with us using her imagination. Hopefully she will be able to play there with future siblings and remember the joy of being young, free and happy in our very own backyard.
If you could sum up your cubby experience for us in one statement?
I believe every child deserves to grow up with their own beautiful cubby house. Castle and Cubby are making dreams come true. They make timeless cubby houses where children can make memories that will last a lifetime. We can't wait to see where our cubby house journey will take us over the years.