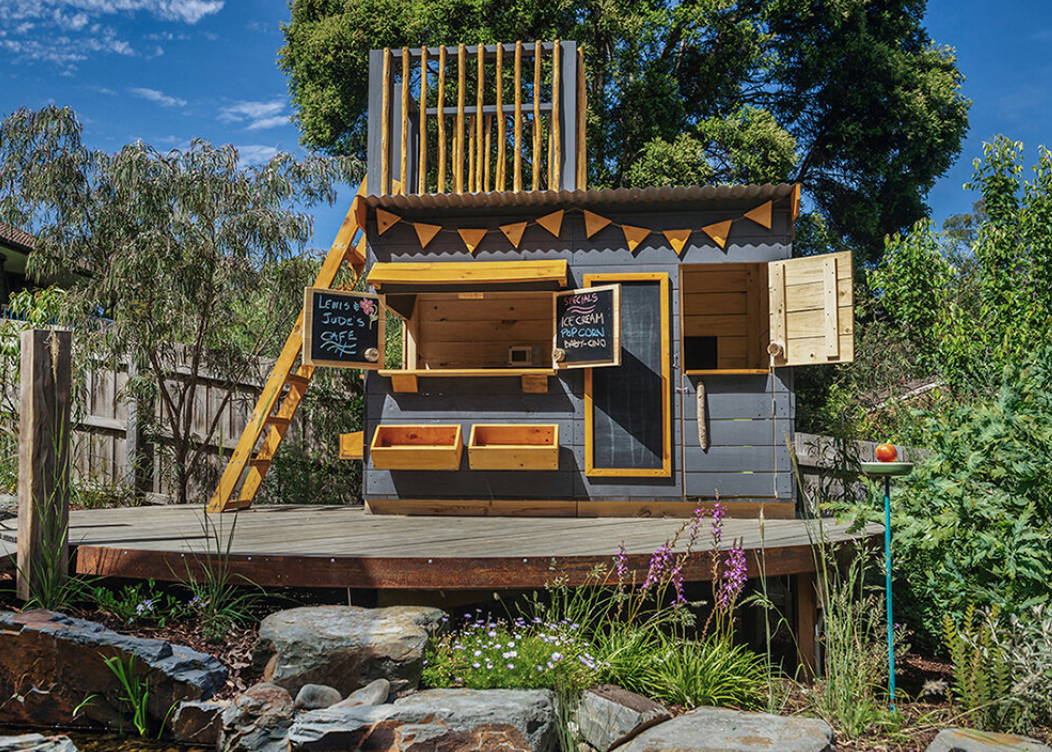 Ben Hutchinson is an Australian landscaper with a deep passion for our rugged landscapes, native plants and designing natural garden spaces. We had the joy of working with Ben and his family on their custom Fort Top Cubby.
Do you have any memories of cubby houses from your own childhood? Did you have one, or did you always want one? Please share
My wife had a cubby house as a child and absolutely loved it! It was always full of fun, kids and lots of pretend meals. There was mismatched crockery, hand-me-down furniture and a play kitchen with cupboards - she describes it as the best place ever when she was a kid! She recalls pinching her parent's banana lounge from the shed and squeezing it into her cubby because she needed a couch for her visitors! I, on the other hand, never had one but always dreamed of having one - now I do!
What made you decide to get a cubby house for your family? What did you hope a cubby house might add to your family?
I had the pleasure of borrowing a Castle and Cubby cubby house for a Melbourne International Flower and Garden show project I created a few years back in my business and have loved them ever since! We have always had plans to get a Castle and Cubby cubby house so it was just a matter of timing really. When our cubby arrived, we were in the process of landscaping our backyard and we had integrated a dedicated space for it to live within the design because we knew it would be used and loved for many, many years. We have a big extended family, and we're always outside so it made complete sense to add even more fun to our new garden by adding a cubby house. It's messy, has chalk everywhere and lots of play food and dinosaurs in it, which for us means it's loved.
Did you get the kids involved in the process of deciding and designing or was it a secret?
This cubby was a wonderful surprise for our Son's 4th birthday. Kellie was amazing and helped us with the design, offering much appreciated insights into the psyche of boys at play! He was over the moon, as well as being a bit in shock I think, when he walked out to see it in his garden.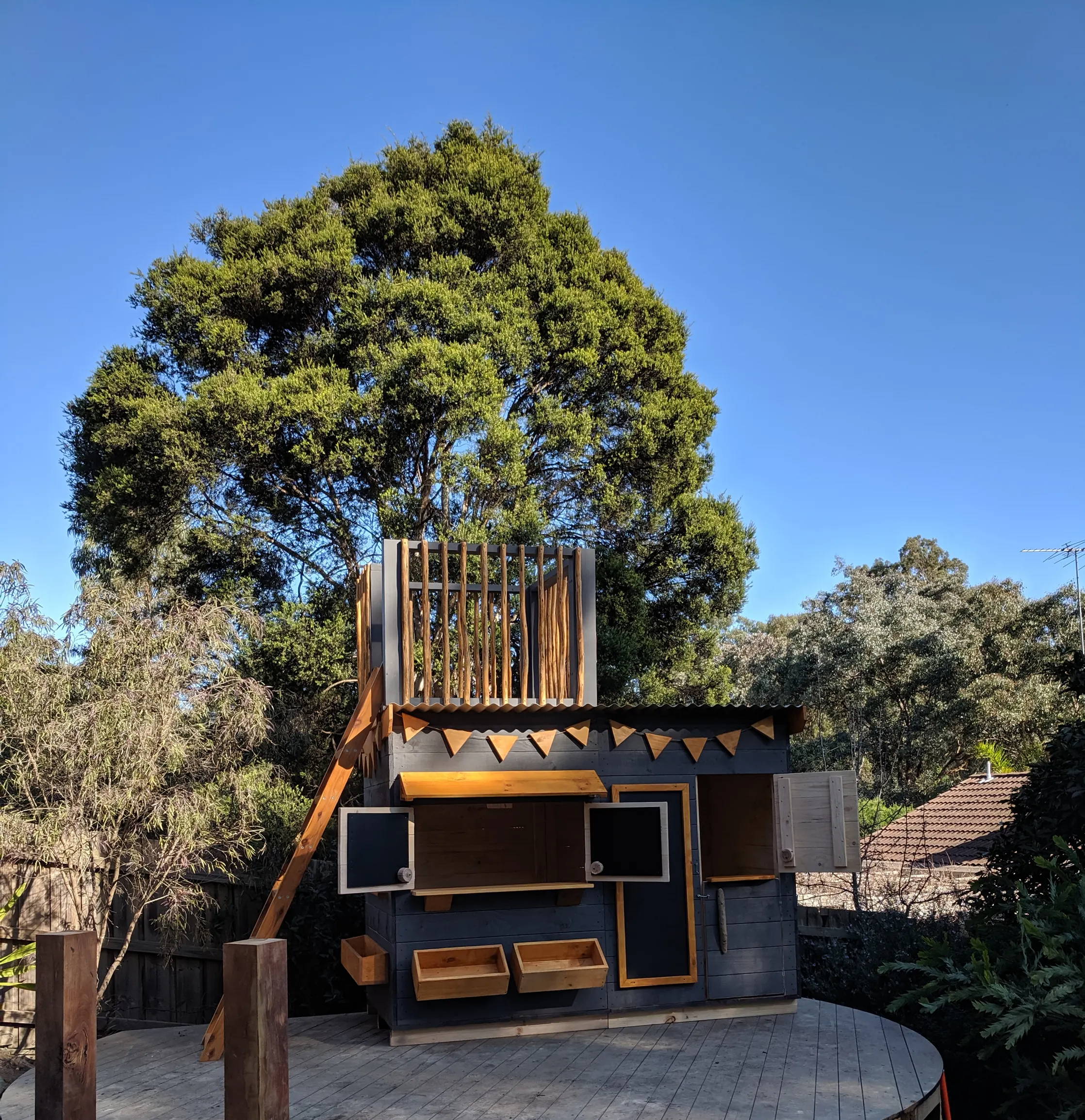 "Our cubby house was one of the best purchases we made for our kids! They love it so much and we can see every day how much fun they have. We should have done this sooner!"
– Ben Hutchinson
---
How did you find the experience of Castle and Cubby installing for you? Tell us about it?
Amazing, you guys are legends! We knew roughly what size we wanted but left the details up to the Castle and Cubby team and boy did they deliver! We were so impressed when we received the 3D render, it made understanding what the finished product would look like so much easier. Communication was great, design was great, the guys who installed it were great. They didn't take long to put it all together and did a brilliant job of constructing it on a purpose built deck we had already installed. I'm so pleased we got you to install it, it came up so well!
Have you styled it up, painted and decorated? Did you enjoy this experience?
We had Castle & Cubby paint the outside of the cubby for us to match our house and it was perfect. They were able to match our exact external paint and timber colourings. We added a tool table and a kitchen we already had in our house, and saved up our normal recycling to use in the shop. We bought some stools to put out with an upcycled cafe table and it was ready to go! Inside we have added a few personal items for our Son that he has selected, such as pictures and lighting. We have enhanced the cubby play space by building a pondless stream next to it and adding a trampoline to the backyard. Sitting in the cubby, you can see absolutely everything that's going on in the garden. Every possible moment is spent outside now, the kids love it!
How did the kids react to the unveiling of the finished product?
He was so happy and a little shocked as he wasn't expecting it! We stayed with his grandparents the night before it was to be installed, and when he came home we actually blindfolded him at the front door and told him his birthday present had arrived. He had no idea what was going on but was incredibly excited at the prospect of a big surprise. He was over the moon with the fort on the roof and quickly climbed the ladder to see what was up the top. It took him a while to stop asking if he could play in it, we kept reminding him that it's HIS cubby! (we took a video of him when we unveiled it!)
How are the kids using the space?
Sometimes it's a cafe, sometimes it's a science lab and sometimes it's a place to discover bugs hiding out of the rain - but it's a base in the backyard that he always returns to when he's looking for something. We have been using this space to eat lunch, snacks and serve up baby-chinos with scones, jam and cream. This cubby was the best thing we could have put in our garden, particularly in a pandemic year! The cubby is also a wonderful place to hide when it's raining, listening to the rain on the metal roof and watching the waterfall all around through the windows. We put battery operated string lights inside the cubby to create a cozy space when it's dark outside, or even after the sun goes down. I anticipate that the cubby will get used even more when our second son is old enough to get out there and play with his brother - and I can't wait to see that!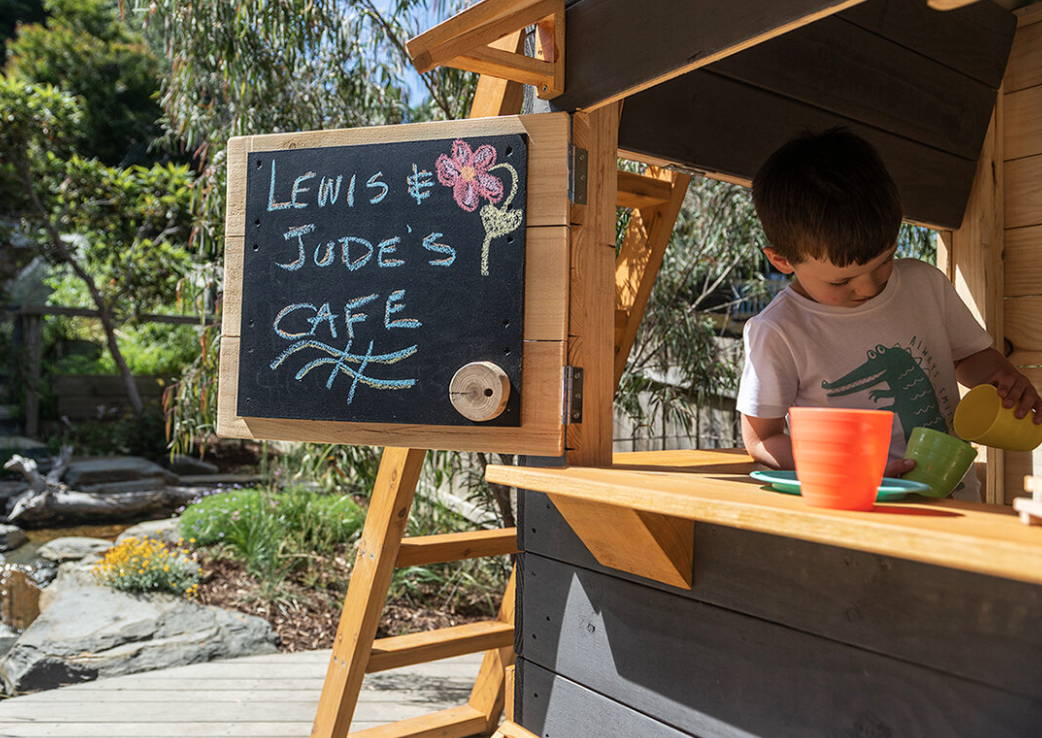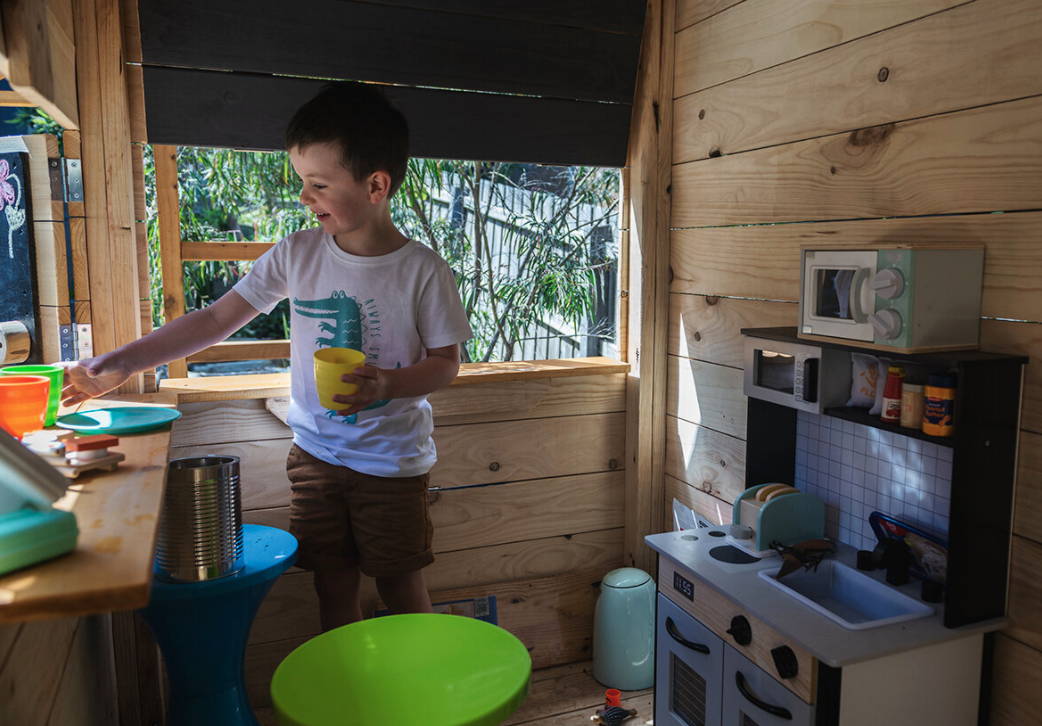 ---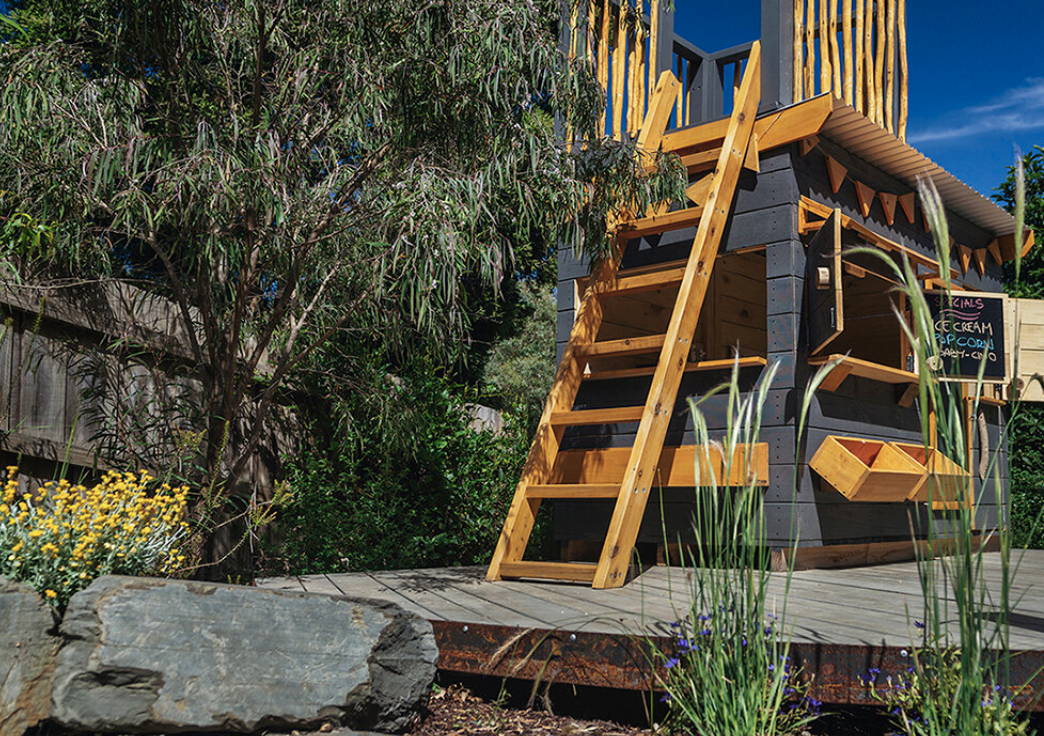 ---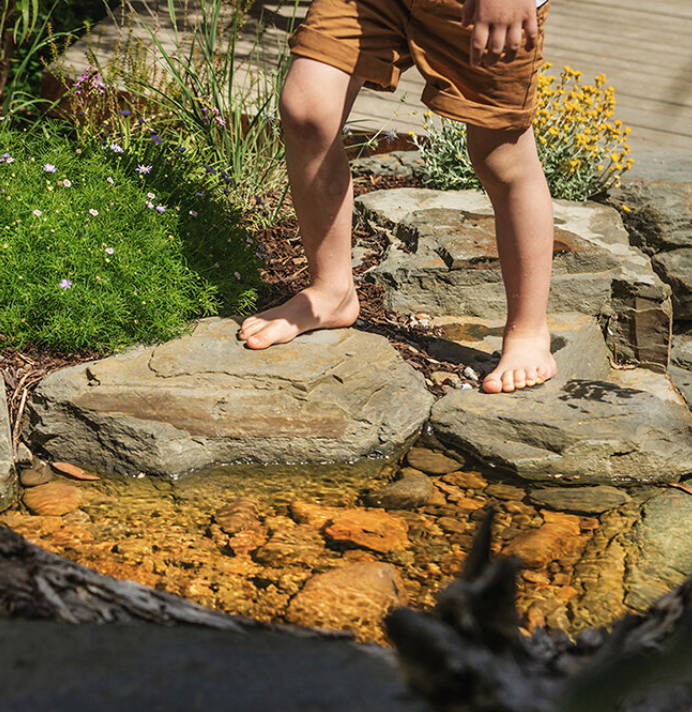 What have your visitors been saying about the new play space?
They love it! It's a huge feature of our backyard now and we are so proud to show everyone. Our nieces and nephews are straight out in the backyard the moment they arrive at our house, and our Son is so excited to share his special space with his mates. Our friends are so impressed with what we've achieved, and I think it's really giving them food for thought about the possibilities for their own gardens
Do you get involved in the play or?
My wife often gets into the cubby with our Son to play shop, sometimes as the shopkeeper and sometimes as the customer. Even our dog has been found camping out in there if the door has been left open and at times if the chickens are roaming the garden they either jump in the windows or walk in the door to see what's happening. It's really a whole family space, animals and all!
What do you hope you and your kids will remember from their cubby days?
The whole experience of imaginative play, days with their cousins and friends playing. Being outside, connected to nature and just being kids. Gardens and open space are so important to us and we have been able to create a beautiful family space that blends solo play with finding ways to experience nature in a safe and fun way.
---