This very special cubby collaboration was born from the desire to help our beautiful country and its people that were affected during the unprecedented, heartbreaking bushfires in 2019. Fast forward to 2021 ( don't mind the pandemic ) and as part of our Castle and Cubby giveback program we are auctioning this very very special cubby with all proceeds going to a non for profit organisation in need.
After the fires, we really felt the need to jump to action and at the time not being able to get our hands dirty, so the idea of an art series one-off cubby collaboration became a reality and we had the most perfect person in mind to create this; Australian Artist Madeleine Stamer.
We've had a bit of a crush on Madeleine Stamer and her amazing work for quite some time and to collaborate with her, well, that's been a very real fangirl moment on our behalf. In fact, there may have been actual fist pumps when she answered our "Hey we've got this idea and were wondering…" DM one afternoon.
Madeleine is a Melbourne based illustrator, exhibiting artist, visual arts teacher, and all-round gem of a woman. Her unmistakable works draw inspiration from Mexican folk art, nature, old school tattoos, 70′s design and the natural world around her. If you are not familiar with her work…do yourself a favour and check her out @madeleinestamer and be prepared for punchy colour and a long lust list! When not busy creating in her home studio, Madeleine is a primary school art teacher (how lucky are those kids!!!) wife and mum to two girls and two cats…you may have noticed Otto the cat happily making himself at home in the cubby on our socials!
We got the chance to talk with Madeleine about her passion, her art and the importance of supporting this cause.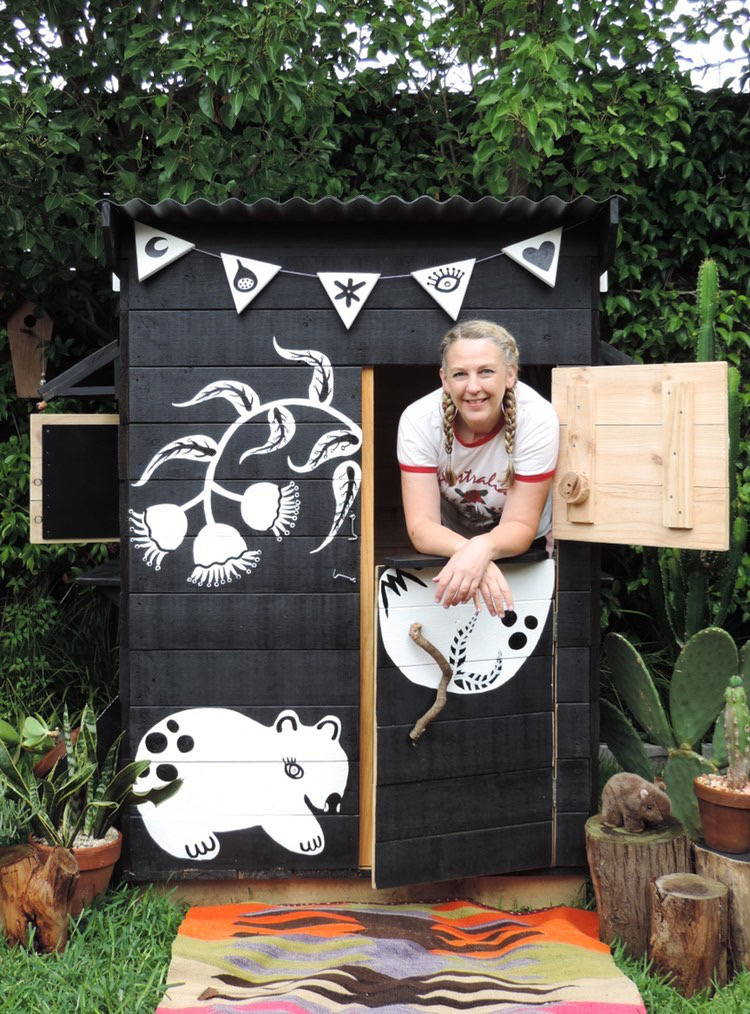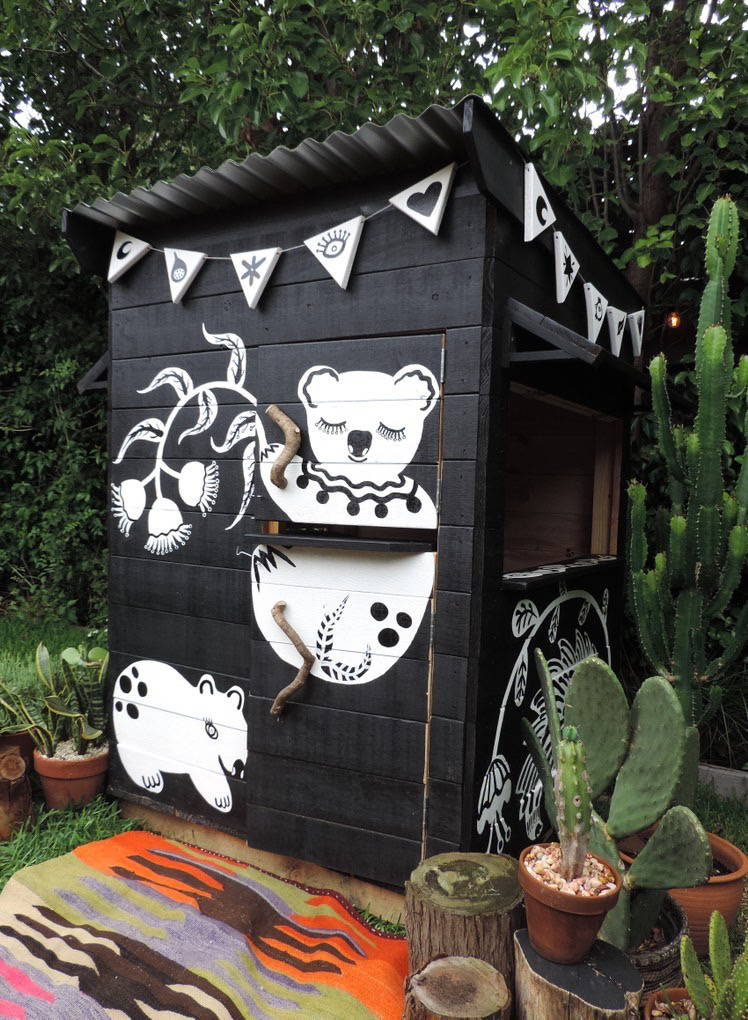 Who Is Madeleine Stamer?
I'm a Melbourne artist, a trained primary to year 12 art teacher and mother of two daughters. I have a tertiary background in ceramics but nowadays you'll find me painting. I work from my home studio, surrounded by my two cats and puppy who love to hangout and watch me paint.
What Are You Passionate About?
I was raised in a creative household, the youngest of five. My mother was a skilled sewer and tapestry artist and my father was a nature buff. I inherited mum's disposition for all things d.i.y and dad's passion for fauna and flora. I'm passionate about all creatures great and small, especially birds. I had every conceivable pet growing up, but my duck Fergus was the special one. Ever since I've had a penchant for birds and all things feathery. Helping others and being kind is also my jam.
How Would You Describe Your Artwork?
My artwork has been described as contemporary folk style with a sprinkling of Australiana. My work is often symbolic and gives form to layers of thoughts and emotions. The content is often based on anecdotes from life dramatised through flowers and birds who communicate with a secret language and cryptic behaviours.
I'll most likely be found painting flowers or birds or a combination of both!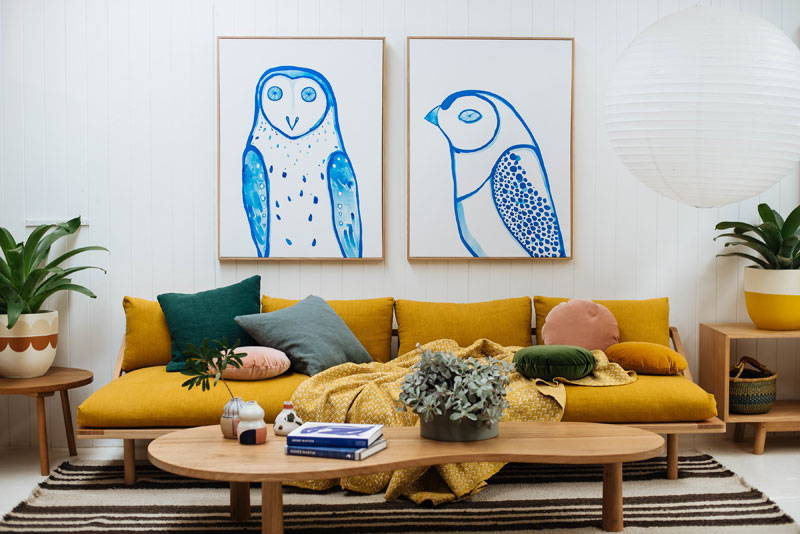 Styled by Julia Green, Photographed by Bobby Clark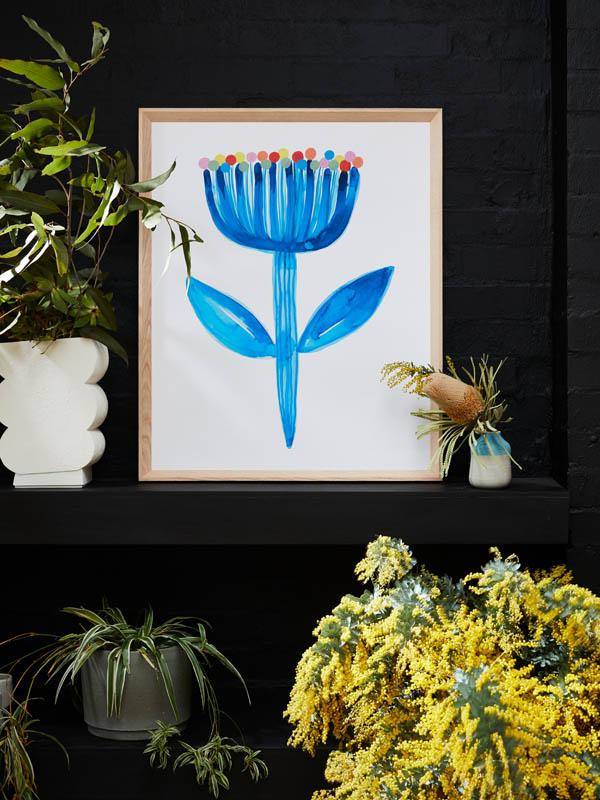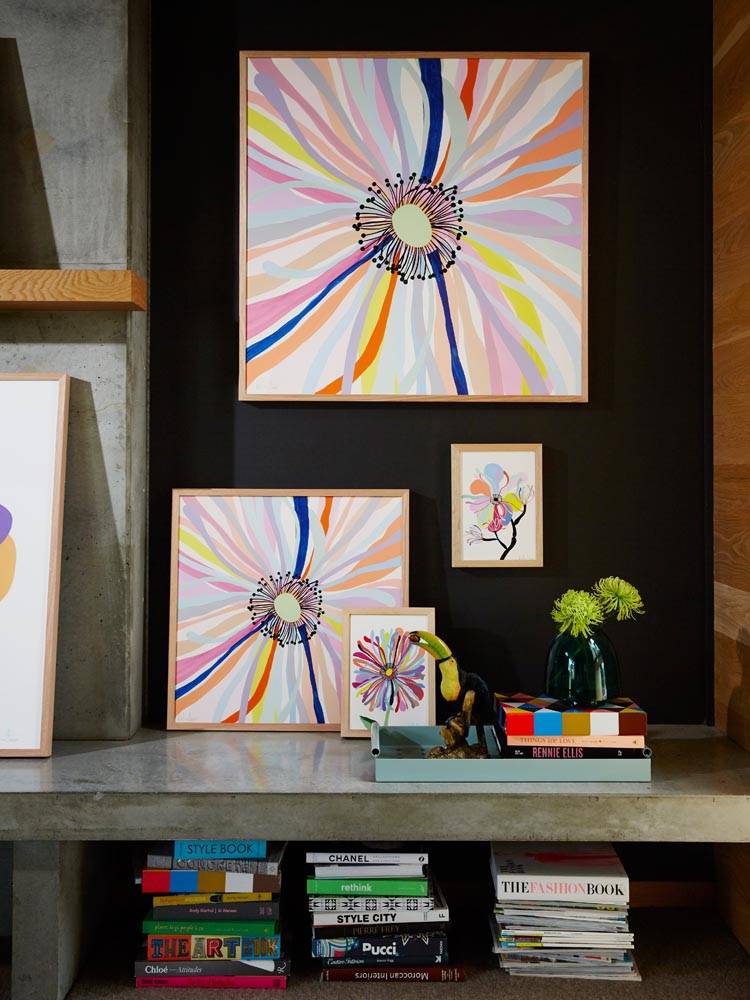 Tell Us About The Bushfires Through Your Eyes And Heart?
A family friend lost their home in the Mallacoota fires. I can't even begin to fathom the stress and trauma that he endured. The strong visuals of surreal red skies, choking smoke haze, communities stranded on beaches and in isolated towns, injured and decimated wildlife, destroyed homes and lives lost have had a huge impact on me. I immediately knew that I had to do something to help. I compiled some paintings and auctioned them off via my Instagram account. Within a few days, with the assistance of the Instagram community we raised over $5,000 to go towards bush fire relief and recovery. I split the funds and donated the money which went towards my family friend, the Red Cross, Food Bank, the Mallacoota Fire Recovery fund and W.I.R.E's. It's still difficult to comprehend the enormity of the fires and the destruction that it caused but to see communities banding together has restored my faith in humanity.
Did You Own A Cubby/ Fort / Hidey Hole /Treehouse Growing Up?
Yes to all of the above! I have fond memories of cubby building. My favourite was a secret 'nest fort' at the top of our backyard bamboo jungle. It was such a tall, thick and luscious clump of bamboo. My dad hated it because it grew like a weed, but I loved it. I accessed the top of the bamboo via a long ladder and flattened out the tips so I could crouch down in it and no one could see me. I could literally feel the bamboo swaying but because it was so thick and strong, I felt completely safe. Another time I made a cubby on top of our carport roof. Using the same ladder, I encouraged our family dog Mooch up onto the roof with an assortment of dog treats. She loved it up there and we had such a great time together, but I remember getting into a lot of trouble. She was safely hoisted down by my big brothers, it was hectic to say the least. Cubby adventures are the best!