Buying a cubby house is an exciting purchase as you watch all of the hopes and dreams you have of creating beautiful memories with your family become very real. So, when you are going to the expense and effort to transform your home for all the right reasons, why not make it AMAZING!
We have been in this game for a while now and we think we know a thing or two about how to create epic spaces that not only ooze character and style but that get the play going and the memories banking.
So here are our top tips for the outside of your cubby house.
The BIG kids at Castle and Cubby
Xx
Some like it raw and some like it painted... (sing it like Robert Palmer)
Leave it raw and watch the timber age gracefully, changing colours like an autumn leaf before peaking at its George Clooney silvery best. Or, if you prefer to keep it neat and tidy, paint it to match your home, your style icons homes, or your child's fantasy home. The hardest part is choosing the colours.
You can DIY the painting or get us to do it for you.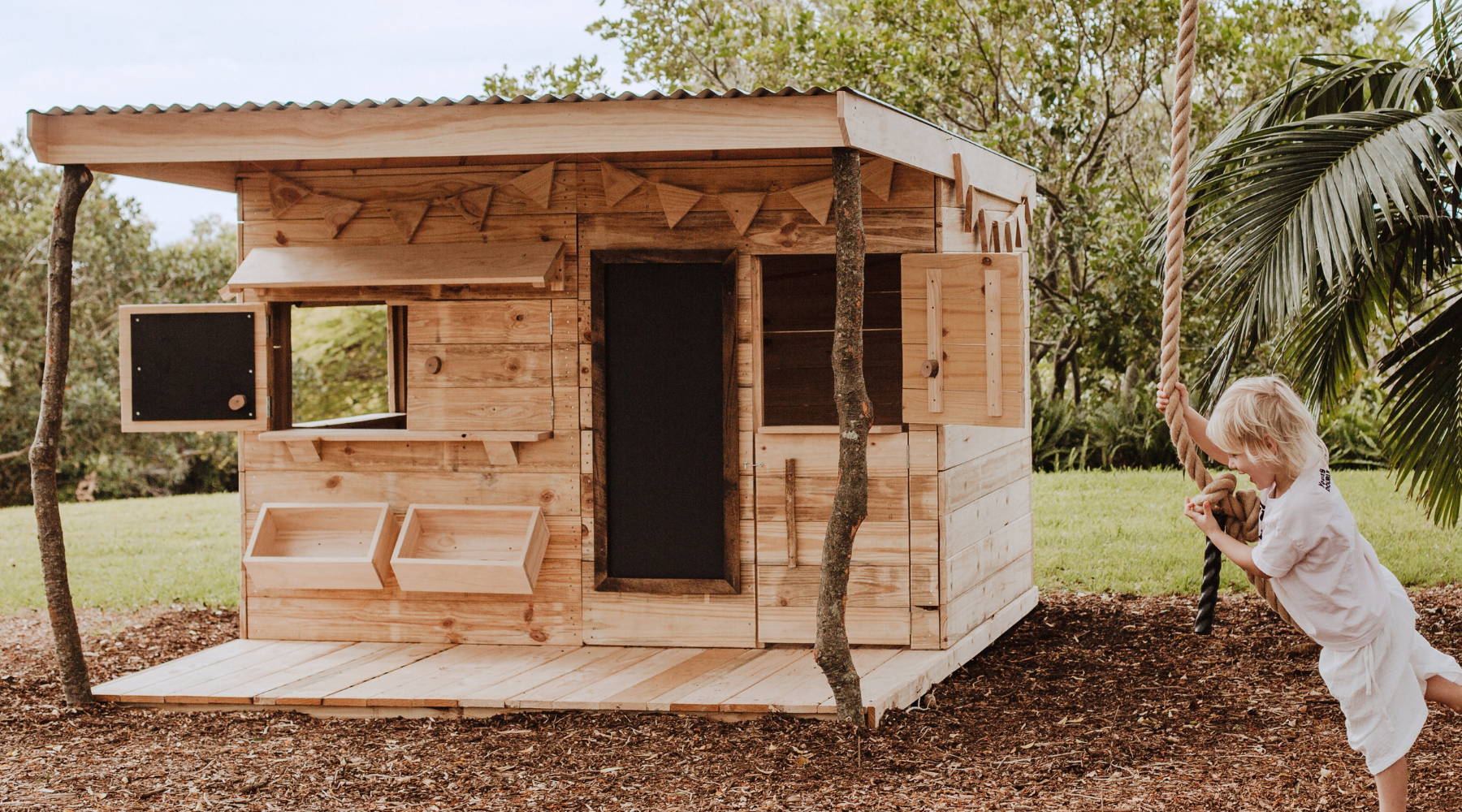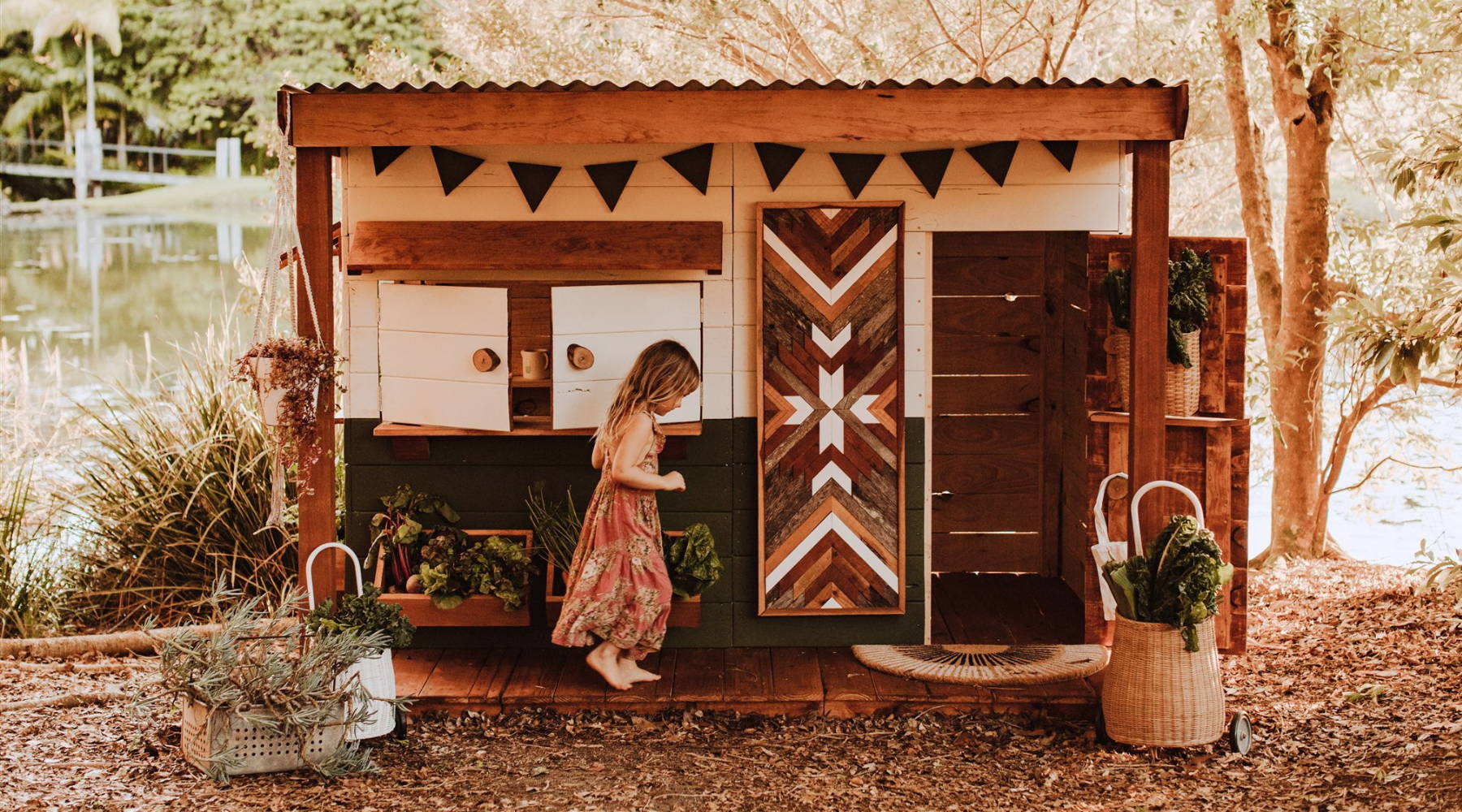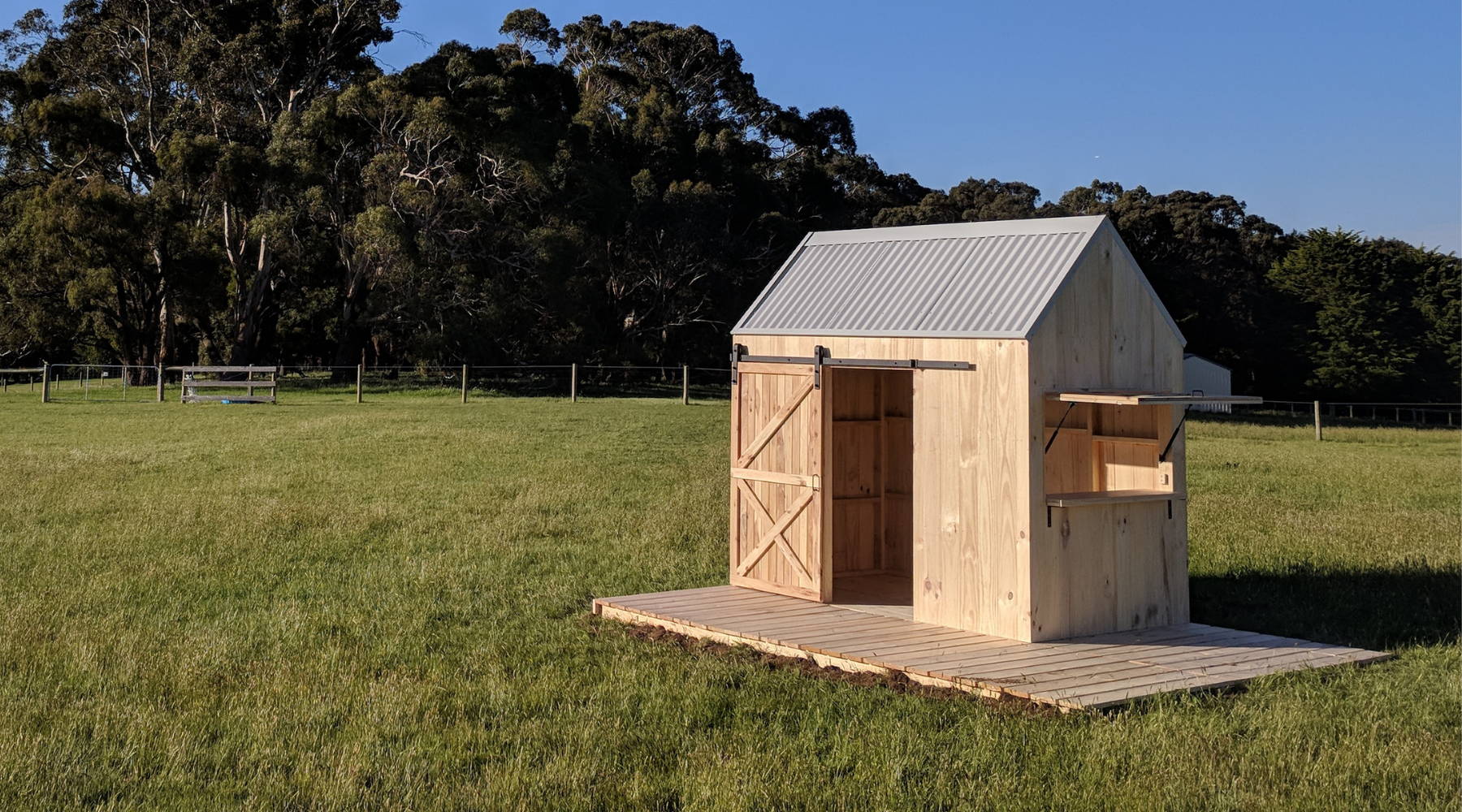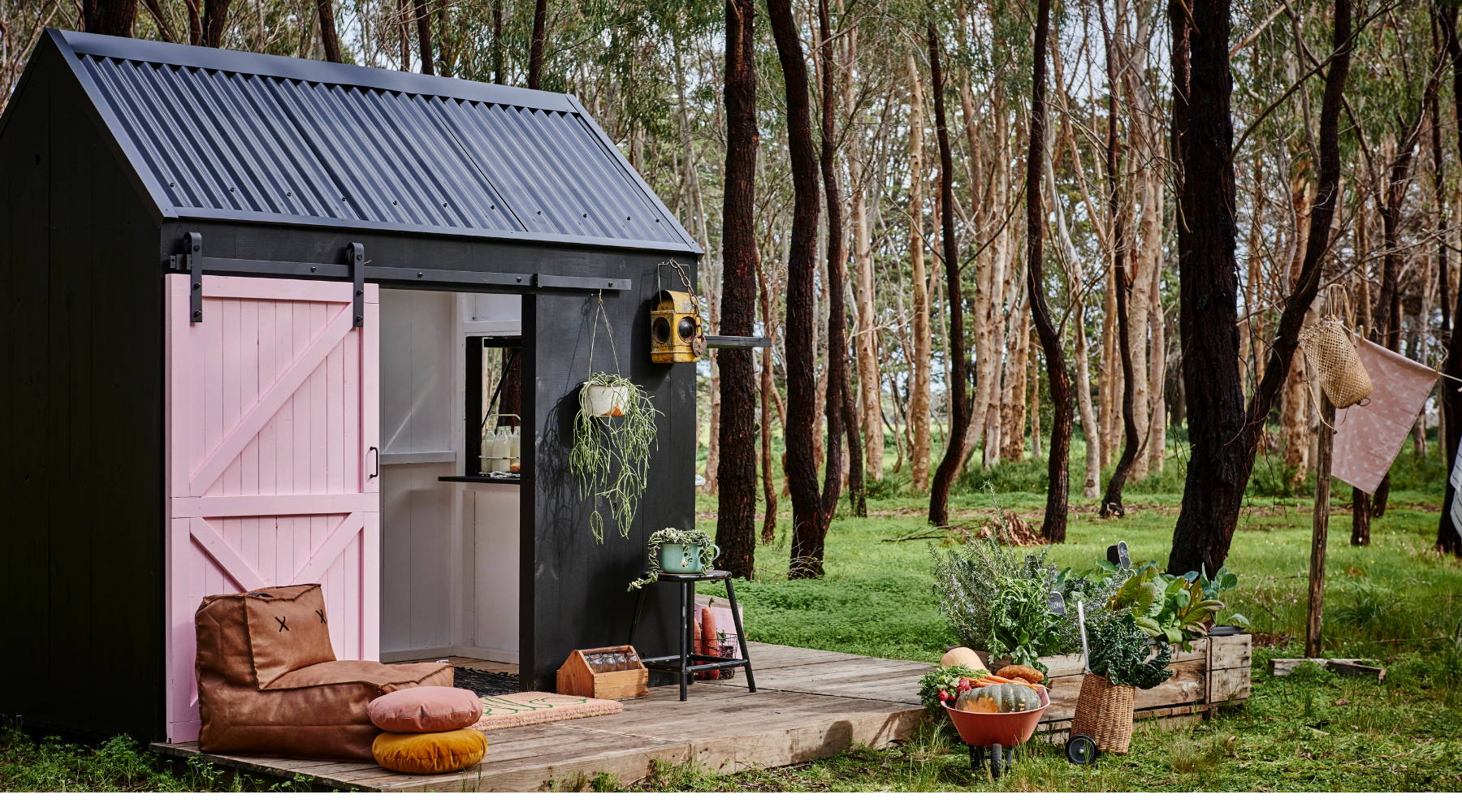 Who wouldn't want a bit of artwork bling on their cubby house!?
Stencils, artwork, outrageous designs - why bloody not? Let your imagination run wild and have some fun with the kids while you are doing it.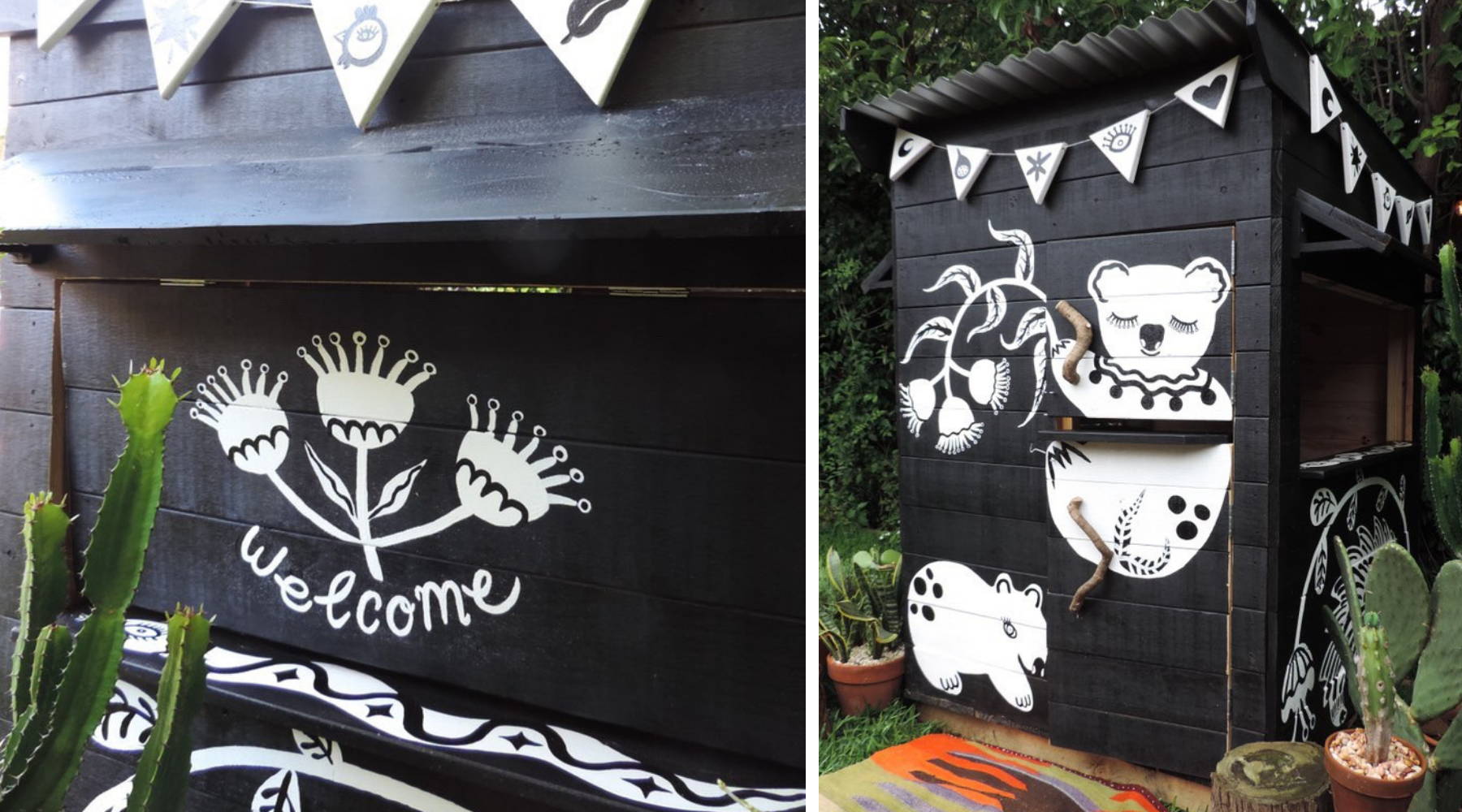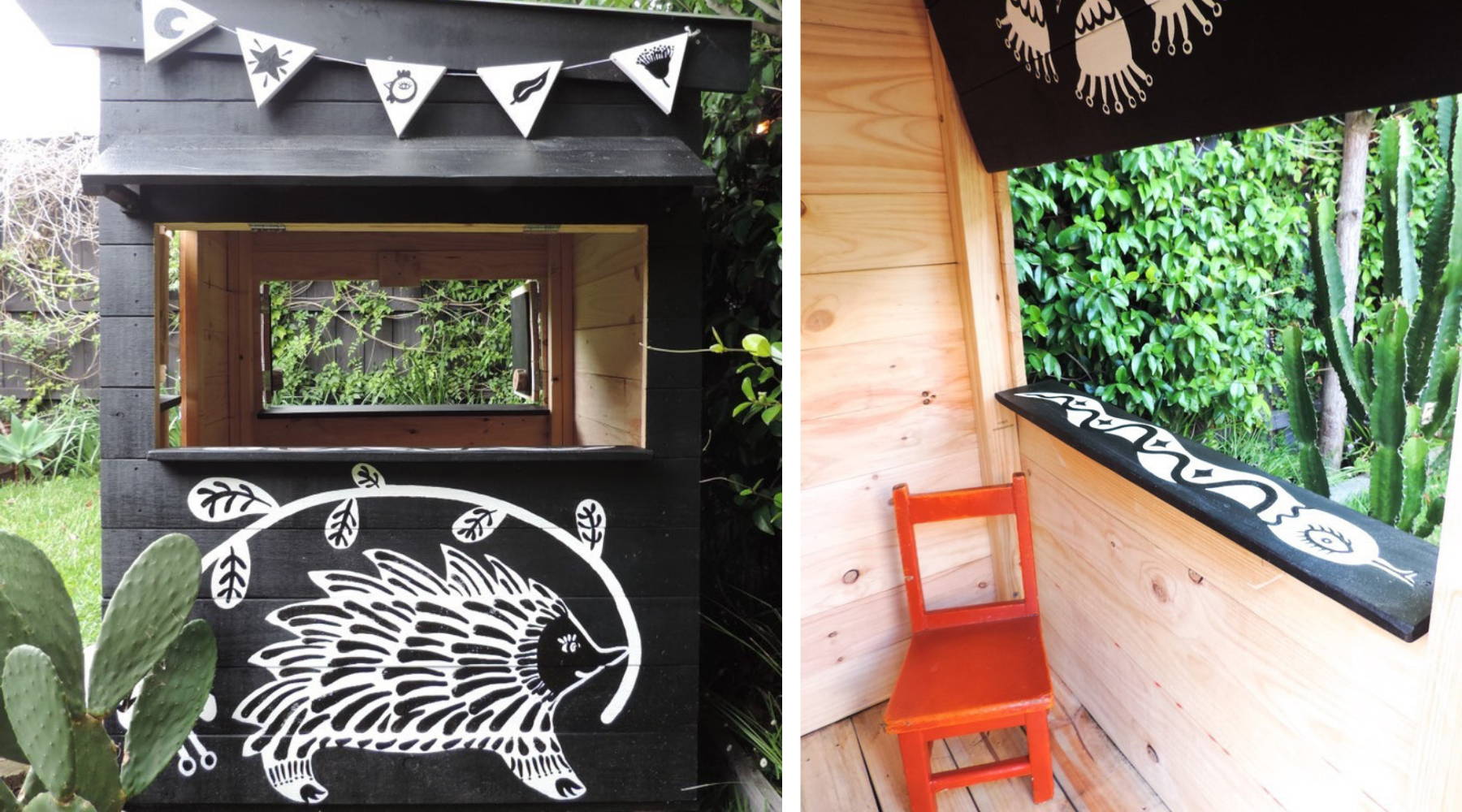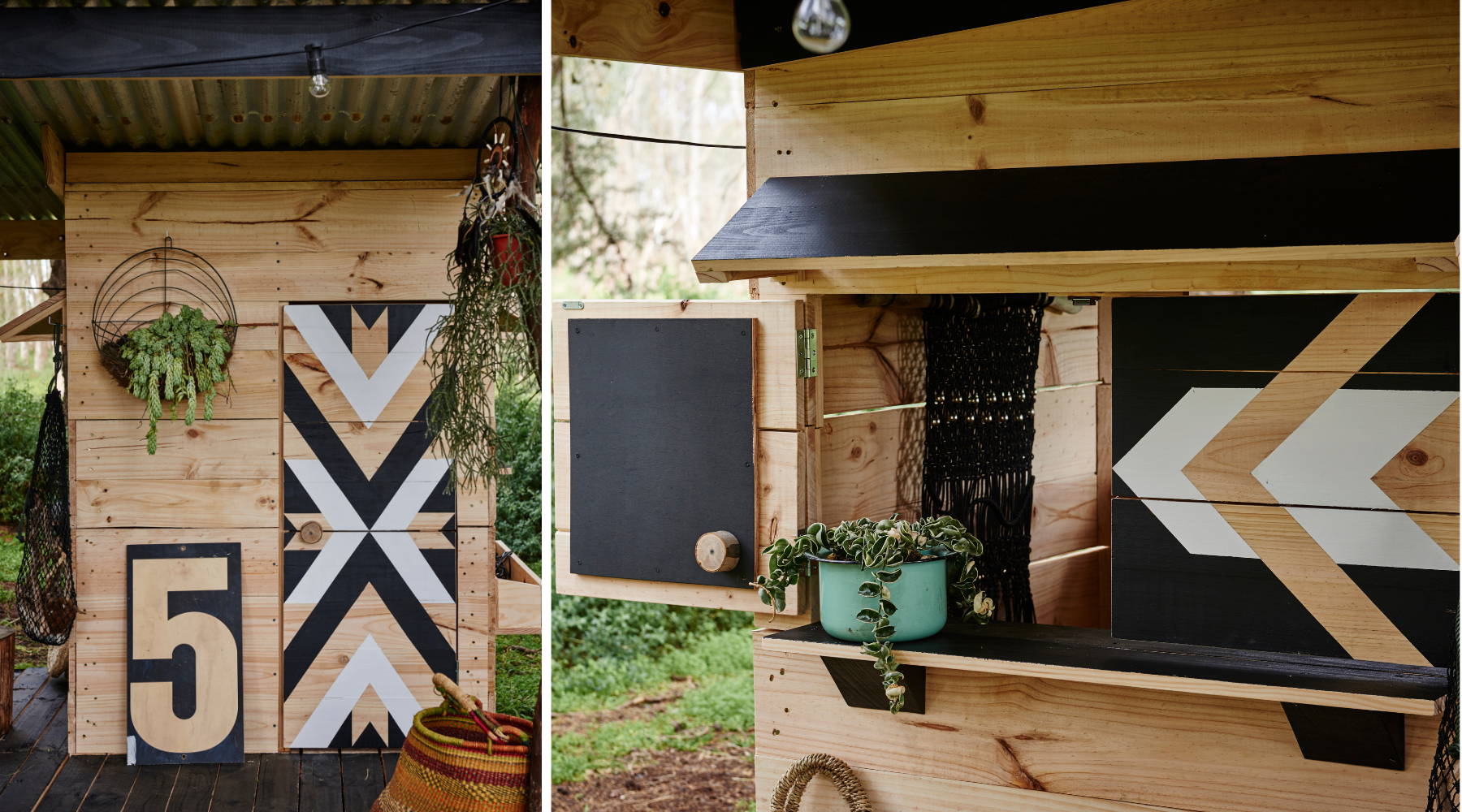 Decking can be added to one, two, or more sides of your cubby and, apart from functionally, adding more flat space to the area will allow for more inside and outside play through the windows.
You can purchase pine decking panels from us that are suitable for flat ground. These can be easily screwed together, are cost effective, and the same construct as the cubby base so they sit at the same height. Or, for a more permanent solution that can address sloped land and future plans, we can build a custom decking in pine or hardwood. With custom-decking you can place the cubby (without a floor) directly on the decking for seamless entry.
If budget and space do not lend itself to a decked area, do not despair, kids are the least fussy customers we have, and they are happy playing in whatever space you provide!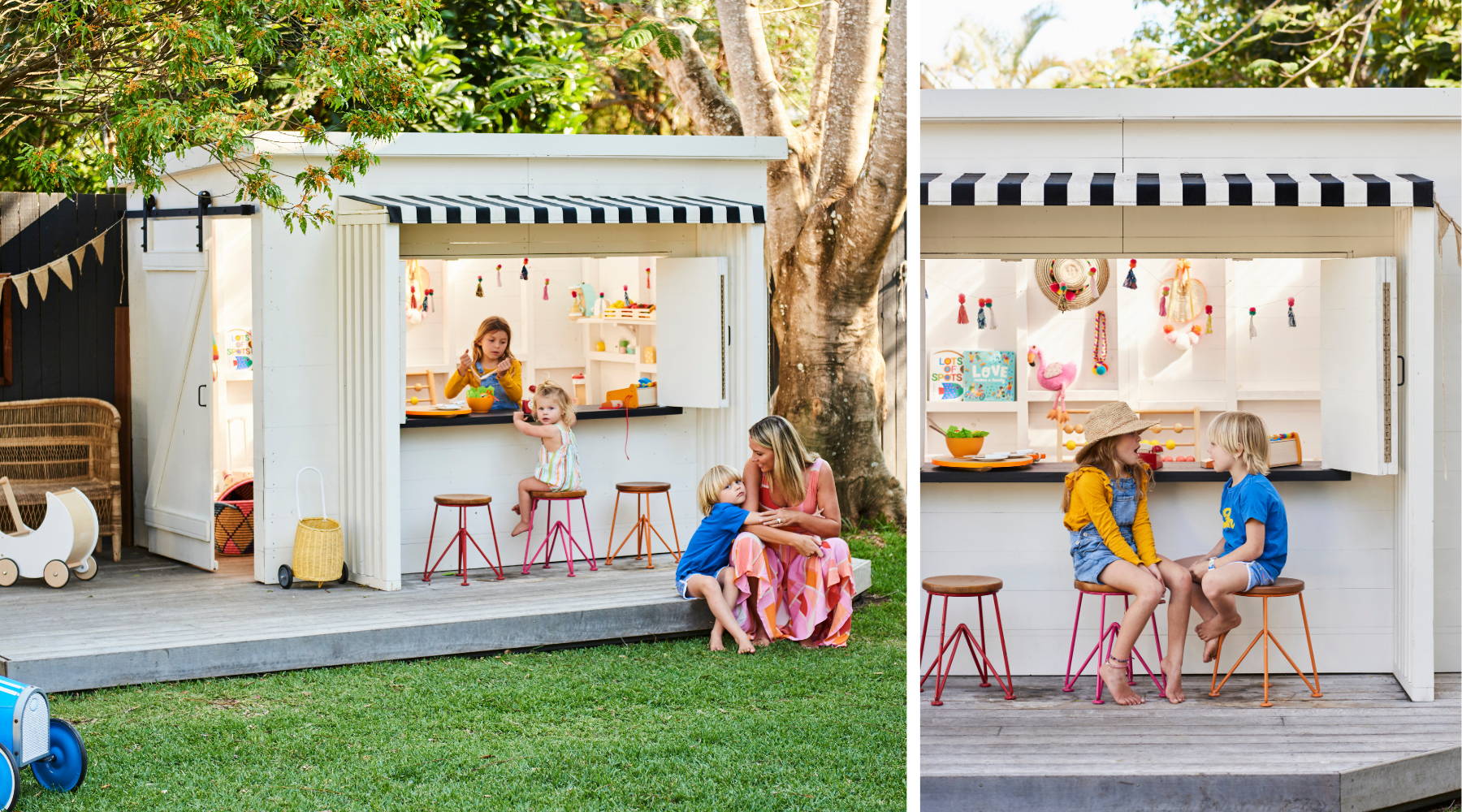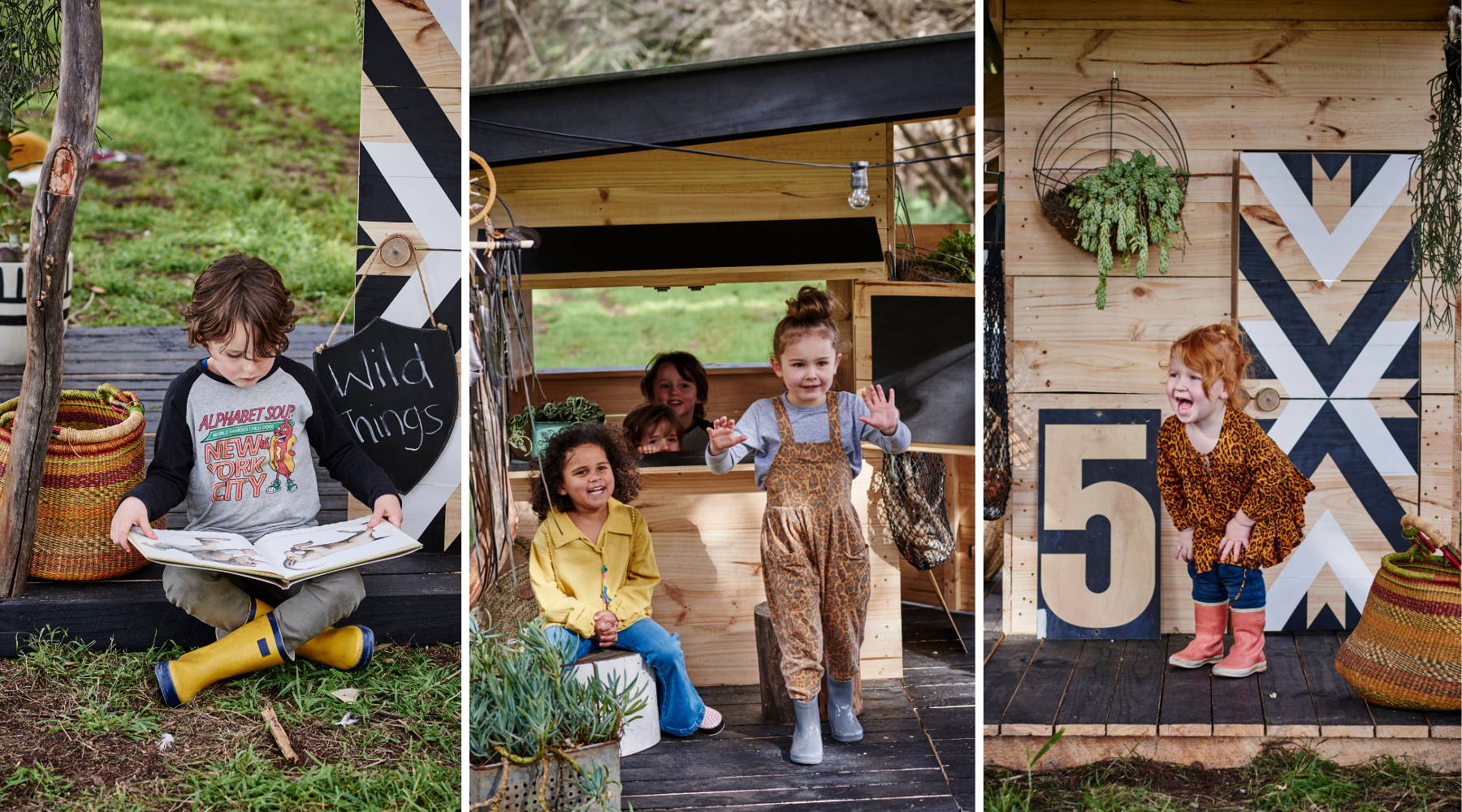 Extended Verandah, Perhaps?
Adding a verandah to one or two sides will once again extend the play space and allow for some additional shade and weather protection. It can also have a beautiful design element that is rather pleasing on the eye.
Is it necessary? Some clients who live in very sunny locations think so, but again kids will be happy to play in whatever space they have and won't be questioning you on your design choices.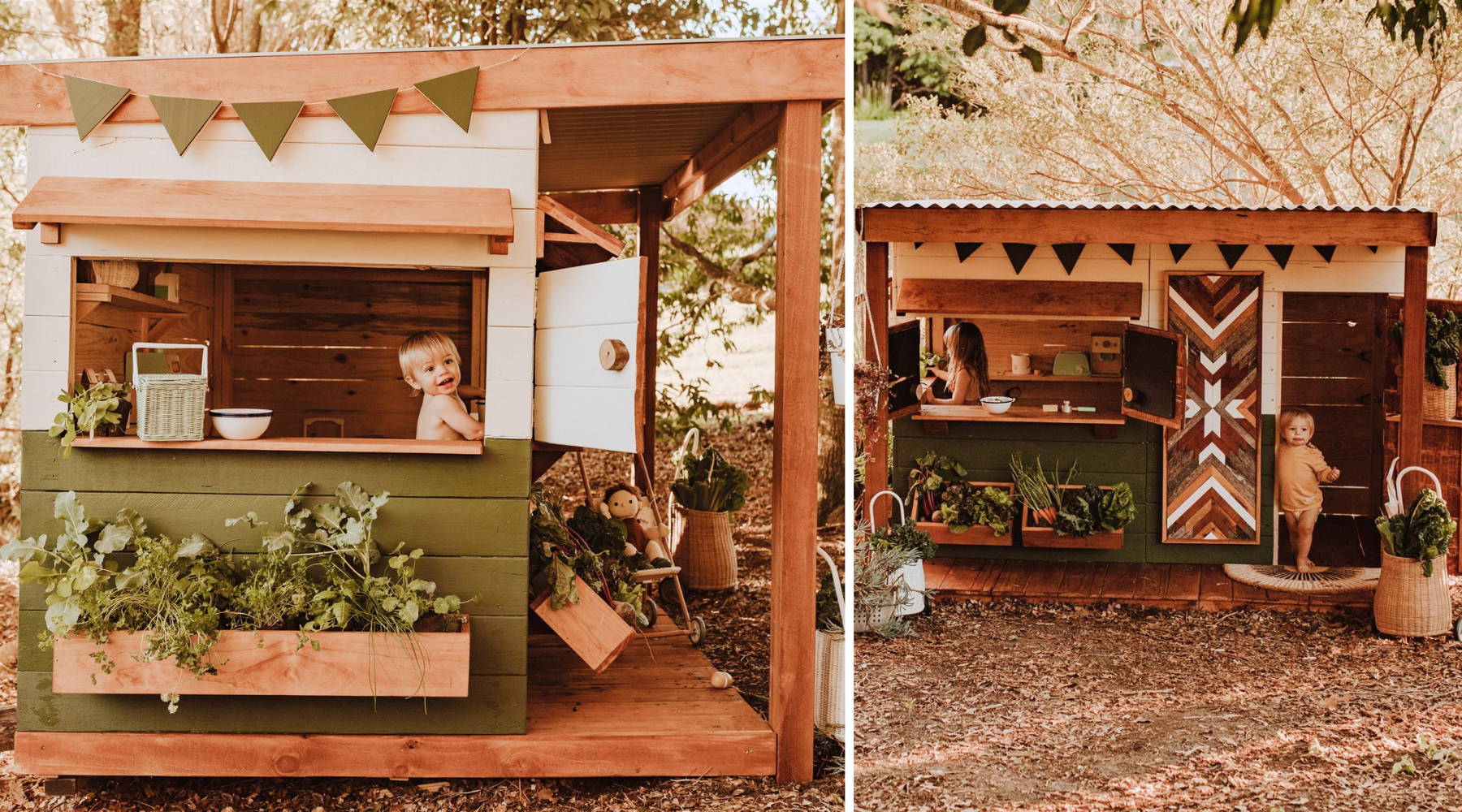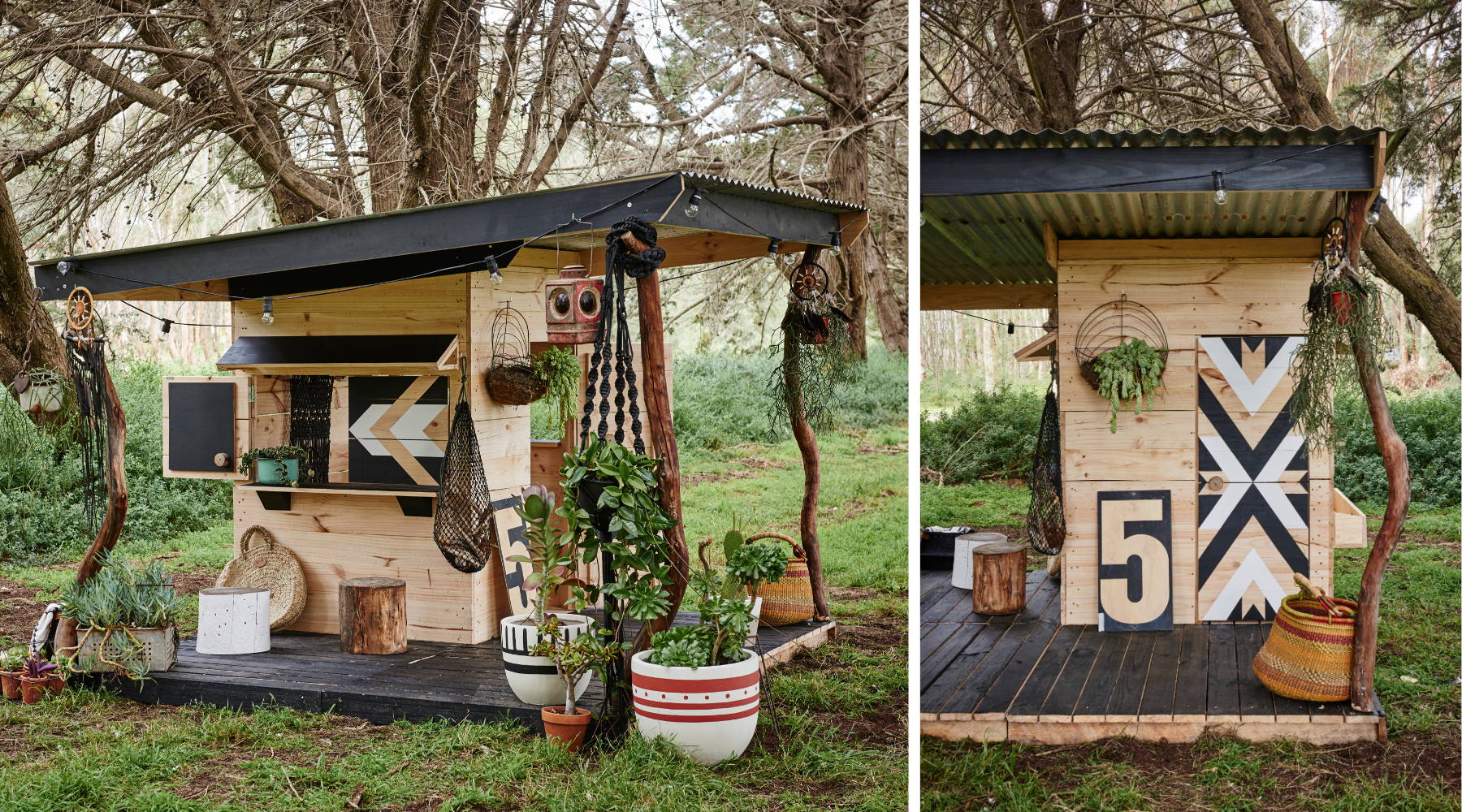 Extend Nature Play with Garden Boxes & Beds
Extending your play area is not limited to a verandah, you could consider adding lots of features that will turn your cubby house into a whole play space.
Garden beds are a great addition to bring nature and learning through play. Get your kids involved in building their own herb garden and watch them introduce these elements into their cubby house playtime; especially if you have a cubby kitchen.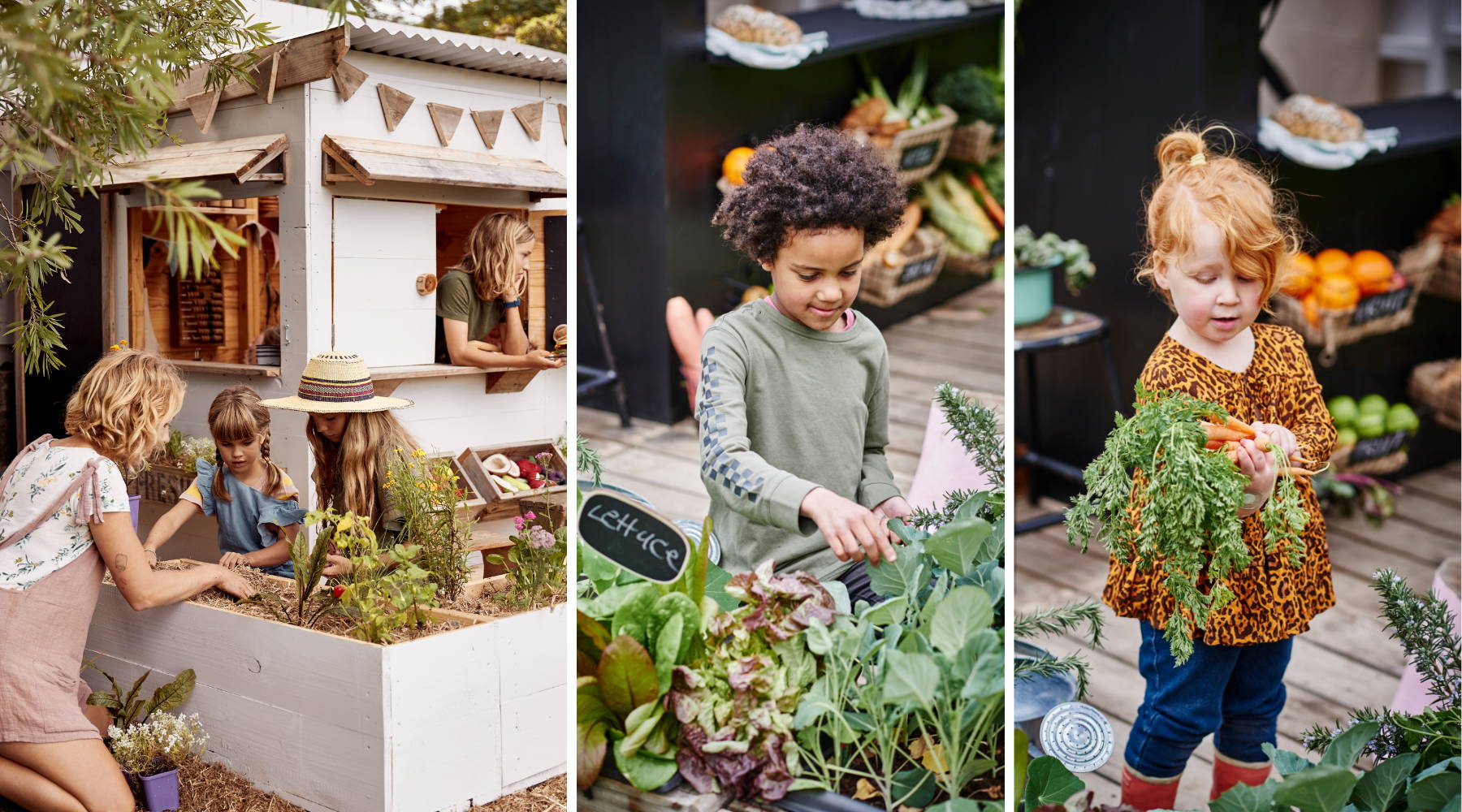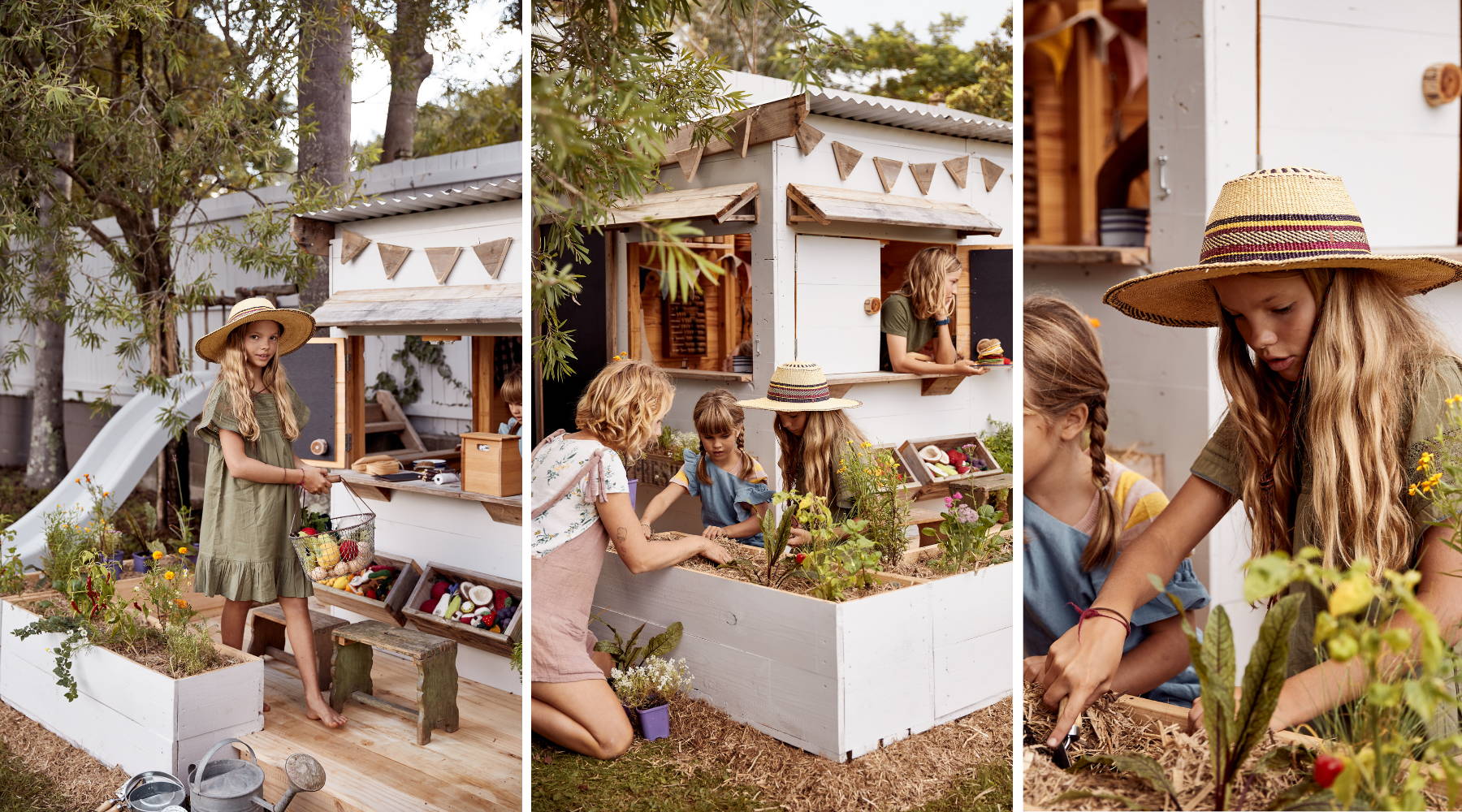 The whole purpose of cubby house play is for the kids to have ownership of their own real-life home, just like mum and dad, because hey, this is how they learn about the world.
Pot plants will bring in nature, life and greenery. They look great and create an opportunity for learning responsibility by caring for plants. Just hope their green thumb game is solid.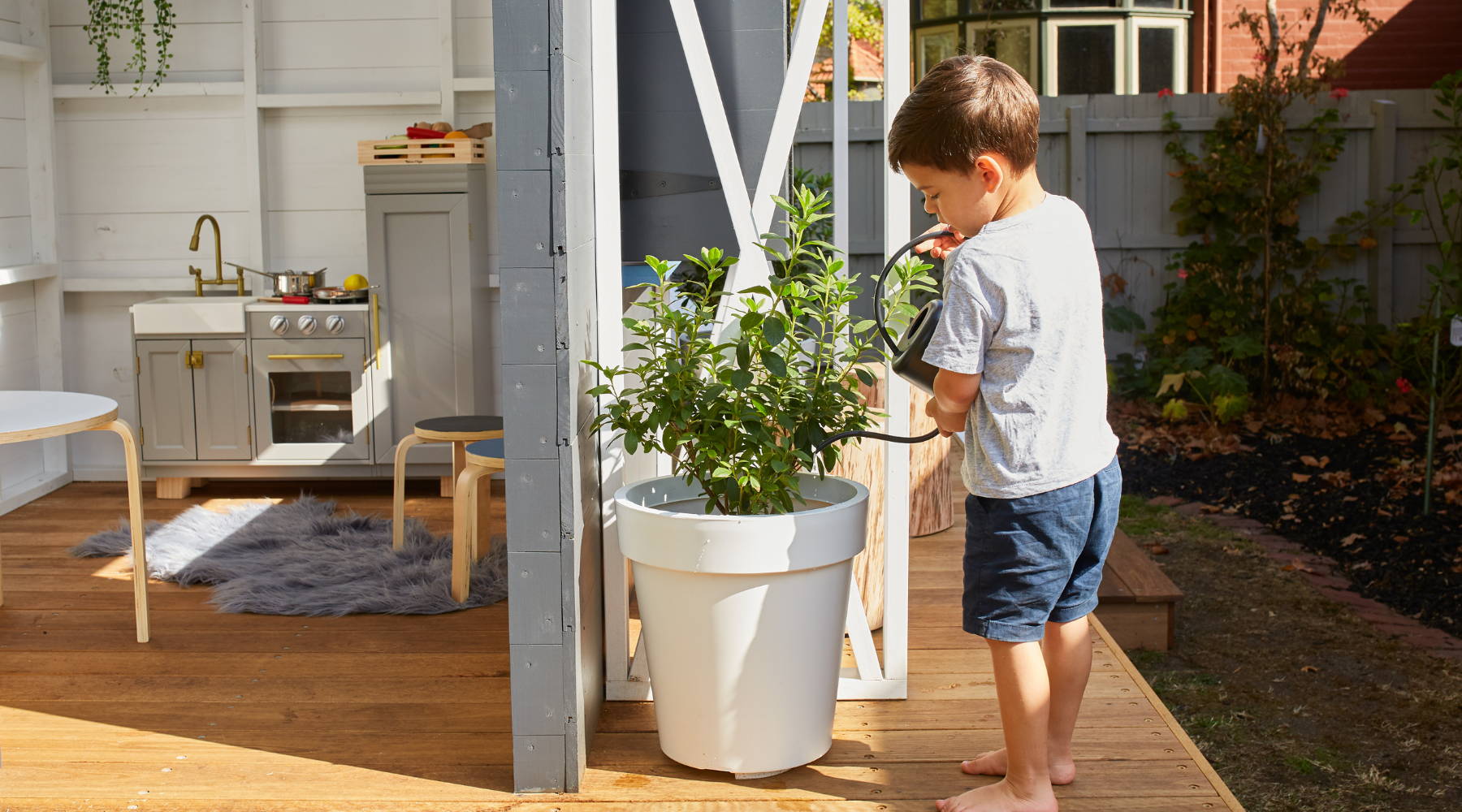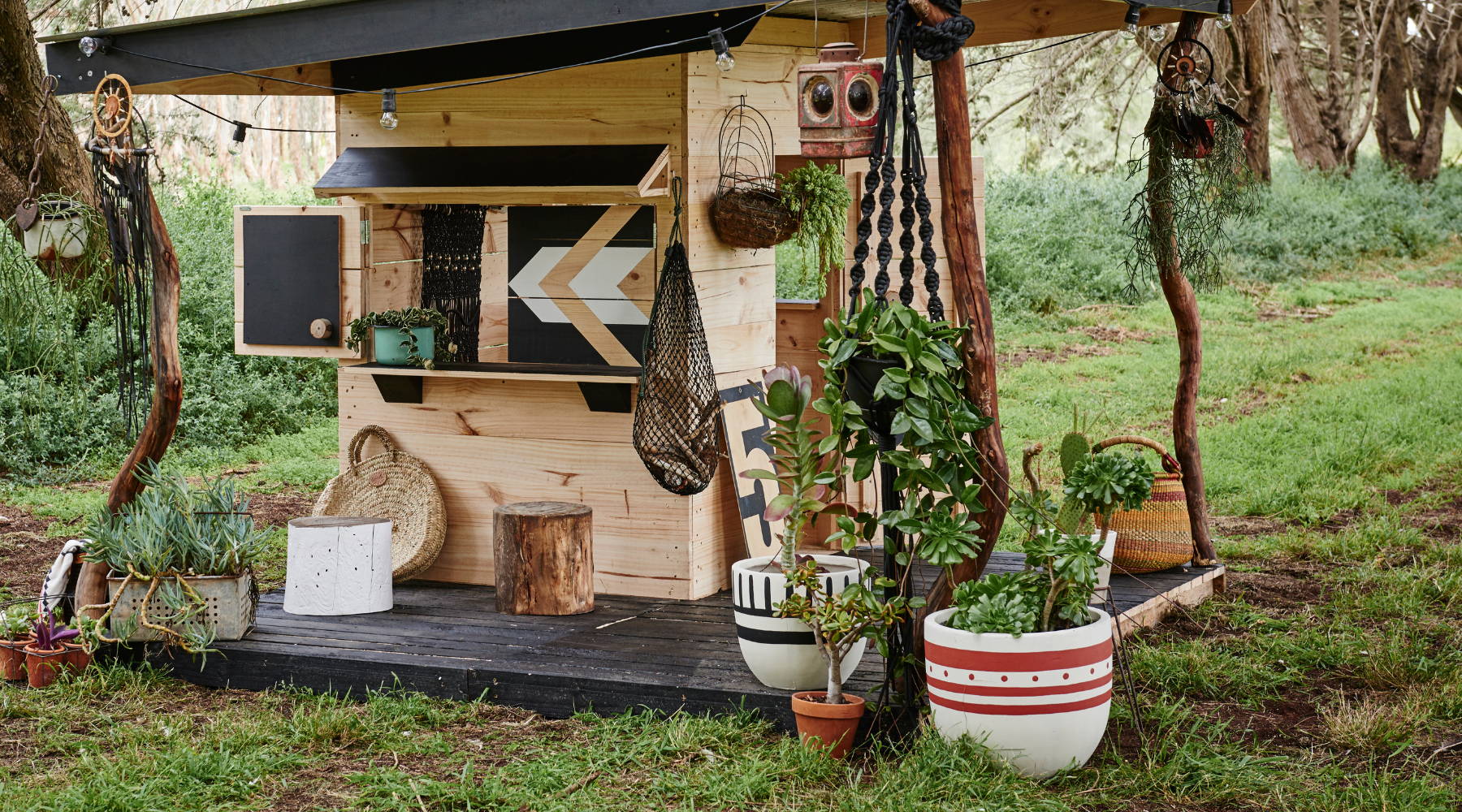 Market Boxes & Planter Boxes
Market boxes, baskets and planter boxes are the go-to accessories for us; they are tried and tested, and will forever be our go-to cubby home accessory. I mean, sure the fun is obviously inside, but, mums, dads, friends, grandparents, unsuspecting visitors, will ALL have to play shop at some stage, and well, you need to buy the goods from the shop through the shop window. Trust us on this one.
We sell wooden market boxes and they are included as part of our accessories package that can be added to all of our signature range cubby houses, or you can raid your local op shop for alternative styles to be eco mindful. Lastly, we have also sourced these wire ones from Kmart.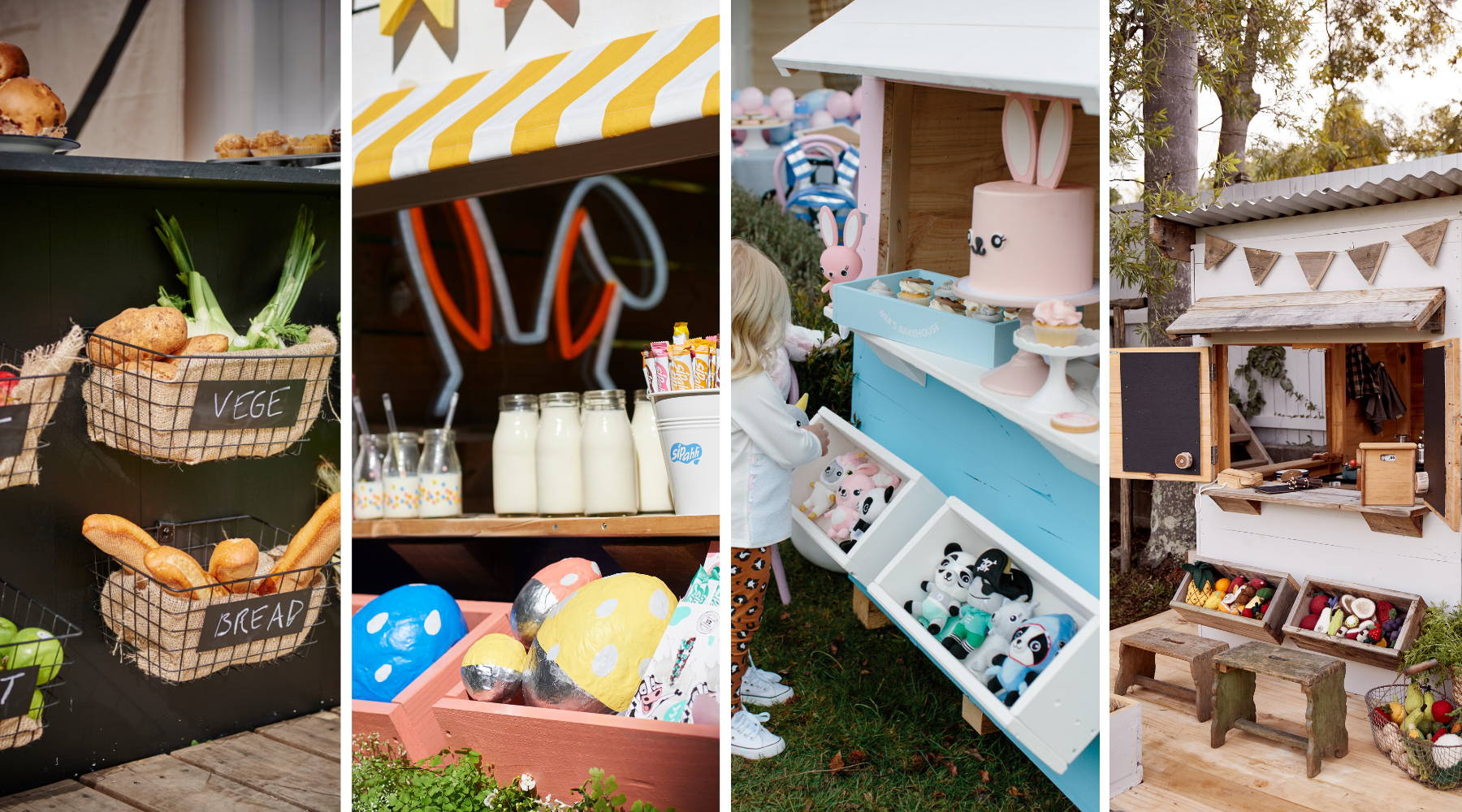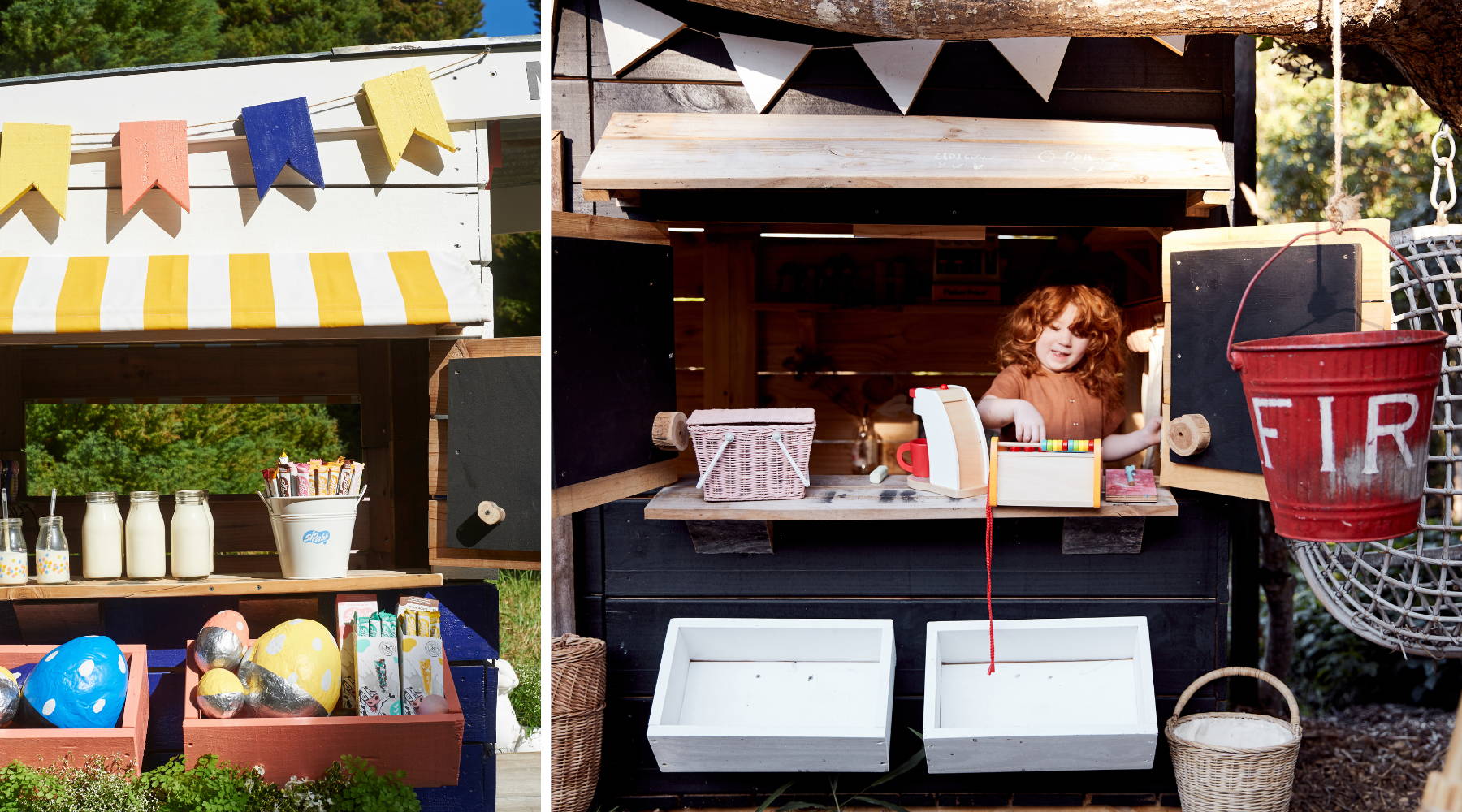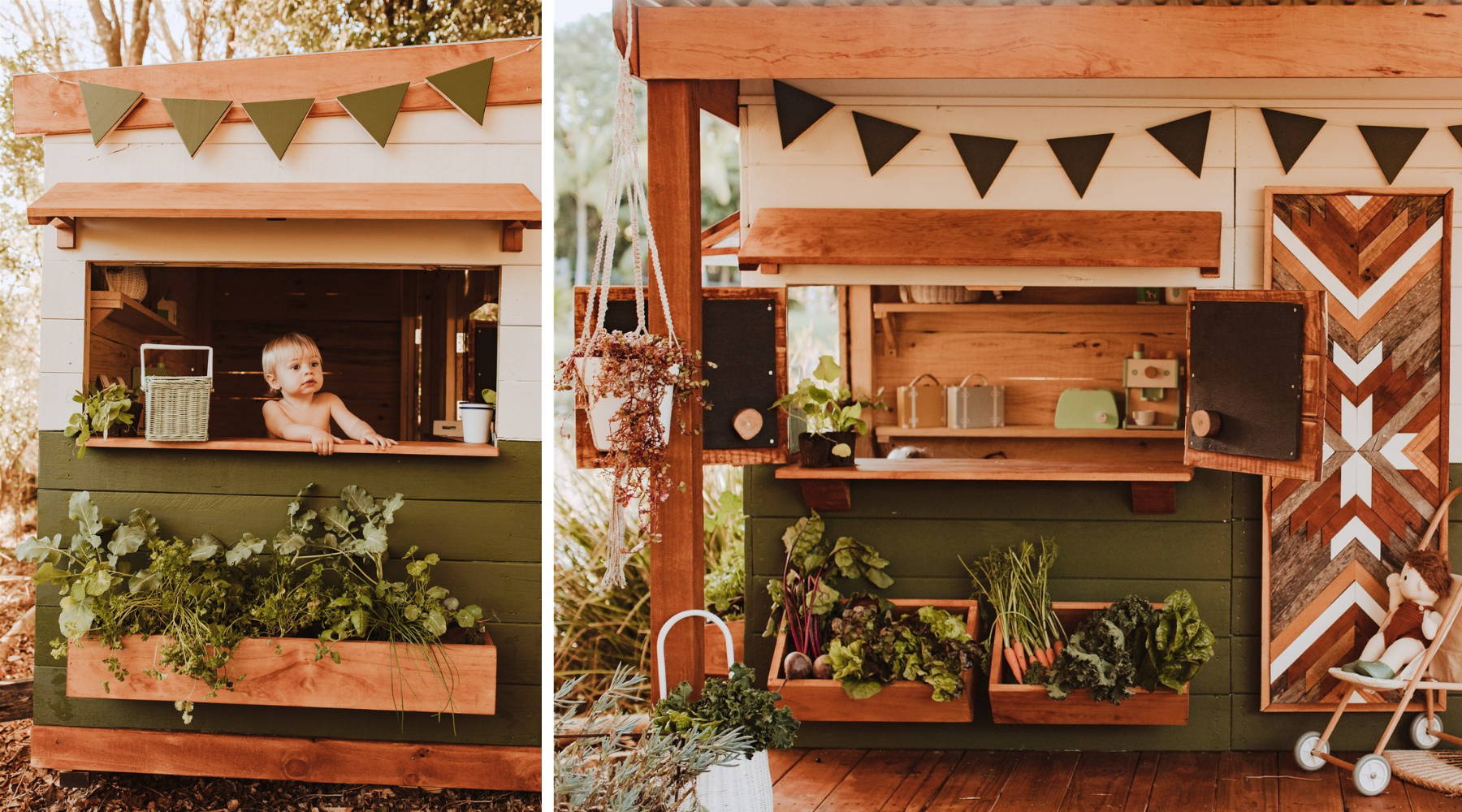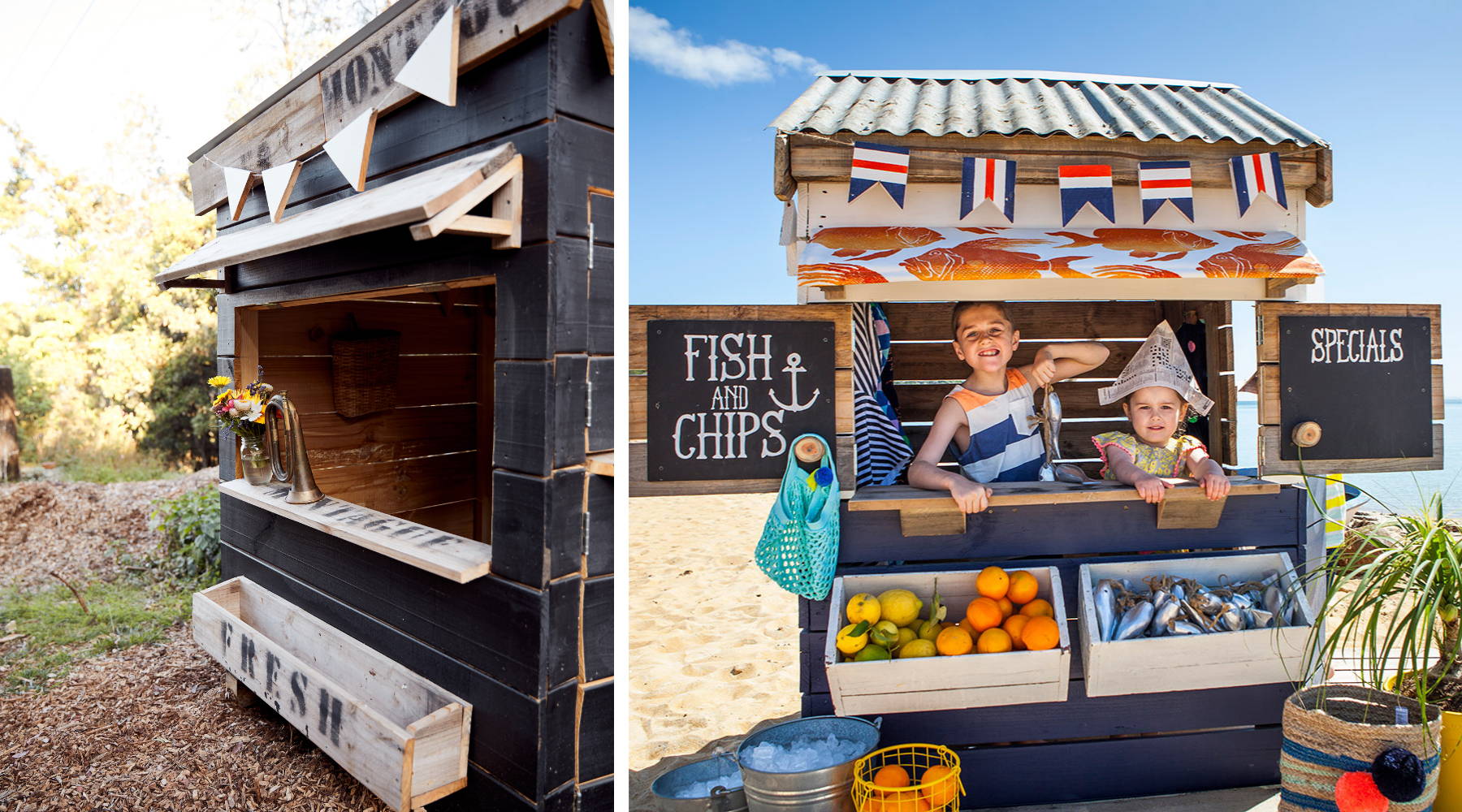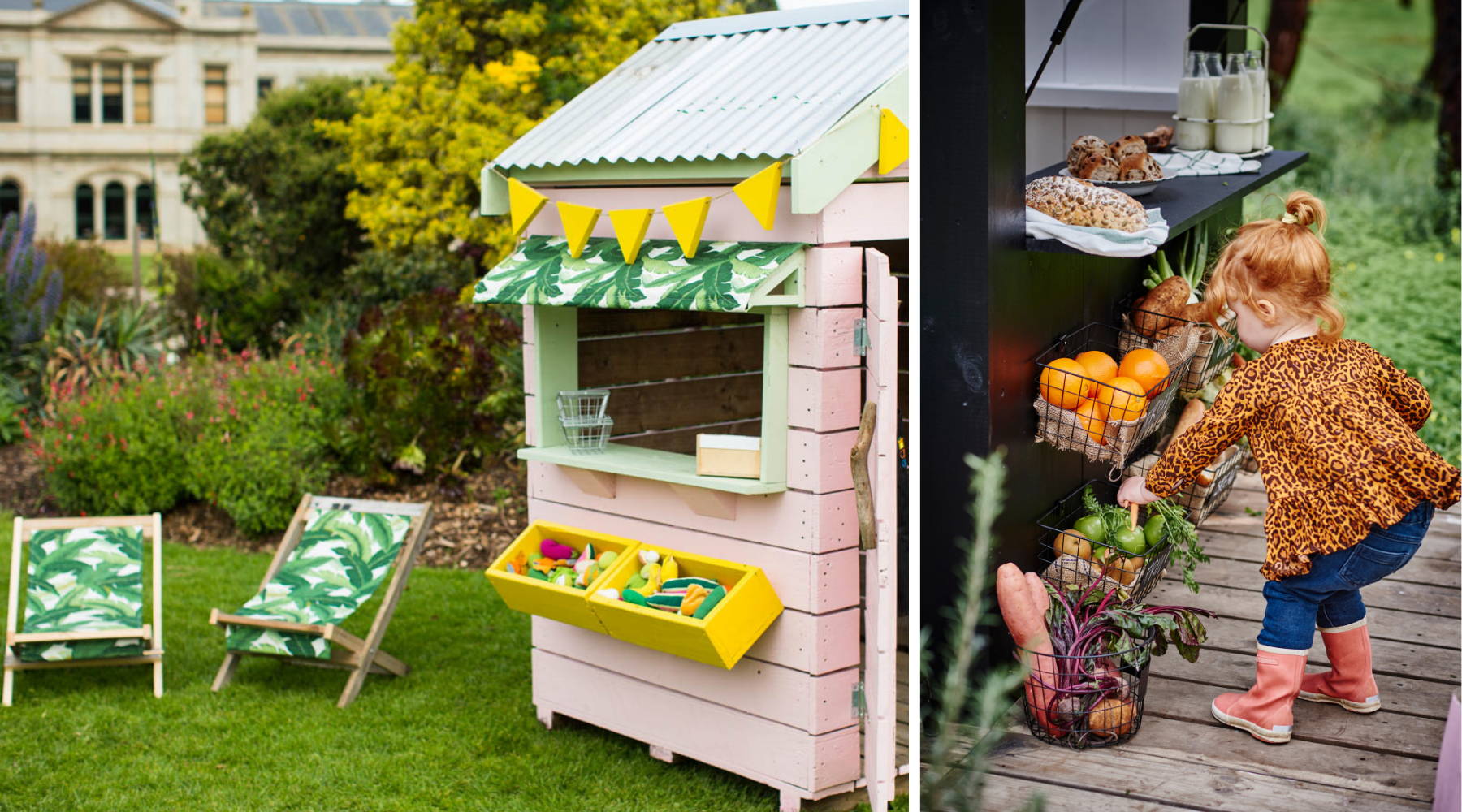 Window Awnings frame your window and provide a little extra protection.
Add a timber awning to your cubby and leave it natural, paint it the same colour or a contrasting colour, and perhaps go wild with some fabulous fabric coverlets on top.
We source our fabrics for the coverlets from Fab Outdoor Fabric's extensive range.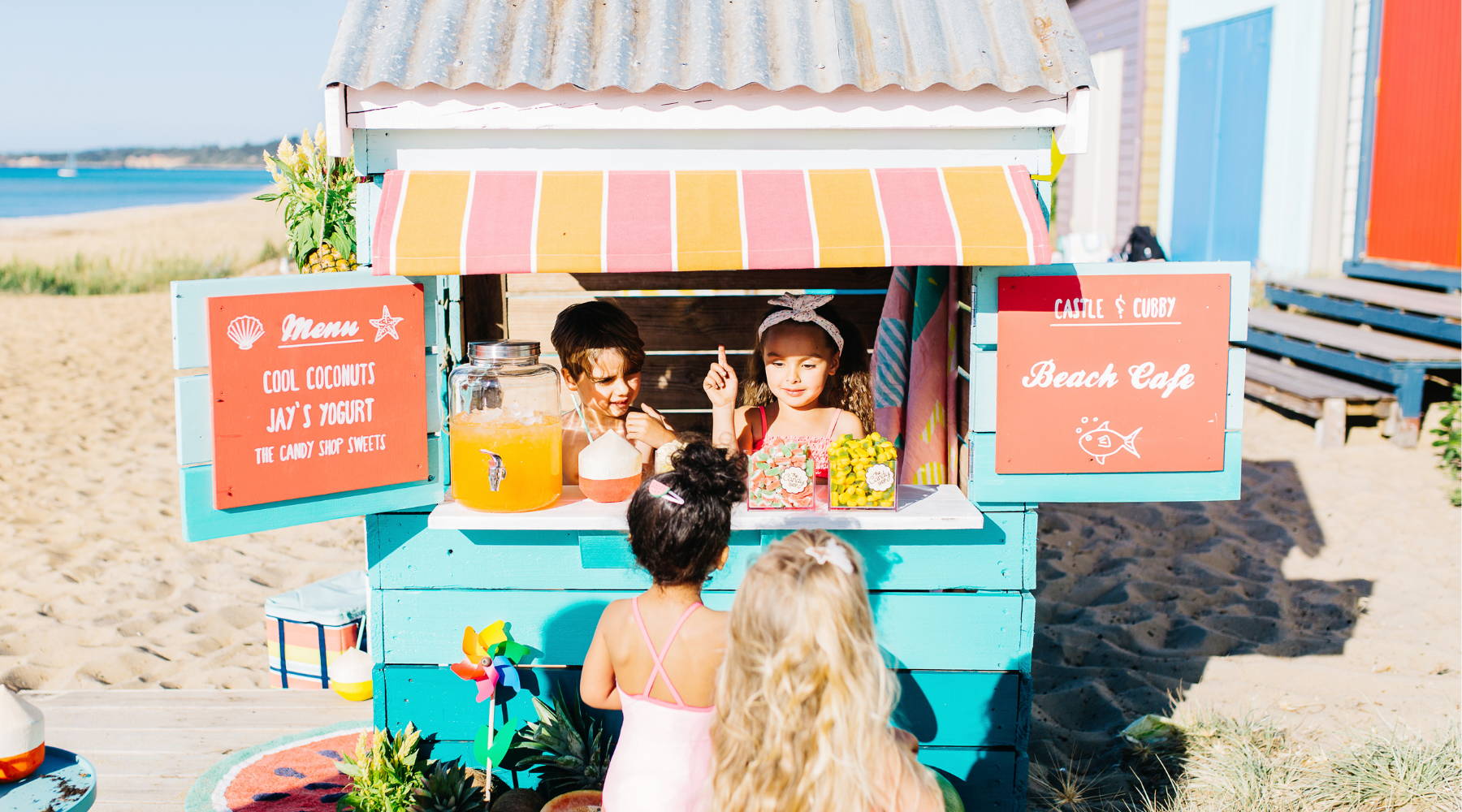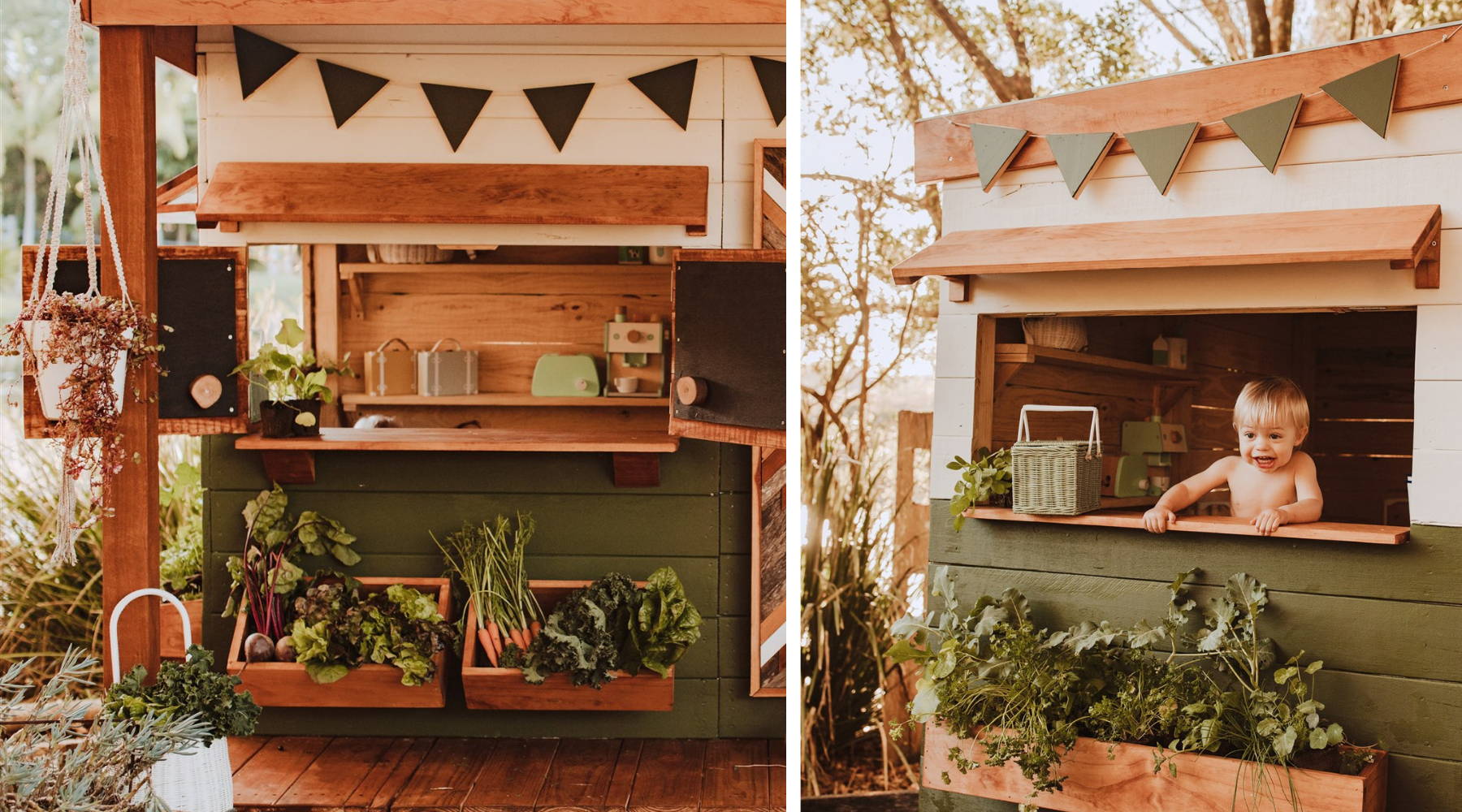 Not a lot to say about bunting, some love it and some not so much. Personally, I love it! It allows me to bring colours into the design and to balance out the styling elements.
We sell wooden bunting or there are a number of great fabric bunting suppliers on Etsy, and Ebay etc.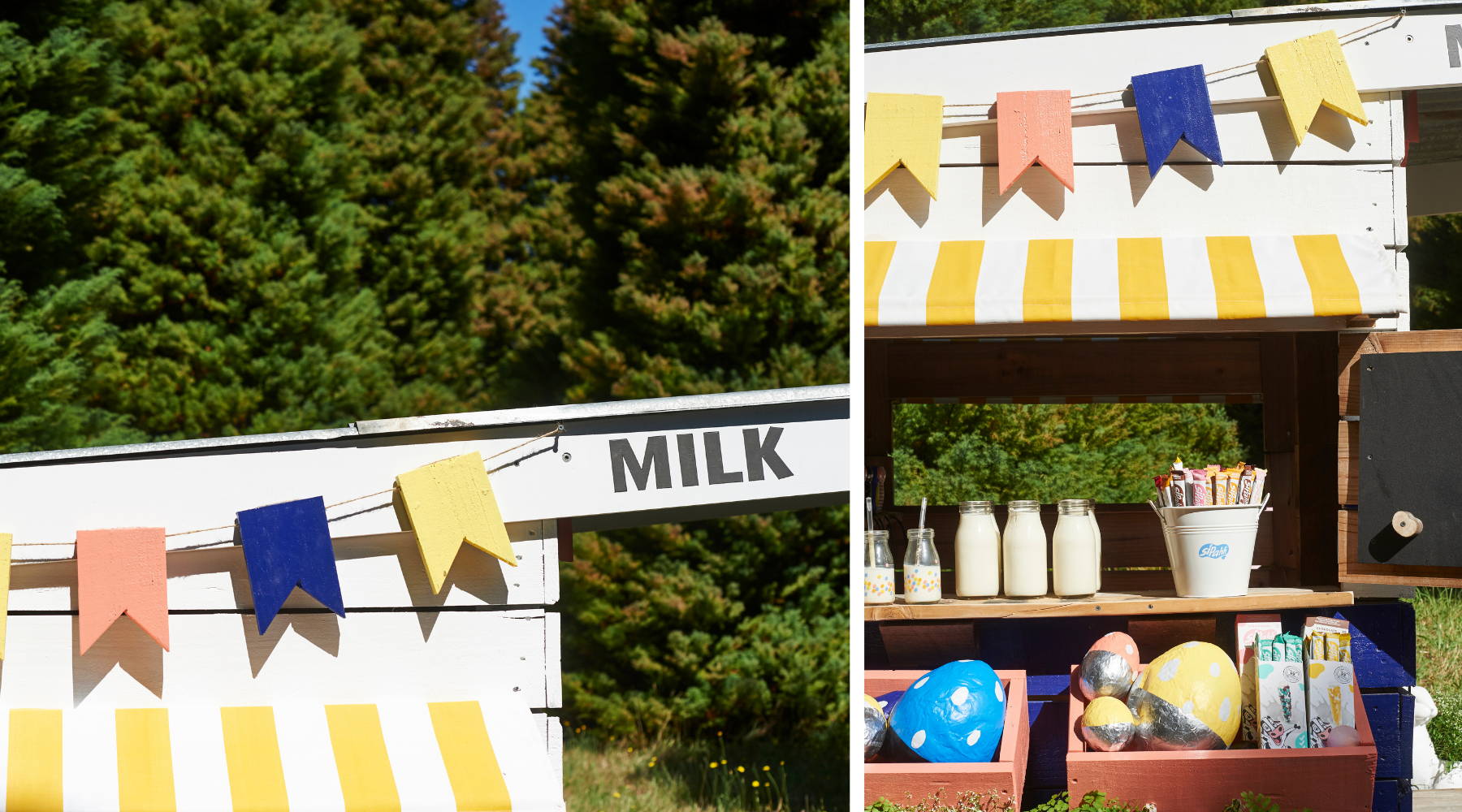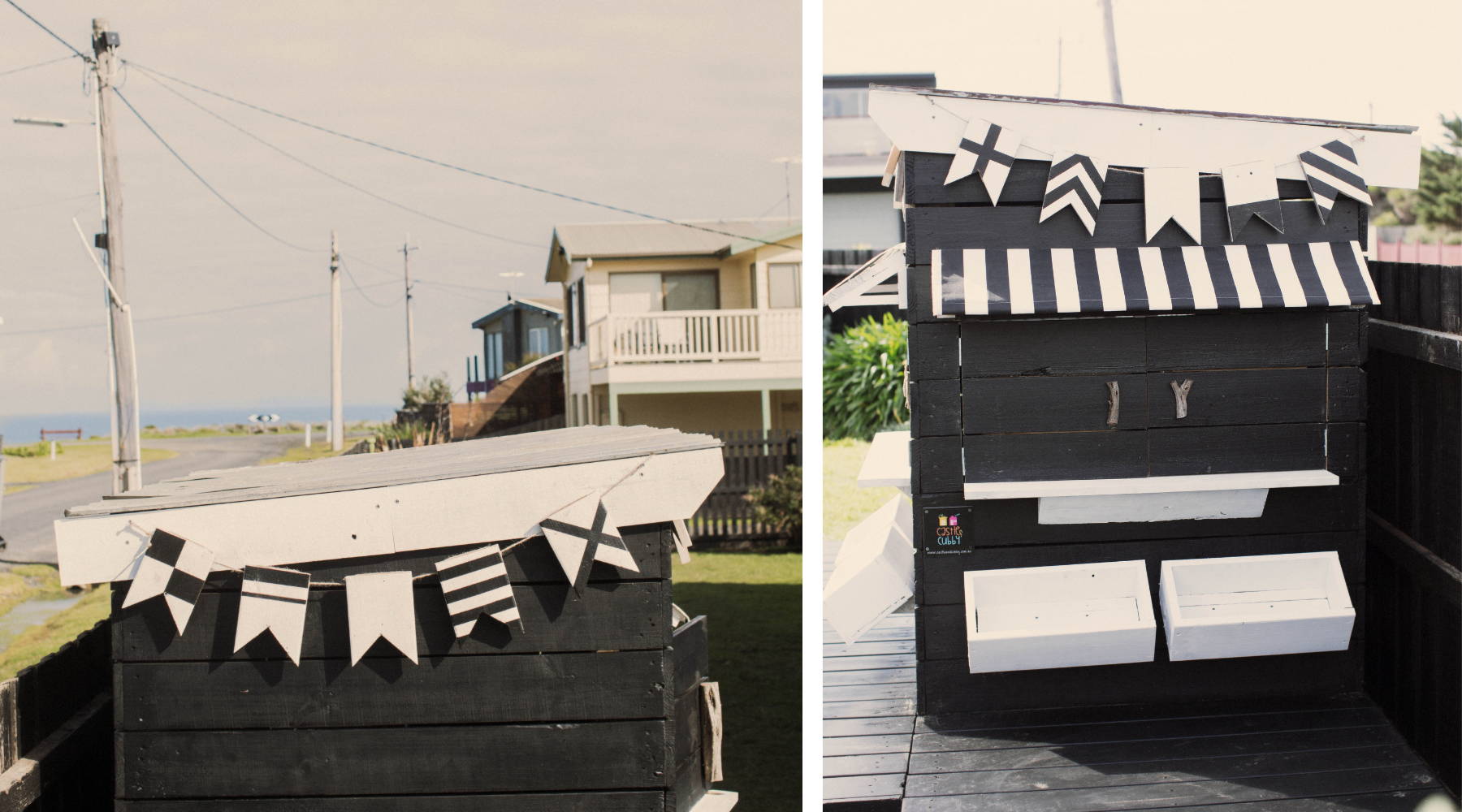 We LOVE a bit of signage on our cubbies. Signs allow us to bring our personality to the theme while getting creative with font styles, colours, and images.
We can quote you on a personalised sign for your cubby house that can even include your child's name.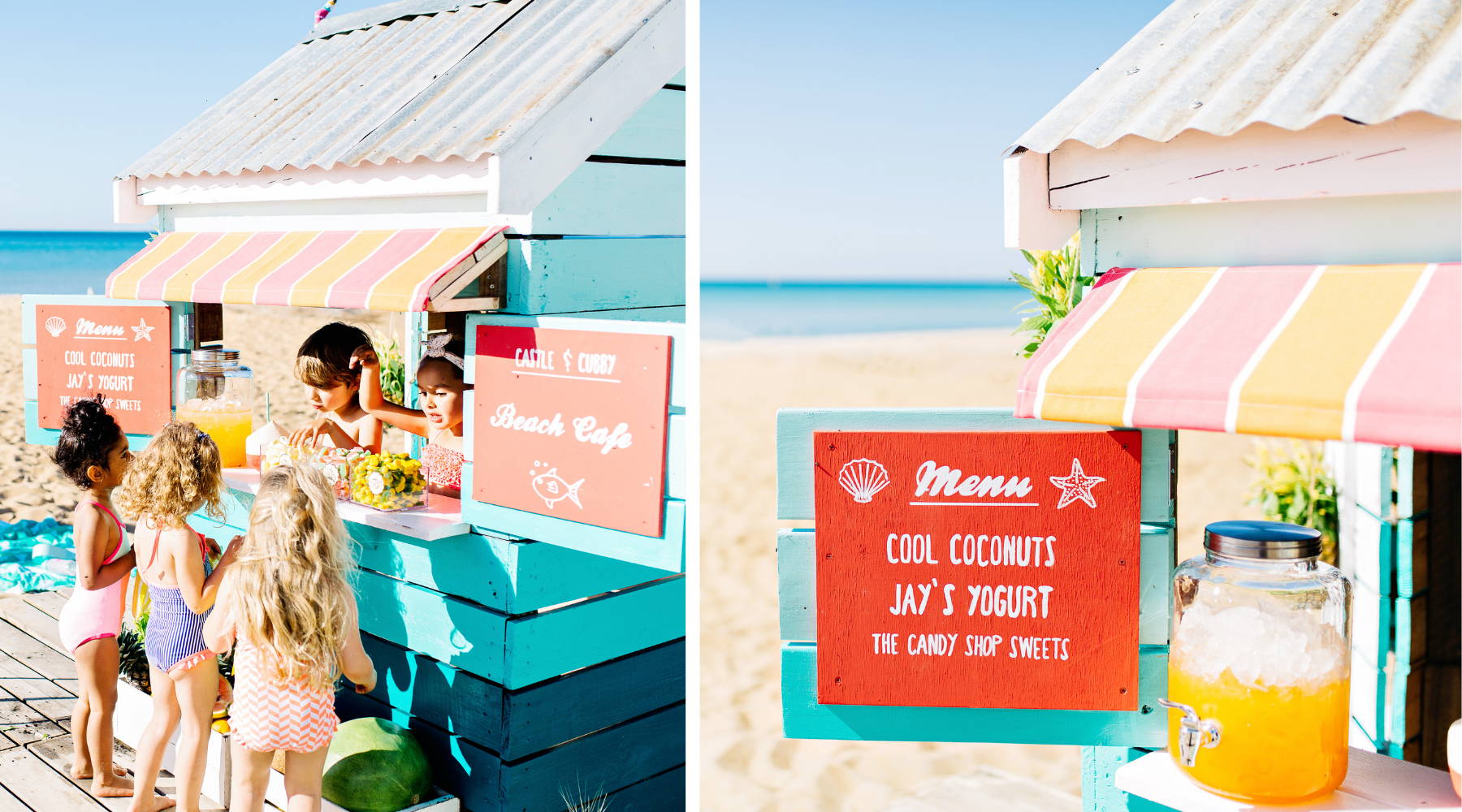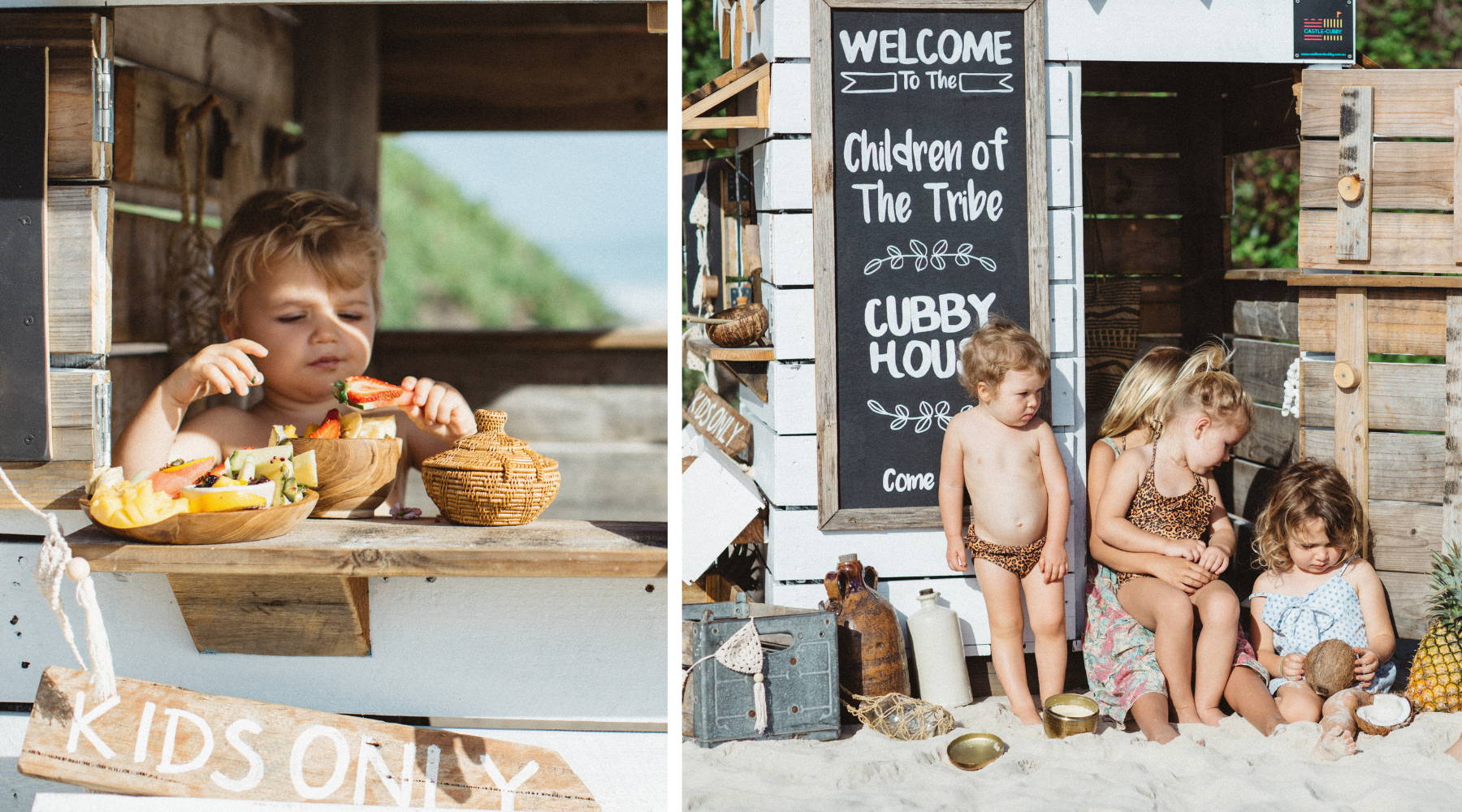 A picnic table or table and chairs that are made from hardwood timber or pine timber (sealed or painted) can be positioned in your play space to extend the area and make those tea parties, cafe's and play dates so much more enjoyable.
Imagine delivering "food" (aka mud pies) from the restaurant to waiting customers. And adults can deliver snacks to the table to really extend that play time, while maximising their own!
We sell a range of picnic tables, tables and stools to complement your play area, or even inside your own house.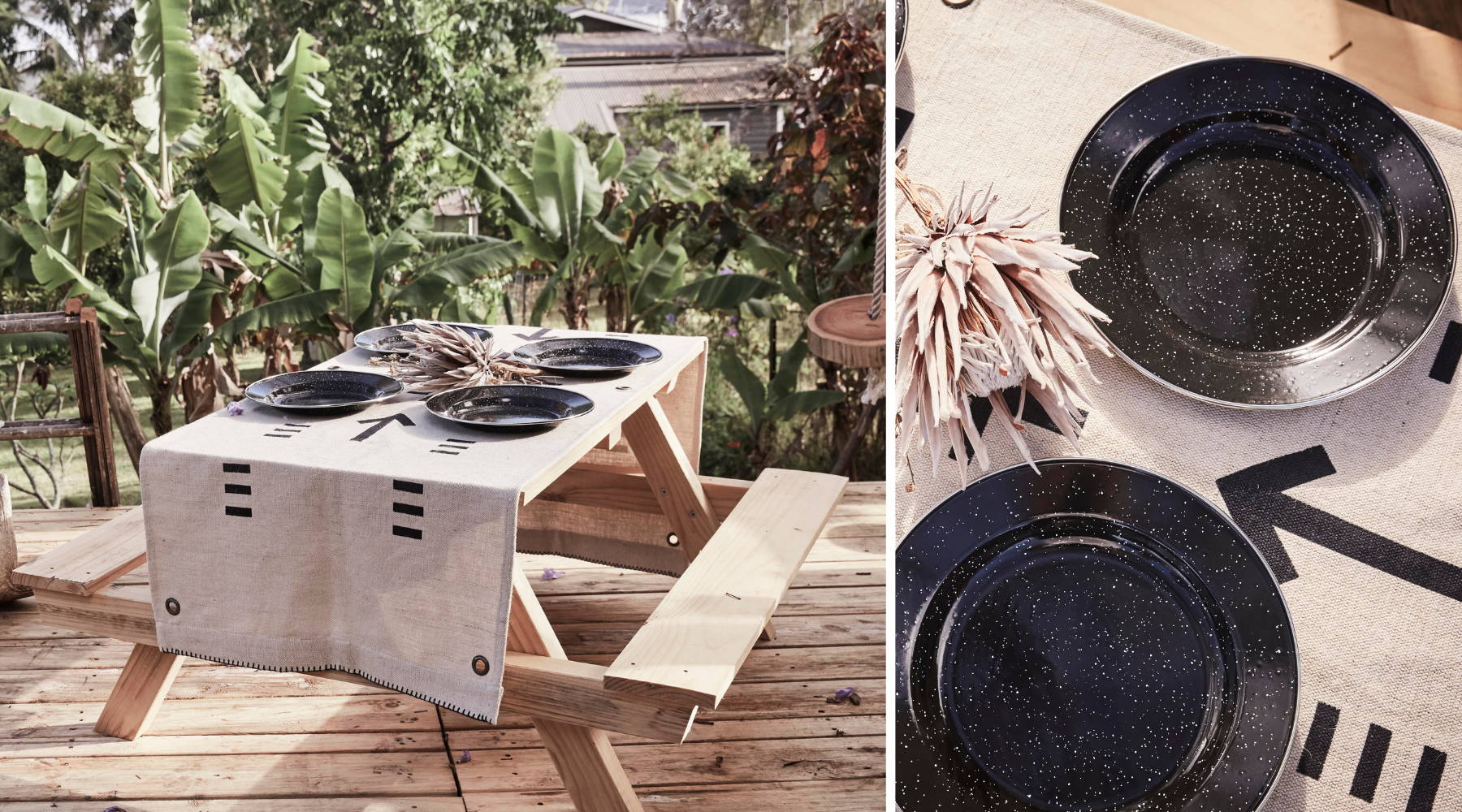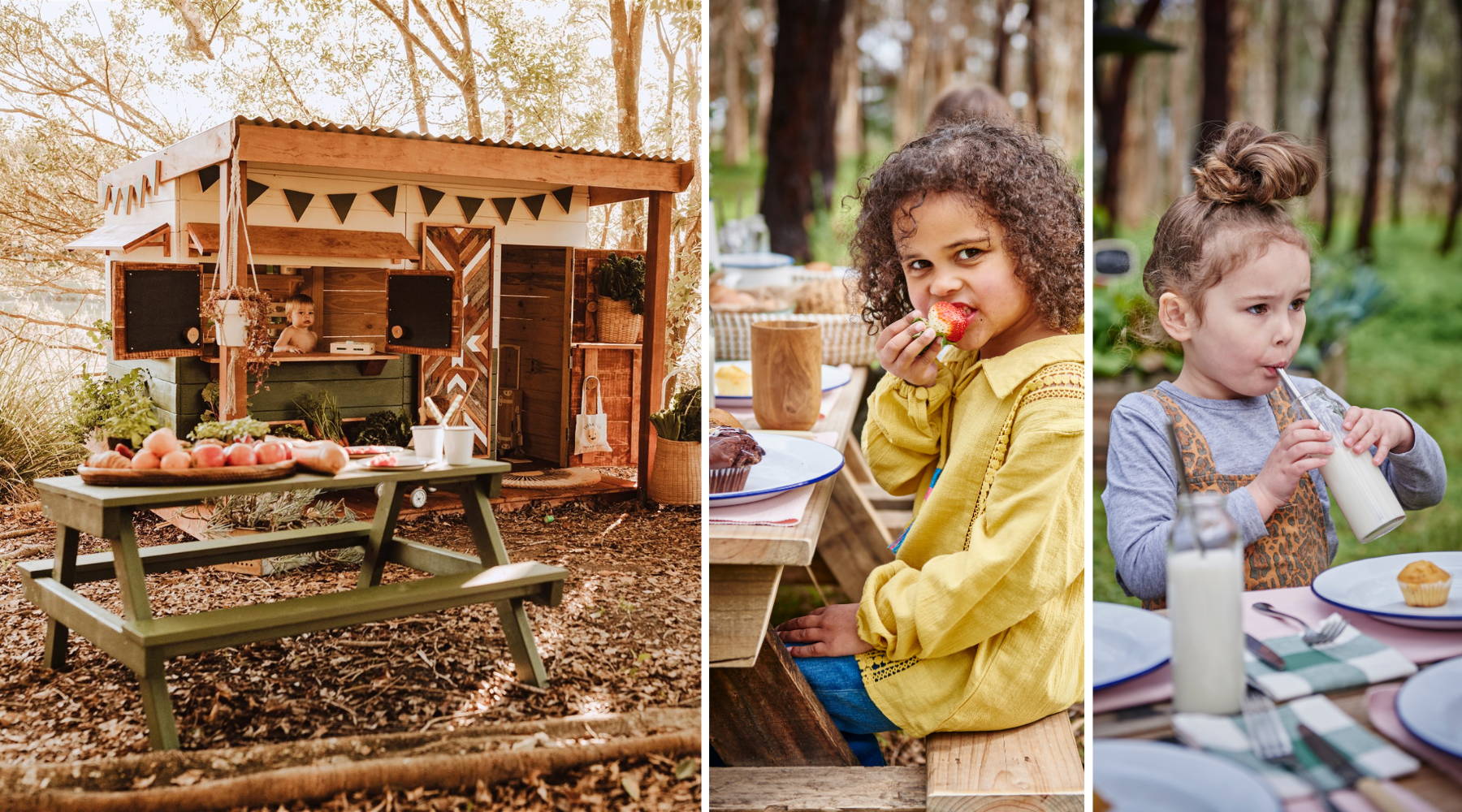 Log stools, castle and cubby pine and hardwood stools, vintage stools, painted stools or store bought stools. Stools, stools, everywhere stools. For standing and reaching higher, for bums at parties and play dates. BUT most importantly to save mum and dad's backs while playing shop and bending down at the windows. Sheesh, the old back she ain't what she used to be!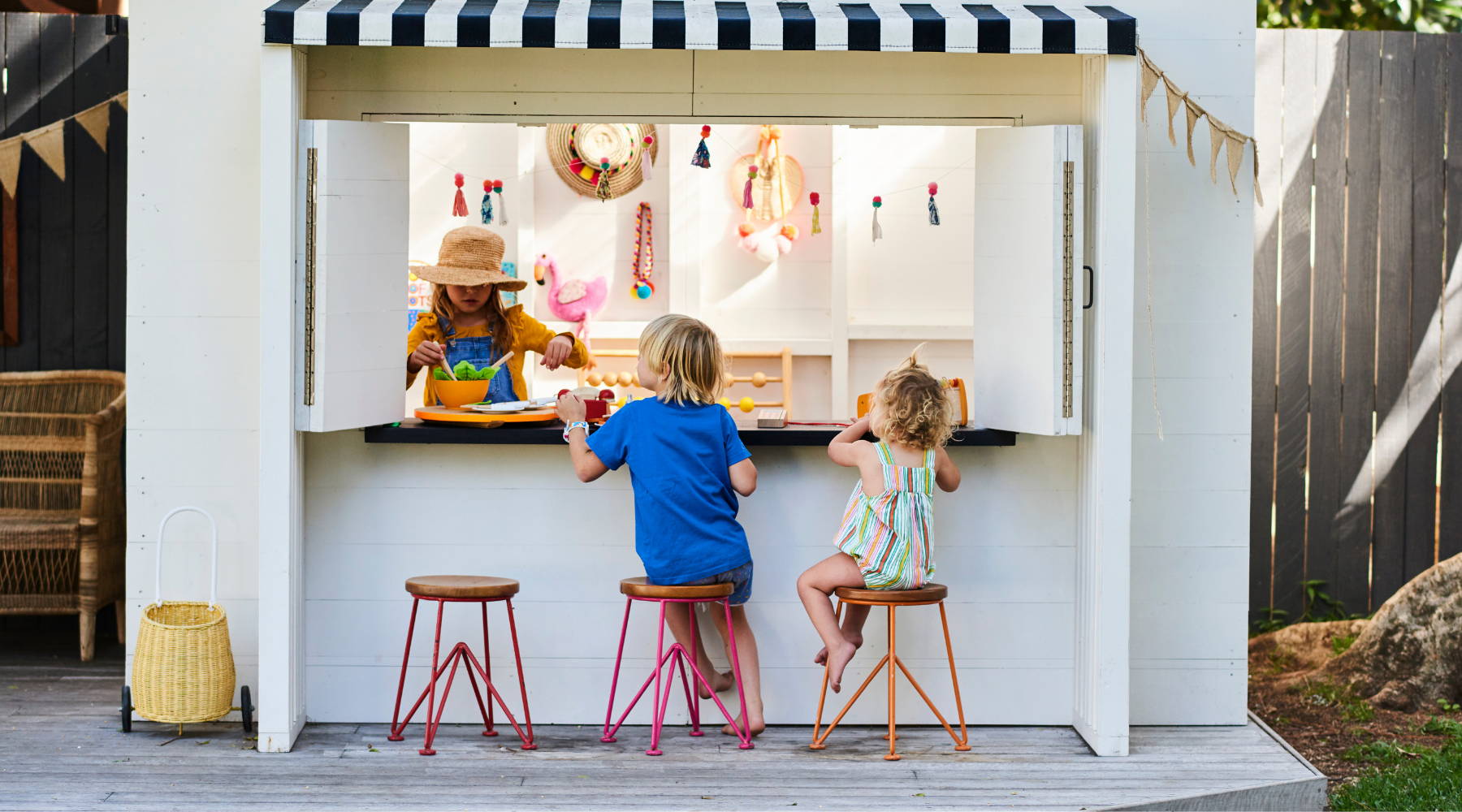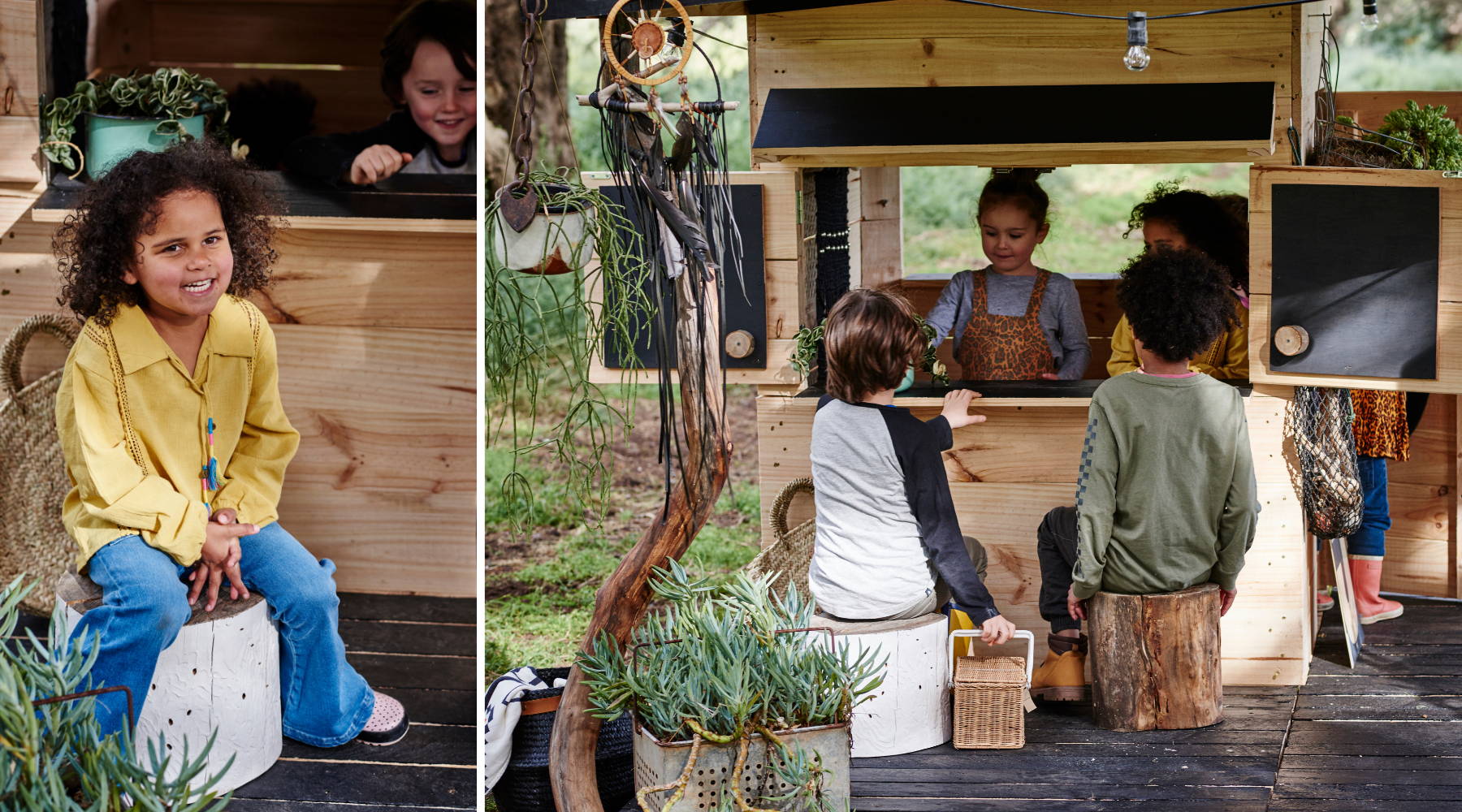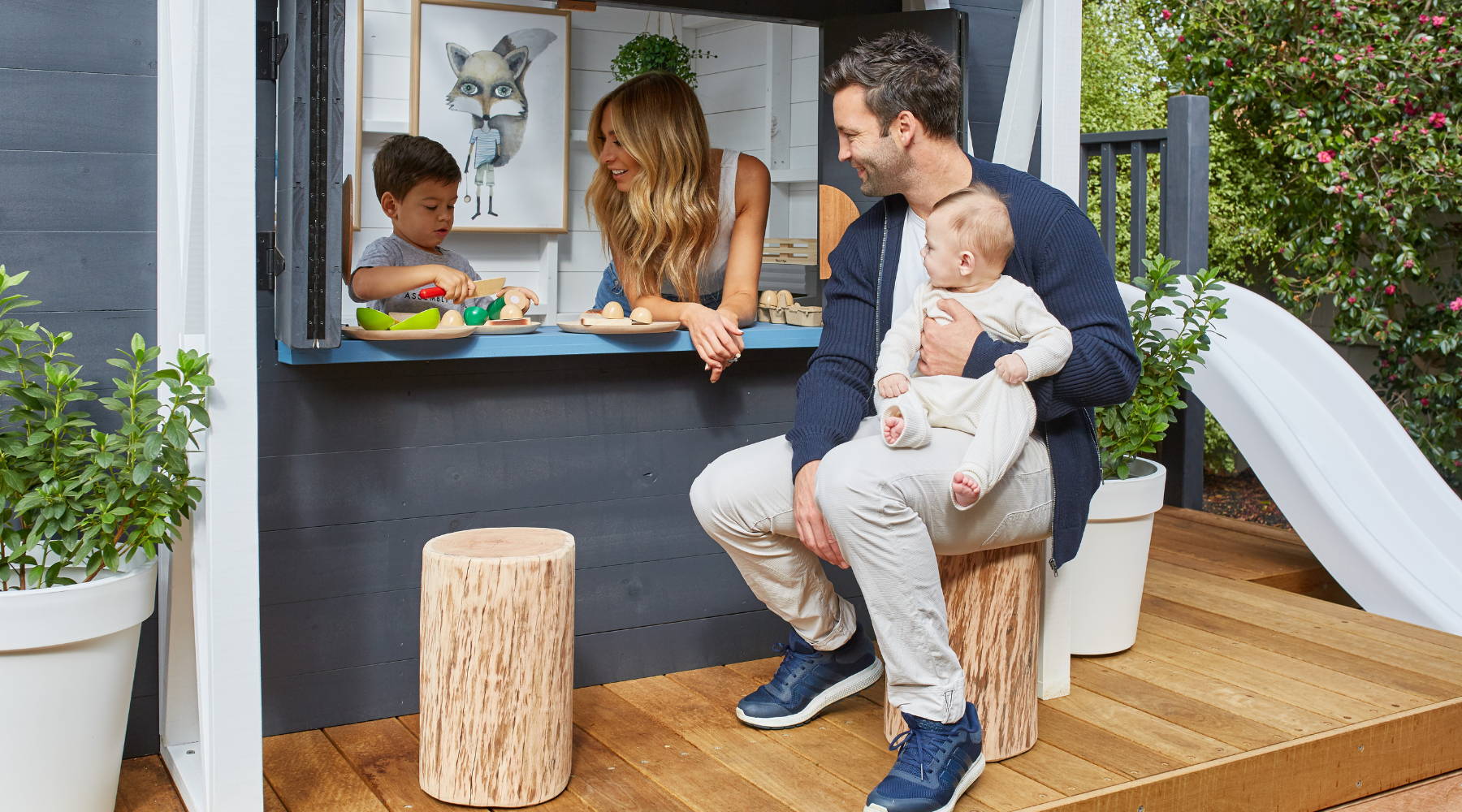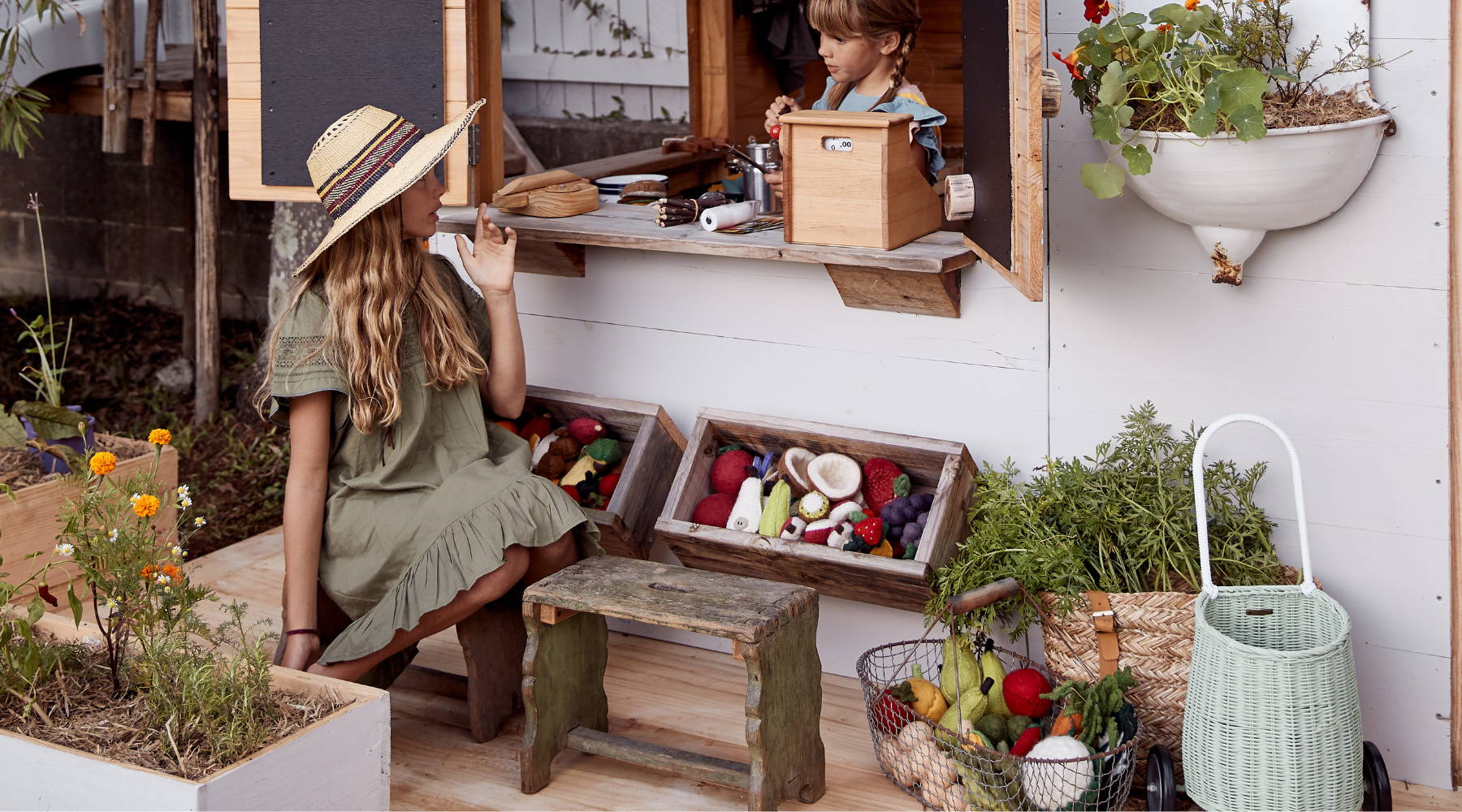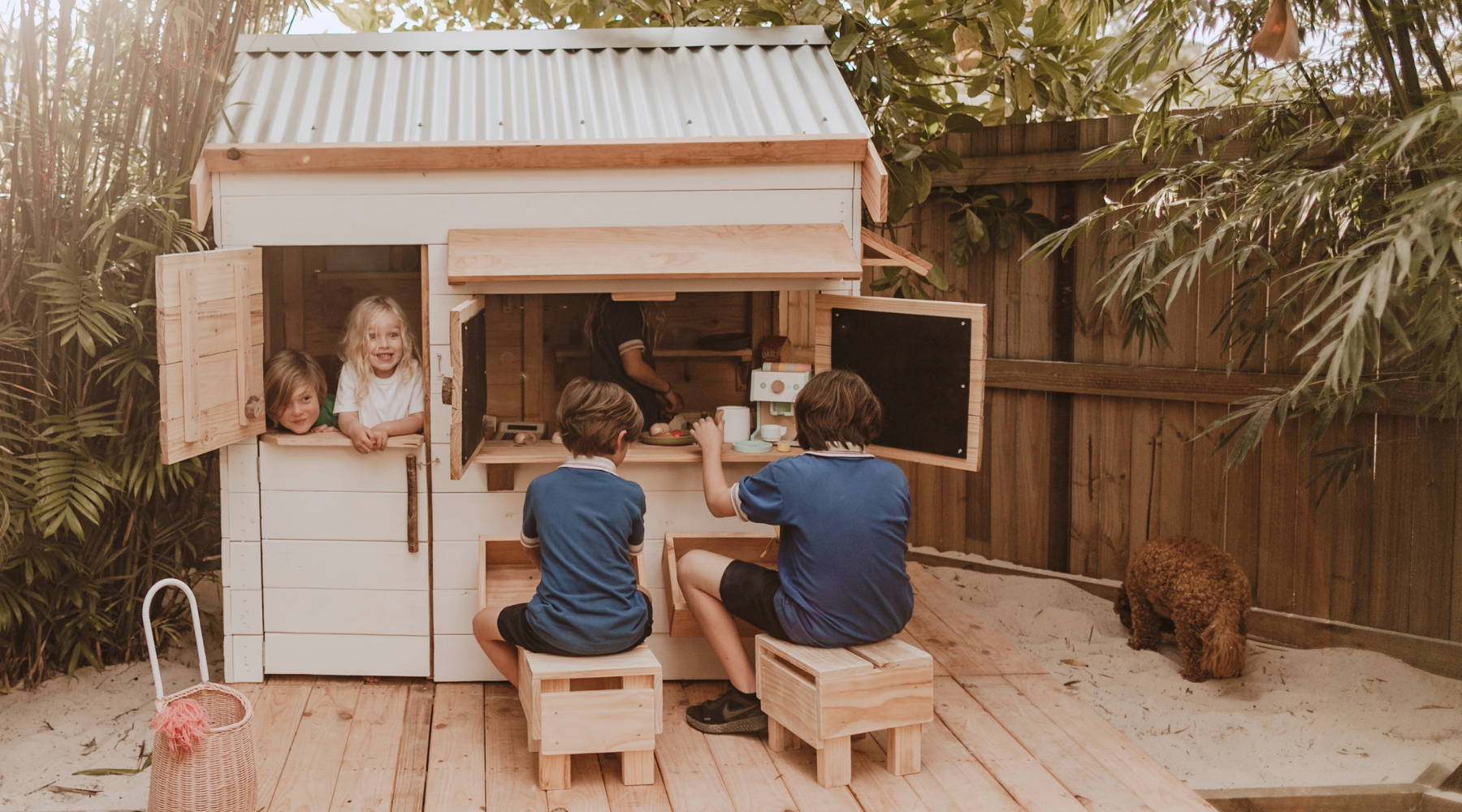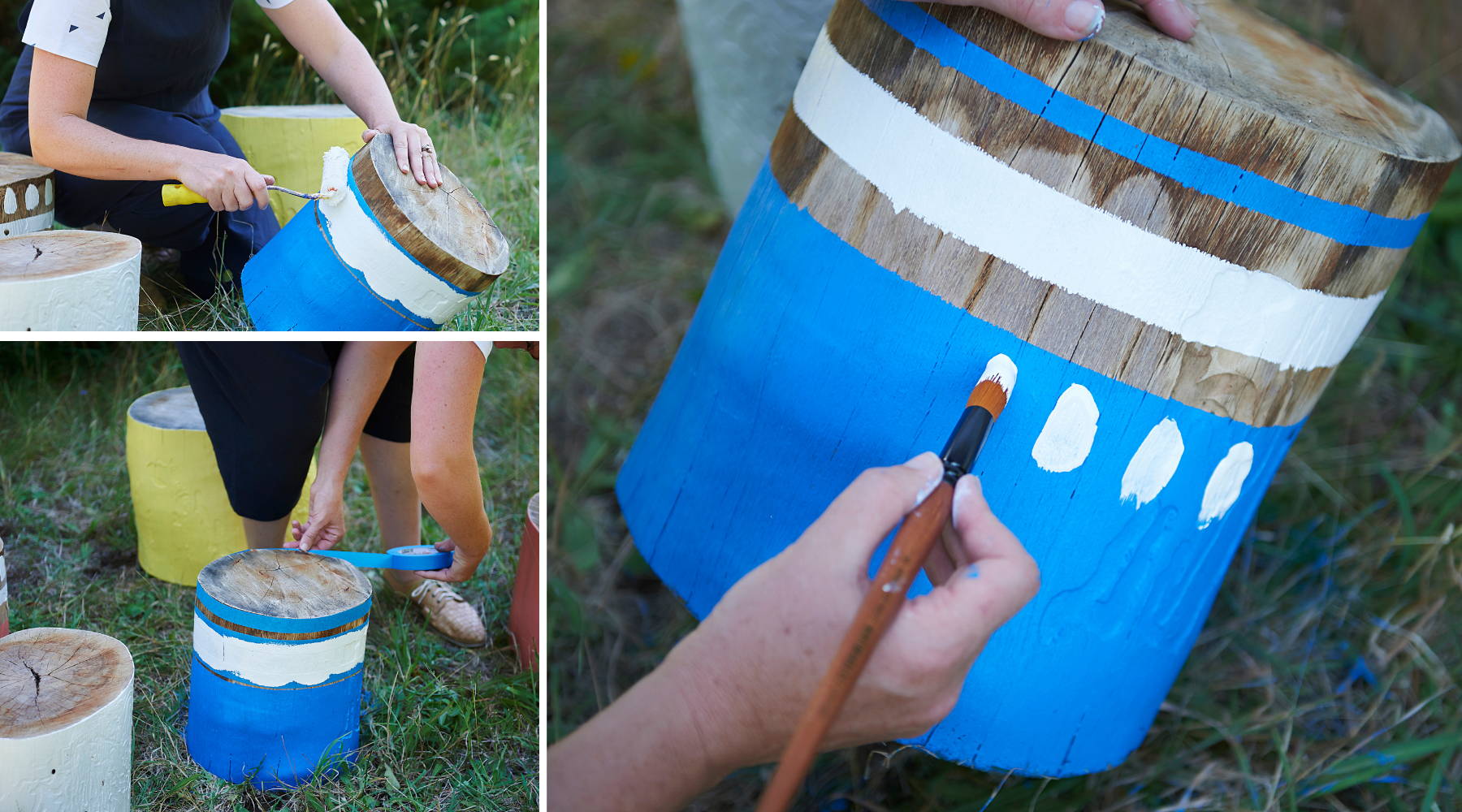 There are not many things as fun as mud and water play for a kid, and frankly, you are not going to be supplying them with real food for their house, sooooooo mud and tan bark it is!
Whether you add a mud kitchen or not, the kids will find the mud and they will play with the mud and we absolutely WANT them to do that. Adding a mud kitchen to the outside of your cubby house will save on space inside and give that mud a little purpose and place to be constructed into the pie de jour.
Get a good quality hardwood version to leave raw and natural or paint up a pine version to suit your style and decor.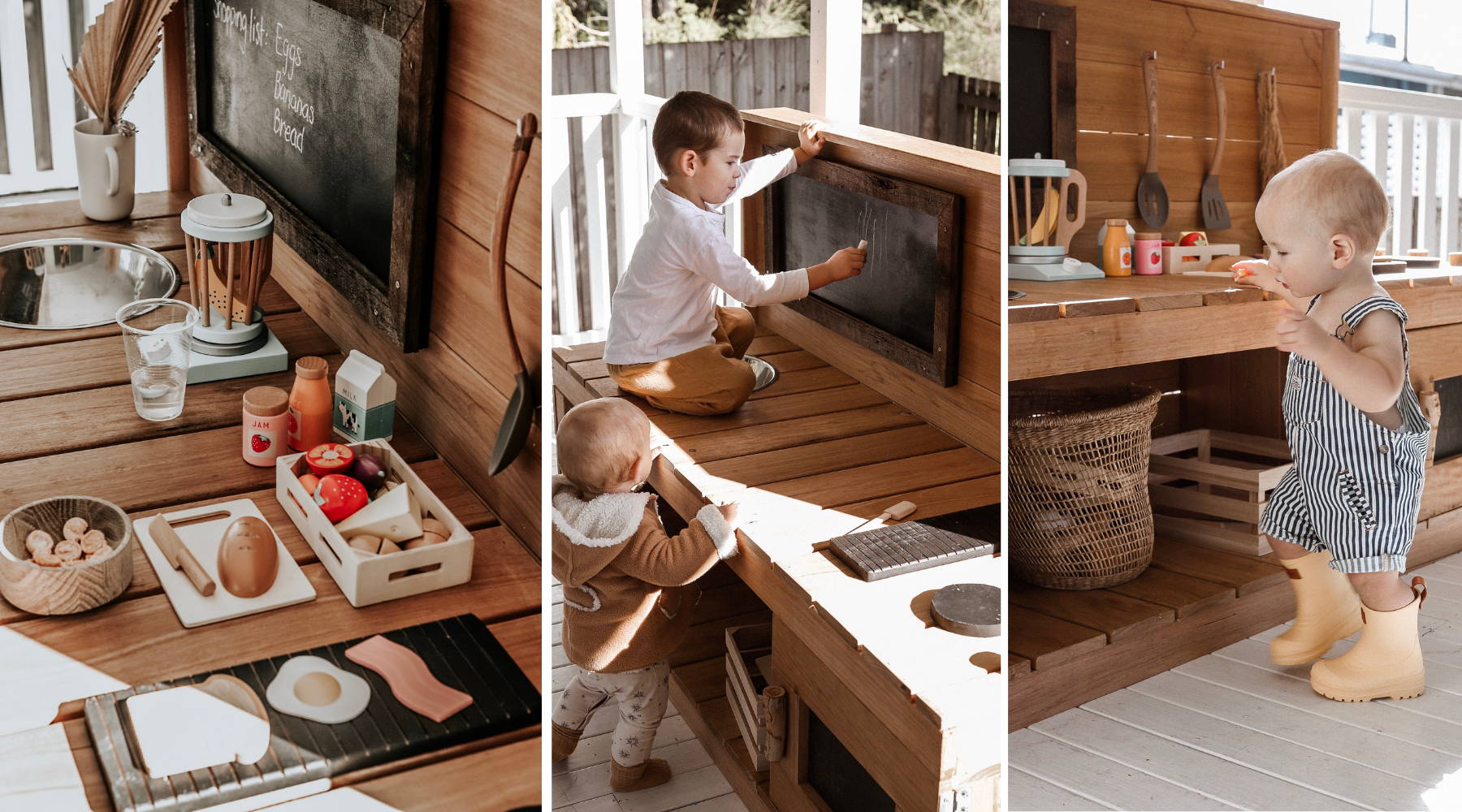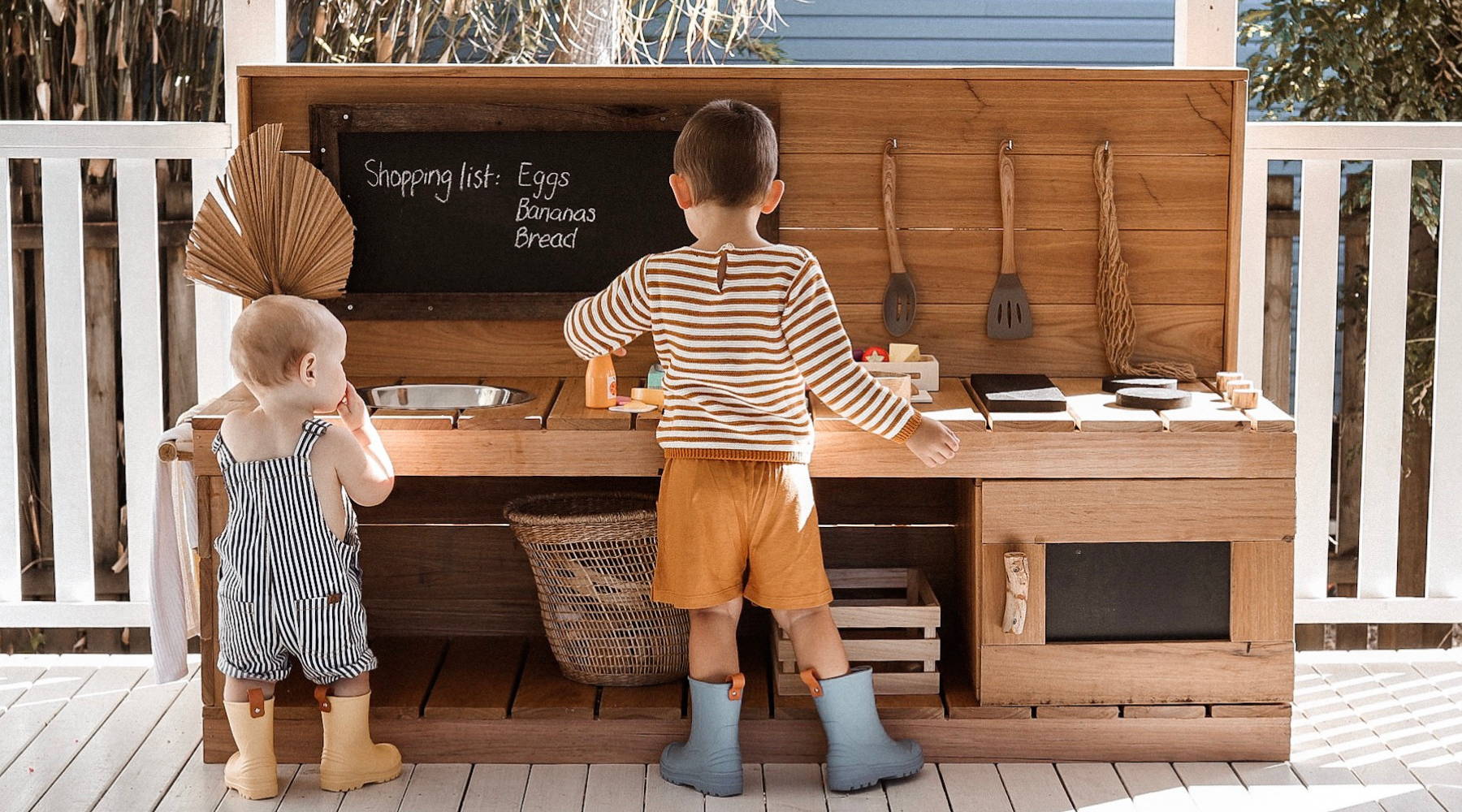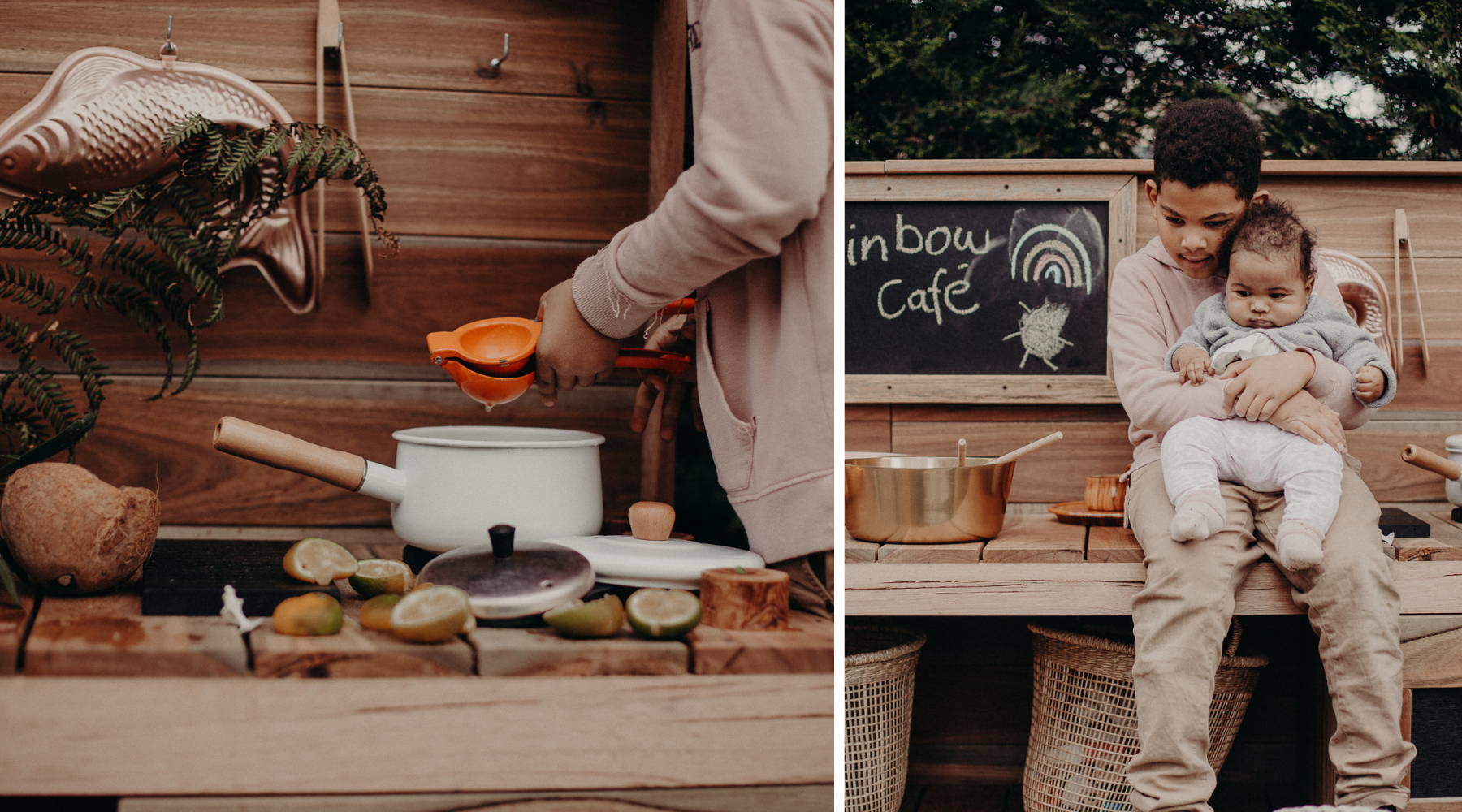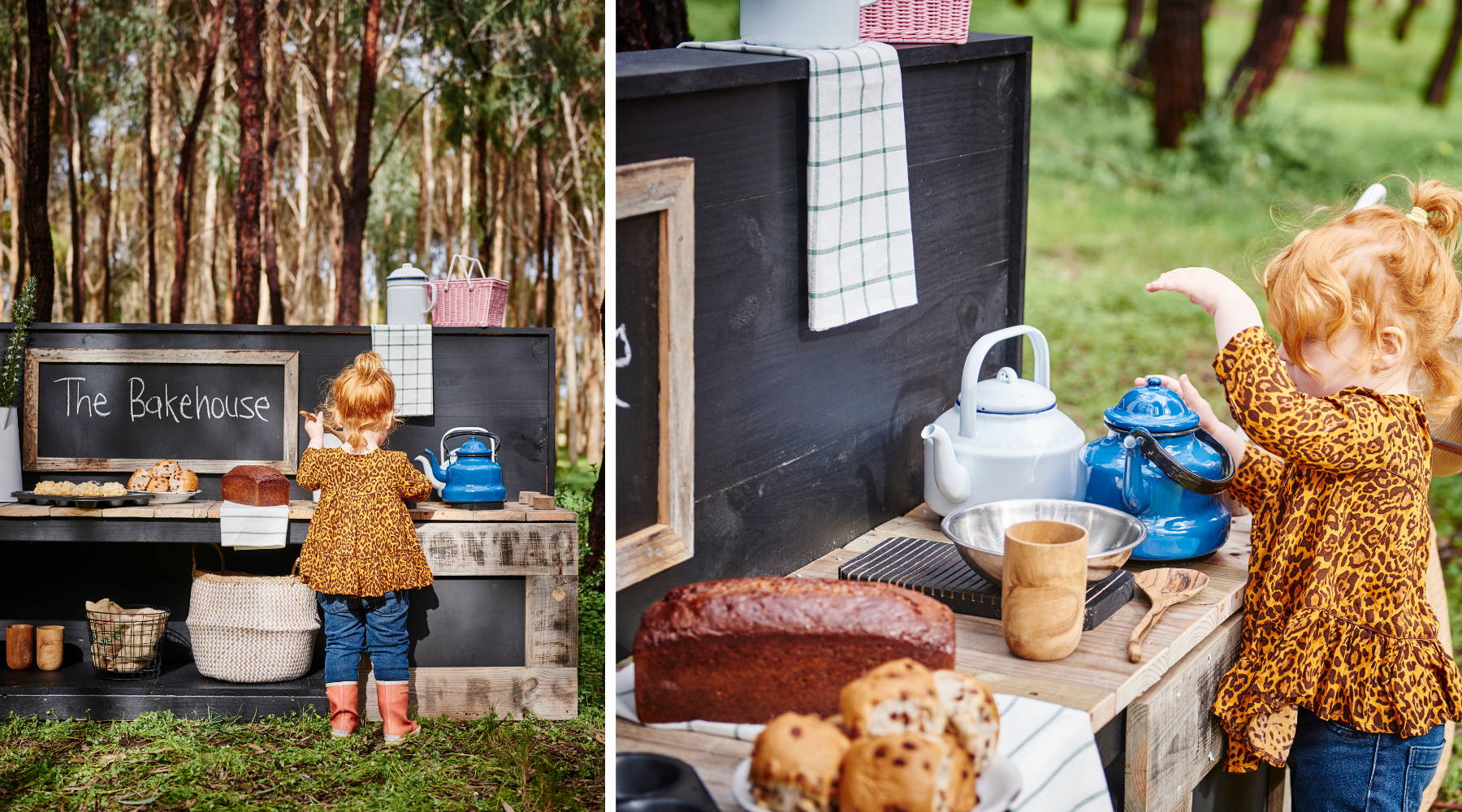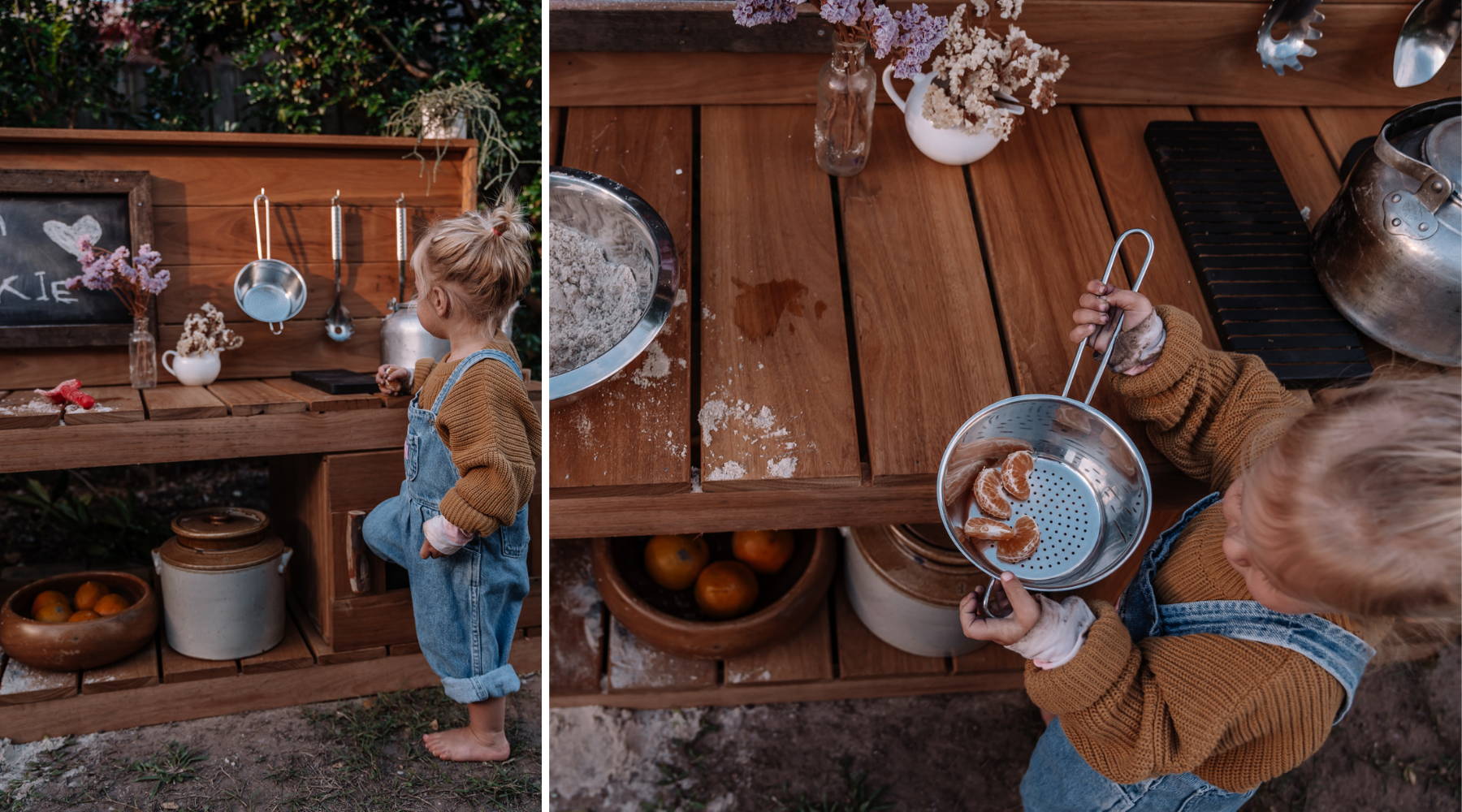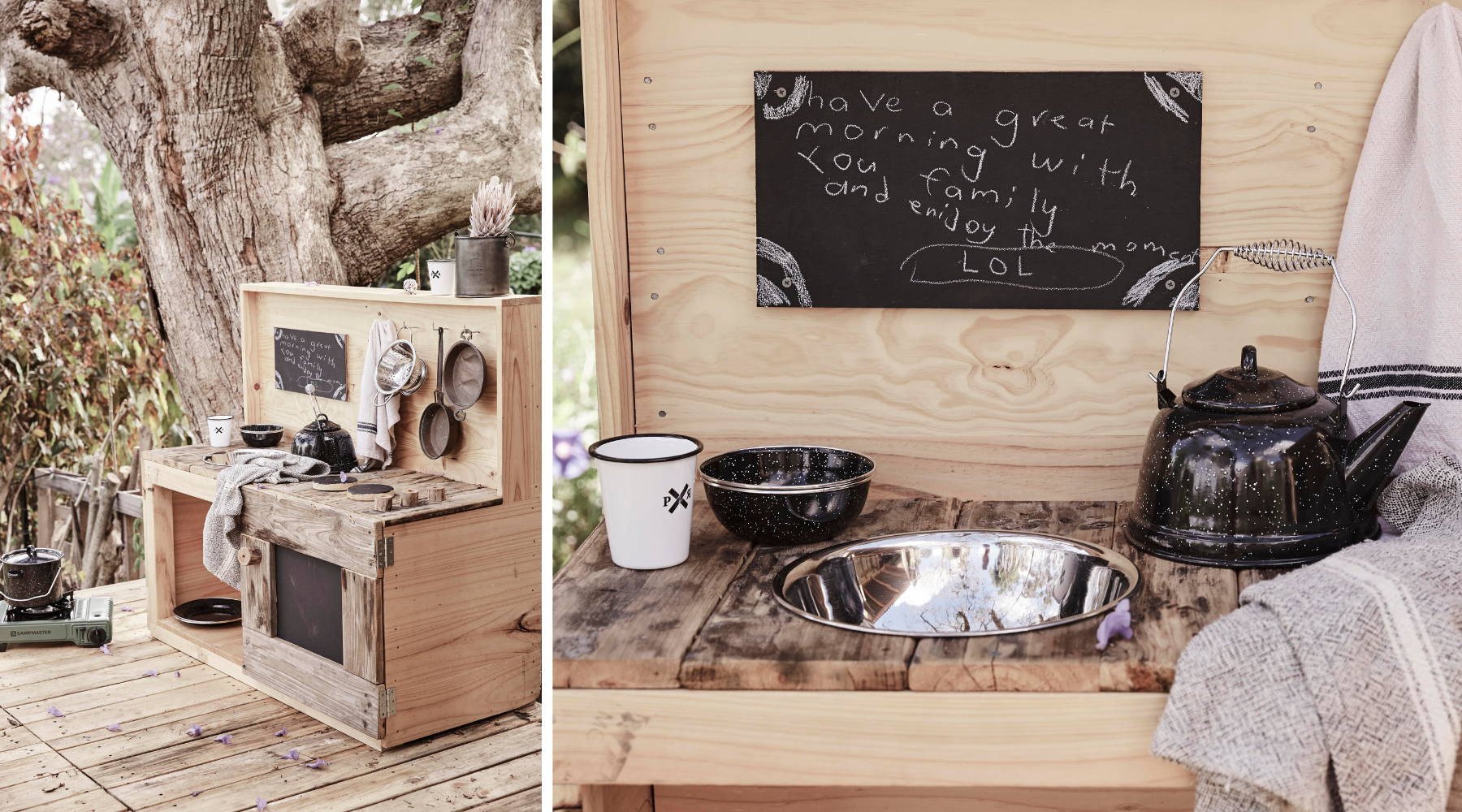 Slides, climbing walls, fort tops and ladders are the stuff of active children's dreams. If you have a child who loves to climb, look over the treetops, or slide their way into life, then adding some of these fun features might just be the trick to ensure your kids have endless hours of play.
We can add a fort top to your cubby house, ladders, slides and climbing walls, or construct a separate platform; whatever your space and budget may allow.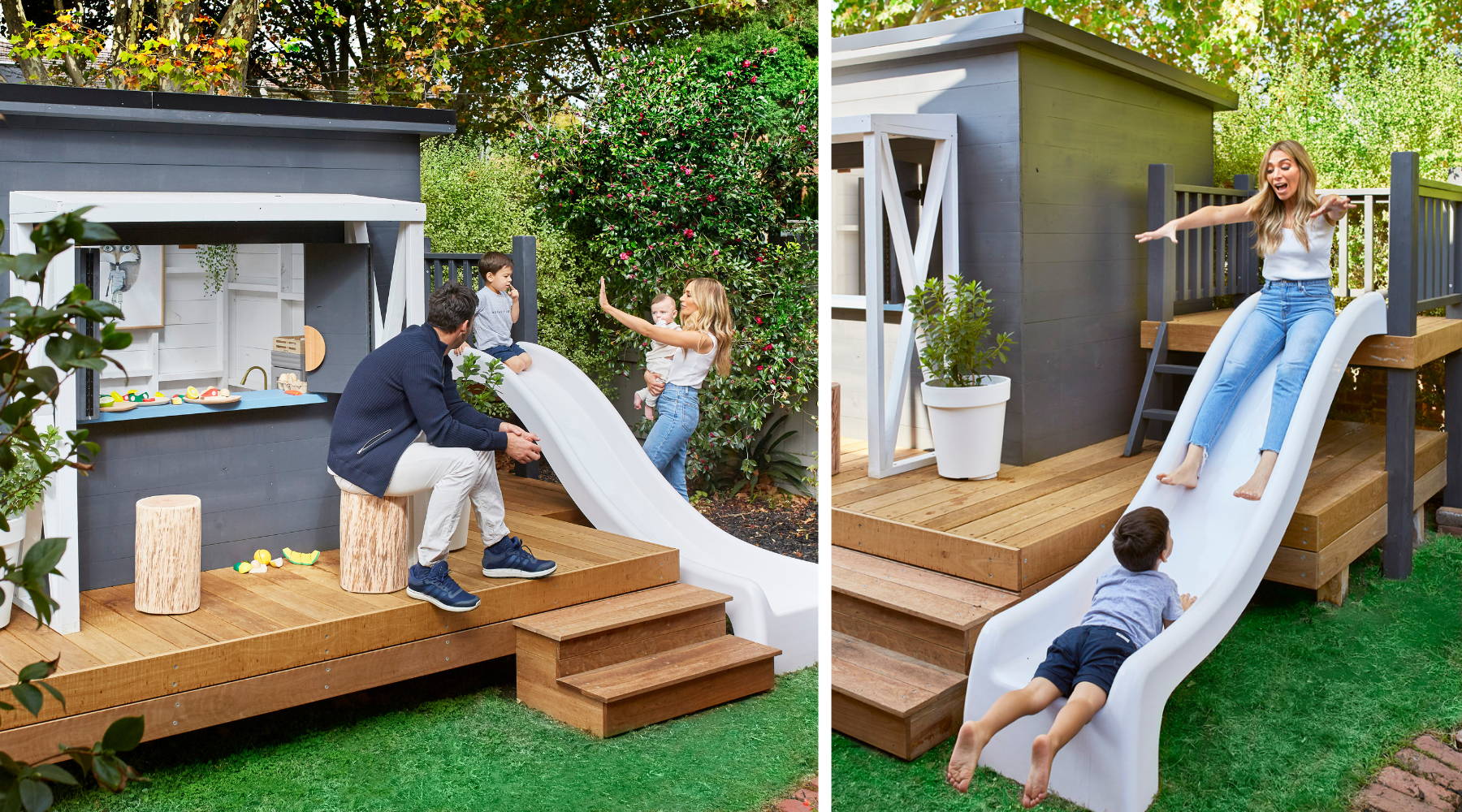 Lastly, when I had more time on my hands in the infancy of Castle and Cubby, I used to do crafty things like hand paint nobbly tree branches and turn them into spires or handles. Geez that was fun! Take it from me, pick up a branch on your next walk, grab some paint from Spotlight, make some time to sit with the kids (or not), and paint a spire, a talking stick or whatever you want it to be. It is entirely zen and enjoyable.
Kel X