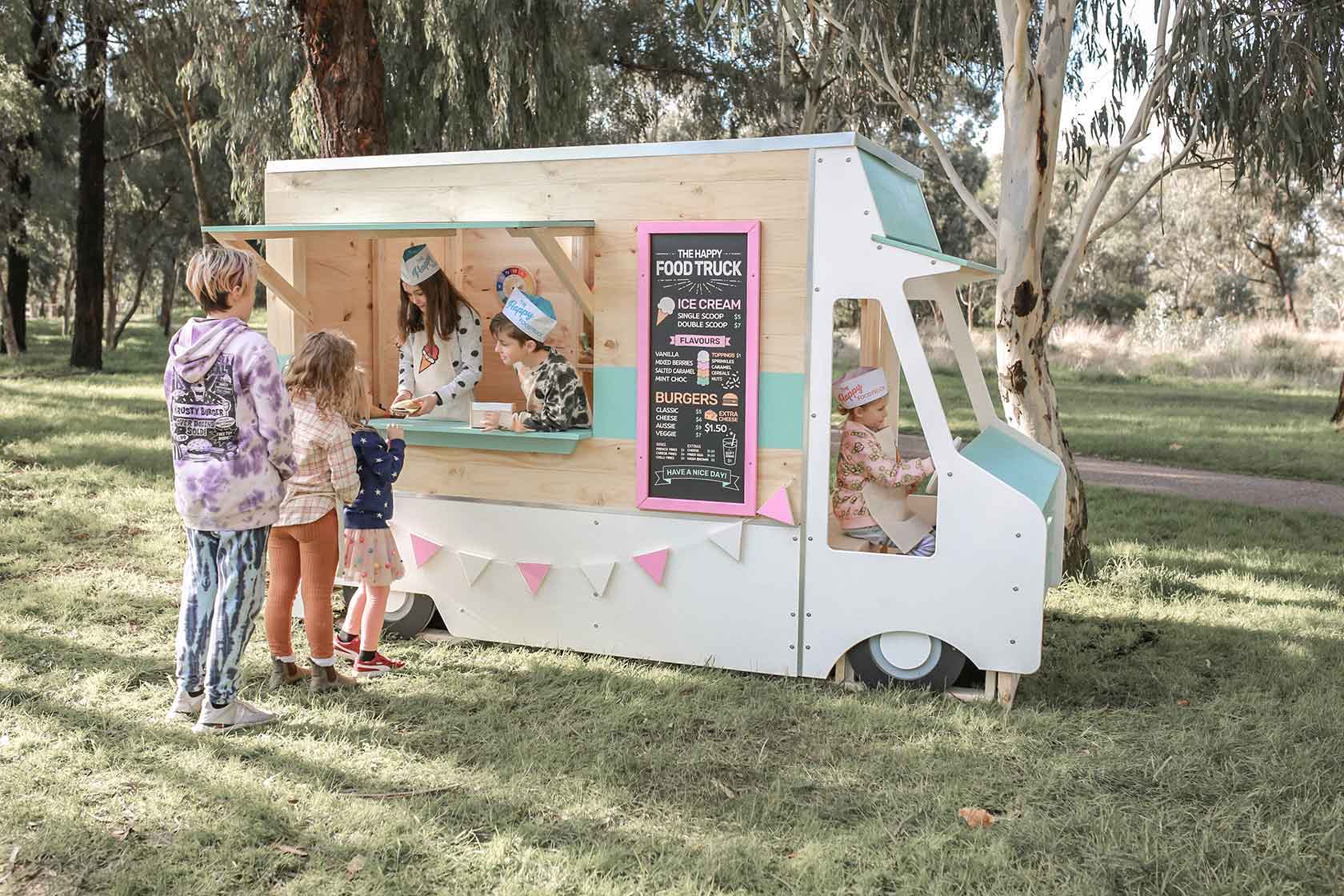 When BIG 4 Caravan Parks approached us to design a unique Food Truck Style Cubby House for one of their locations, we couldn't contain our excitement! Not only were we thrilled to collaborate with a brand we admire, but we've also been dreaming of creating Food Truck style play spaces for ages. It was a serendipitous opportunity we couldn't pass up.
Our Product Designer, Sam, and I eagerly brainstormed numerous ideas and possibilities. Our primary goal when designing a new play product is to achieve three key outcomes: Movement, Imagination, and Role Play. With over a decade of experience hosting kids at events, we've learned that these elements lead to the most fun and keep kids entertained for extended periods. When we get it right, it becomes a challenge to tear kids away from the play area!
We started with our...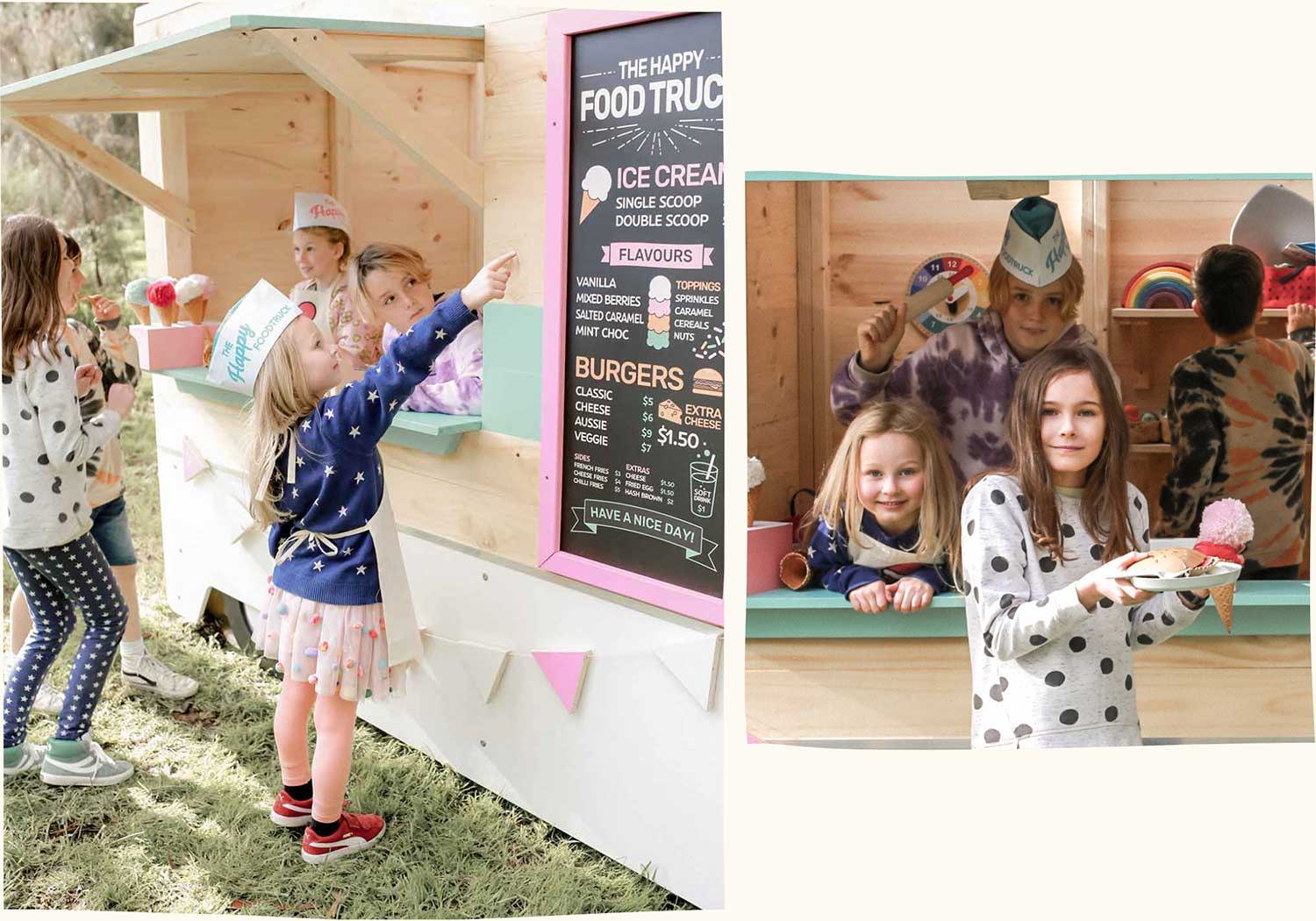 Steps to Designing Commercial Playground Cubby Houses and Equipment for Venues
Brainstorm ideas and create a list of essential elements, focusing on imagination, role play, and movement for commercial playground equipment. Gather inspiration images from the internet and Pinterest to visually convey our ideas, including shapes, styles, colors, and graphics.
Research and select sustainable materials that align with our values.
Review play-safe standards to ensure compliance and sketch initial designs for the product.
Watch our Food Truck Play Date Video
Must-Have Play Inclusions for a Food Truck Cubby House
After our productive brainstorming session, we compiled a list of exciting must-have inclusions:
A taller inside to provide an authentic food truck experience for kids.
A bench for a driver's seat, allowing multiple kids to enjoy the driving experience simultaneously.
A functional steering wheel and proper wheels for added realism.
A working kitchen area, complete with shelving for food preparation and plating.
A spacious bench for plating up and serving customers, with additional space for cash registers and order-taking phones.
A big serving window offering protection from rain and wind.
Fun and funky signage showcasing the various food items available from the Food Truck.
Recycled HDPT plastic wall panels on vertical sections for longevity and sustainability.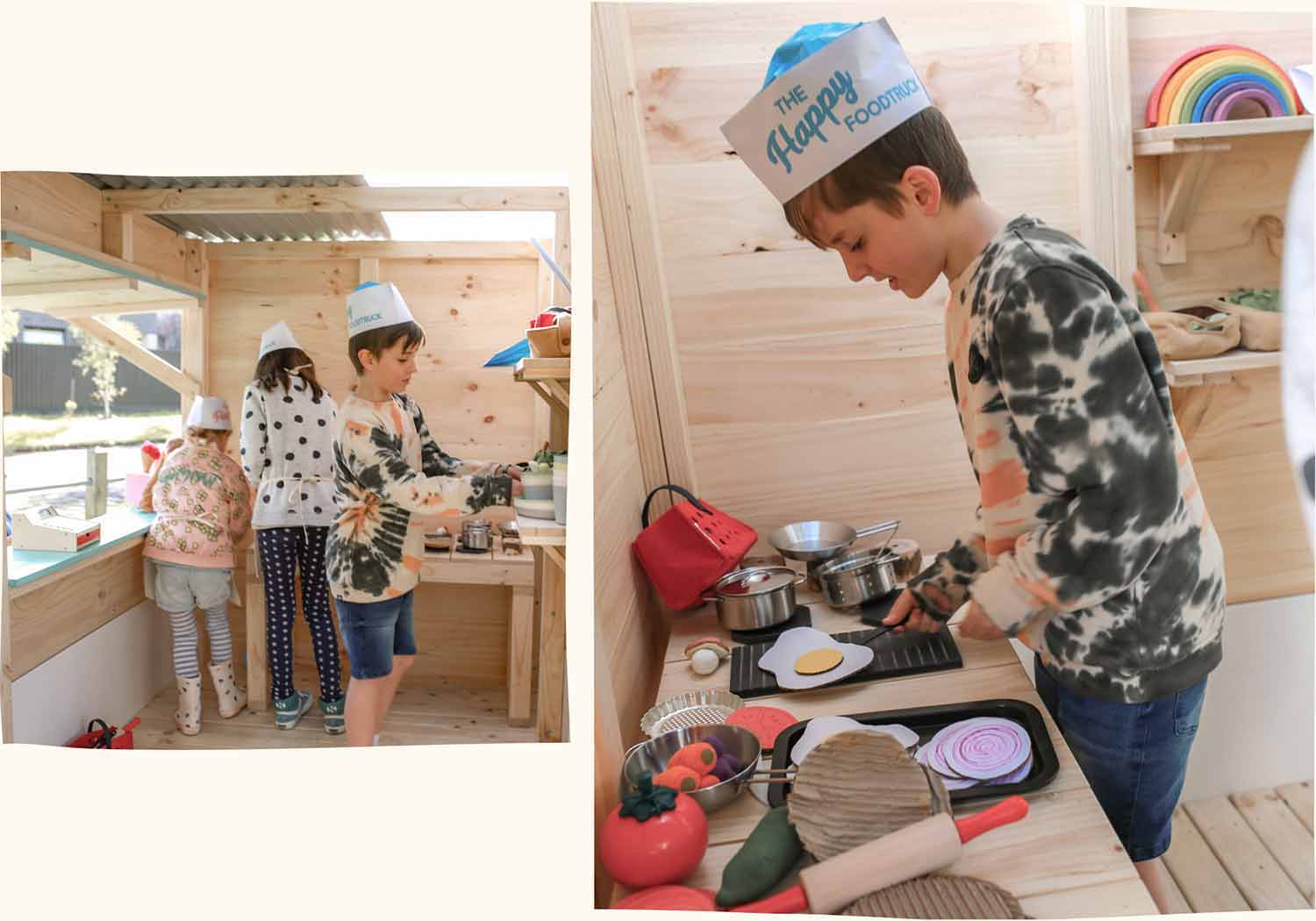 Drawing Inspiration from Childhoods and Imagination
When I was a kid, my family would occasionally visit a Billabong Family Restaurant that had a playroom with a bus in it. This bus, complete with wheels and a steering wheel, left a lasting impression on me. I vividly recall rushing down to the bus and immersing myself in imaginative play. However, as I turned 12, I began to feel that it was no longer 'cool' to be enchanted by the bus, which left me with a sense of loss.
As a child, I spent countless hours playing in my own cubby house, fueling my imagination at every moment. Now, as a creative individual with two boys, one of whom has a very active imagination, it is of utmost importance to me to use my creativity not only to build Castle & Cubby but also to leave my children with a legacy of imagination and thoughtfulness.
Designing the Food Truck Cubby House was a labor of love, driven by my inner child and the desire to create something special for my own children.
The same energy, inspiration, and thoughtfulness that I poured into this project are incorporated into all our designs for our valued clients."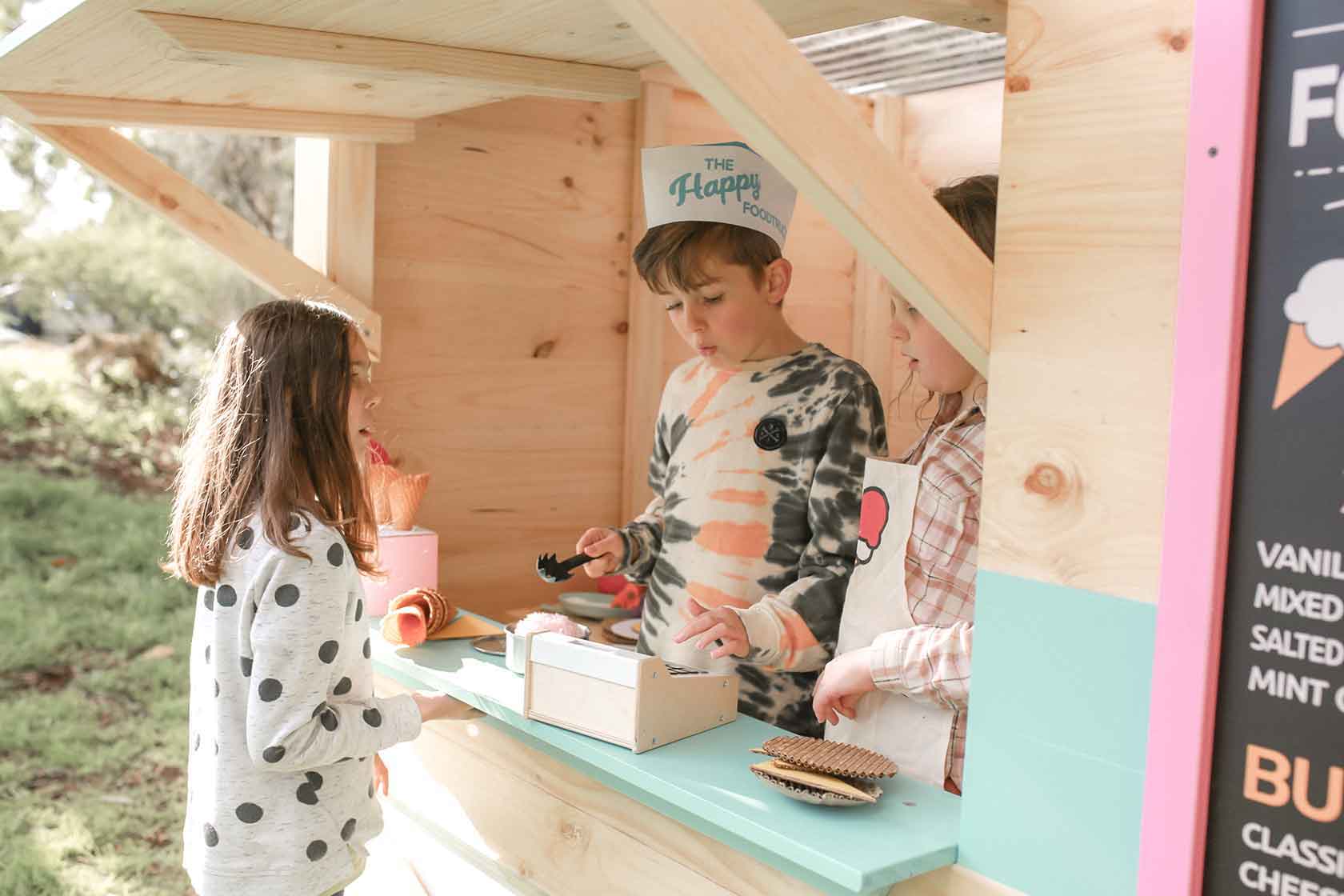 Play Testing the Food Truck Cubby House for BIG 4 Caravan Parks and Other Commercial Venues
To put our Food Truck Cubby House to the test, we set it up for a photoshoot in Darebin Parklands. Although we didn't have time to arrange a fresh batch of kids for the shoot, our own children eagerly stepped in to play the roles of drivers, chefs, servers, and customers. Their enthusiasm and unbridled imagination brought immense joy and confirmed the playhouse's success.
Castle and Cubby - Your Perfect Partner for Commercial Venues
With over a decade of experience, Castle and Cubby is the ideal partner for commercial venues, such as pubs, clubs, restaurants, and shopping centers, seeking well-crafted, sustainable, and visually appealing playground products, both indoors and outdoors.
If you have any unique ideas, we are more than open to custom designing a playground product for your business. Reach out, and let's explore the possibilities together!
Thank you for joining us on this playground adventure!
CASTLE & CUBBY FOR COMMERCIAL VENUES & EDUCATION SETTINGS
LEARN ABOUT PLAY-BASED -VILLAGES FOR YOUR SCHOOL
Peruse our Villages catalogue below and reach out to discuss creating a magical imagination play space for your kids and clients
Would you like a call back?
Book a 15-min slot in our calendars at a time that suits you and our Directors will call to chat about your space.
Would you like a call back?
Book a 15-min slot in our calendars at a time that suits you and our Directors will call to chat about your space.
Or send us an enquiry and we'll respond via email.