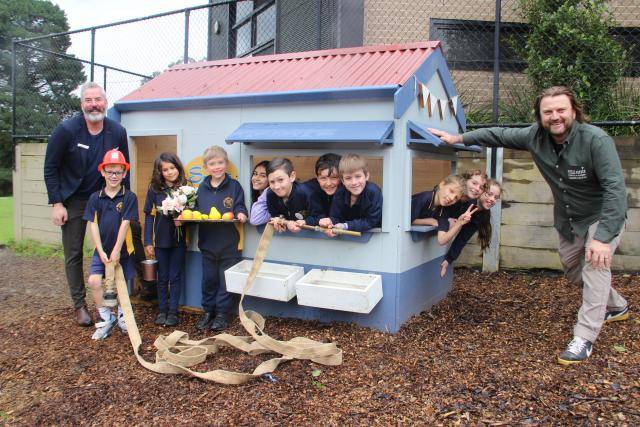 When Principal of Belgrave South Primary Stuart Boyle and his colleagues were looking for a new style of play space, they found what they were looking for at Castle and Cubby.
In the process of creating their new master plan they wanted to rejuvenate their play area. They were "looking for a different kind of play space, a setting which would help children develop socially and emotionally." As they began exploring options, the school received an invitation to one of the Castle and Cubby webinars on the benefits of social play for children, and a productive partnership was soon formed.
The completed village, which has been in place for 12 months, has added a new feature to the school's reputation for Quality Education. Belgrave South is now known as 'the school with the cubbies'.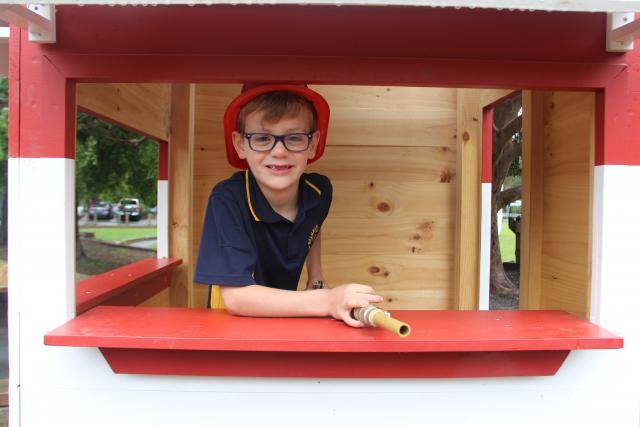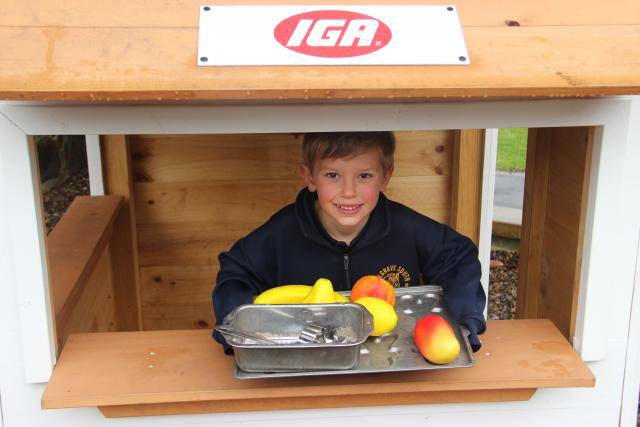 Sponsored by the local IGA
How Belgrave South Primary School collaborated with their local community and businesses to bring their wooden cubby house village to life!
One reason for the rapid spread of that reputation is the deliberate way in which the school connects with their community – and has used their village of cubby houses to extend that connection. With many of their cubby houses being themed as 'shop' or 'café' cubbies, this is a 'mall for the small'. The school seized the chance to reach out to the businesses in their local shopping strip in order to re-create the local shopping experience within the smaller world of the children. Businesses embraced the idea enthusiastically with the result that logos from the local IGA, other shops, florist, and café's are now featured on many of the cubbies. The businesses also sponsor the cubby-sized versions of their own business, which helped to make the already inexpensive cubbies even more affordable.
Belgrave South is proud that its gates are never locked, and that the community is welcomed into the grounds outside school hours. This means that the cubby village is a popular play destination for the children of the local community as well as the school. It has become a well-loved tiny village that is so valued that it is always used responsibly and cared for by everyone who uses it.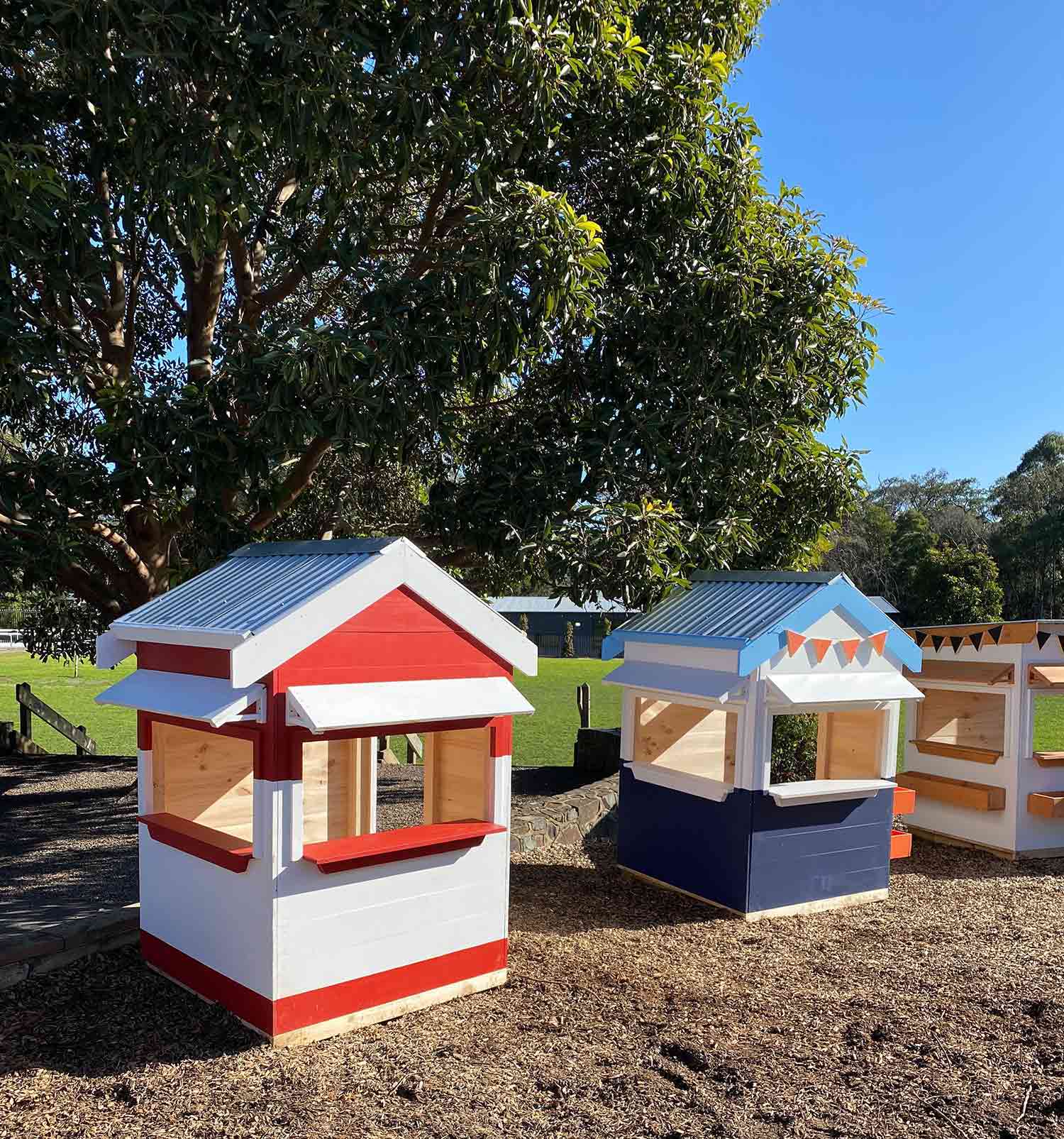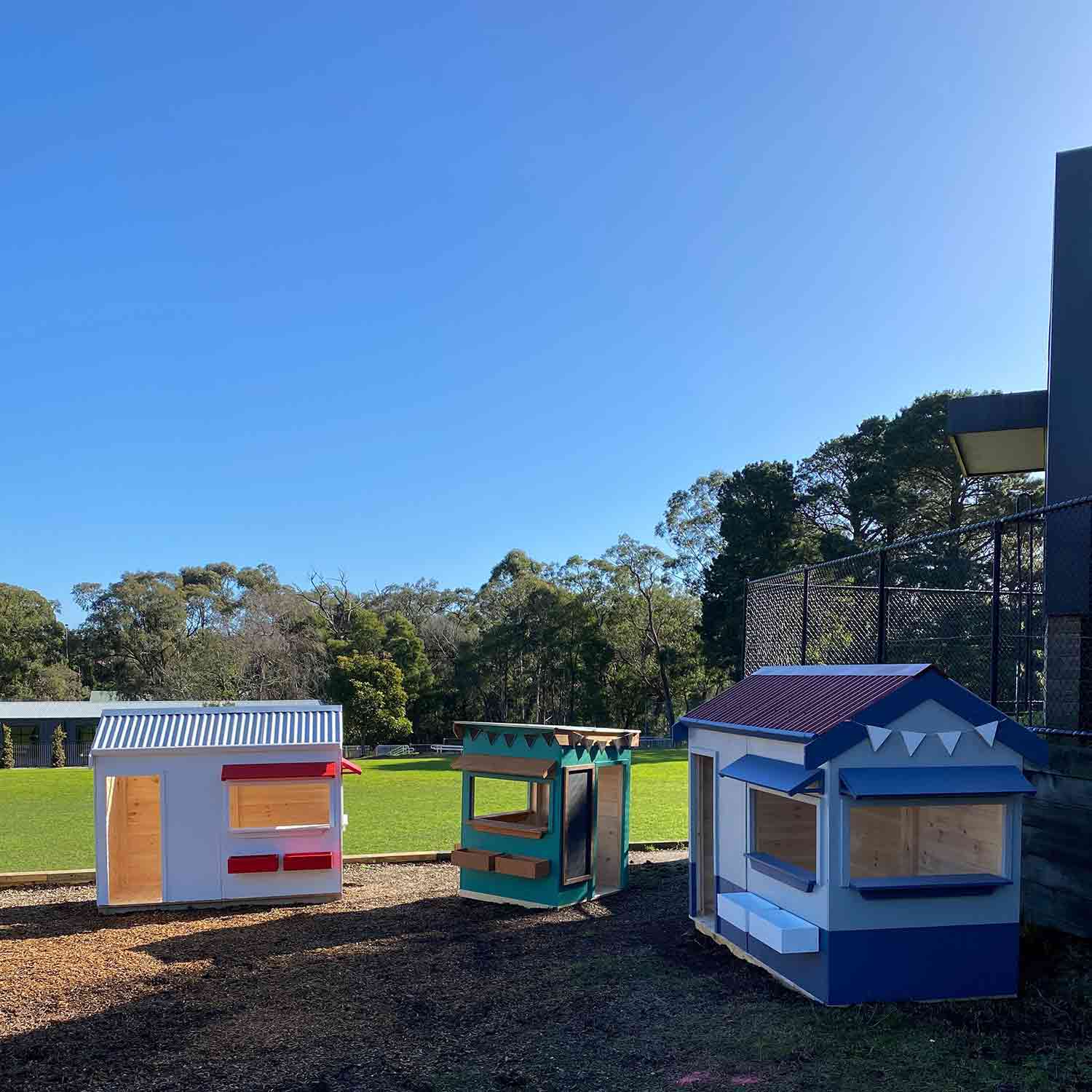 How Belgrave South Primary School is using their Cubby House Village for play-based learning outcomes.
The school has found many ways to exploit the opportunities the Cubbies offer, both within the curriculum and as a recreation space.
Teachers use the village environment to enhance speaking and listening tasks, and to introduce children to social roles and scenario-based problem solving. The village environment is perfect for the development of the pro-social skills that are appropriate in this smaller-than-life trading community that replicates the larger world outside the school gates.
Outside of classroom hours the cubbies provide a venue where children's imagination can soar. Stuart Boyle's original vision of a place where children could stretch their limits is being realised in the ways that children play in this space. They "engage in imaginative play, communicative play and learn cooperation" he said "and develop social skills such as sharing, turn-taking, and negotiation.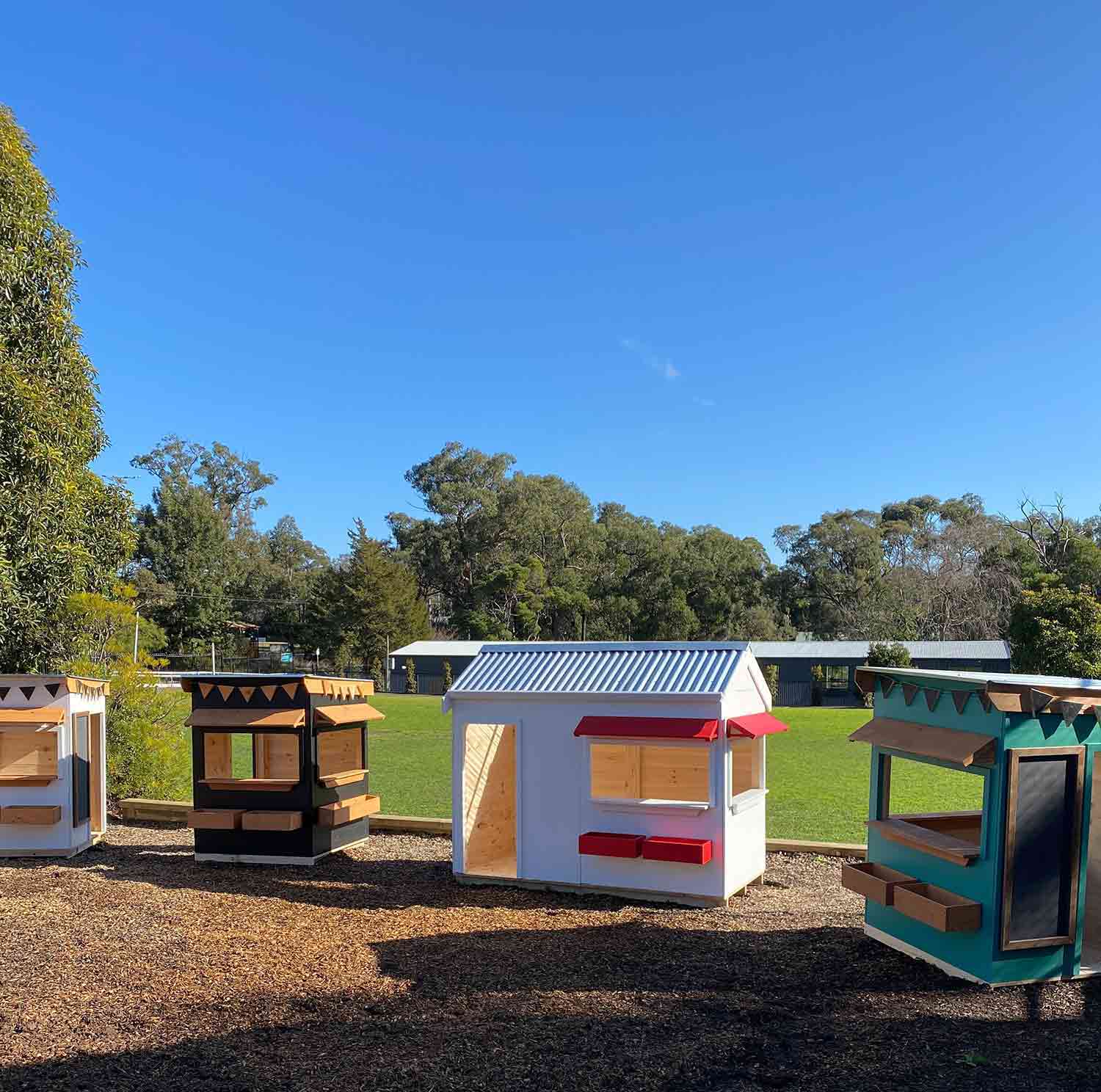 How the Belgrave South Primary School kids have adopted their new Cubby House Village and the play outcomes they're witnessing.
Access to the cubby village is not limited to the children in the 'early years' grades. Although it is a space designed for the school's smallest children, the fascination of the cubby village environment draws older children to the space. Because every year one and two student is linked with a buddy from year 6, they can invite their older friend in to be a customer in their shop or to be bandaged at the first aid post or to be served at the café.

One of the most heart-warming stories related by Stuart was of a time when he was at home with Covid and he noticed, in a photograph sent by a colleague, that one of the school's autistic students was often standing just outside the gates of the Cubby village. When he returned to work, he noticed the same student still standing outside looking in. He invited her into the village and witnessed her delight at being able to be closer to this colourful centre of playful and imaginative activity.
The Cubby Village is more than simply an alternative to traditional play equipment. It is a fascinating, affordable, and stimulating space in which every child can learn and grow.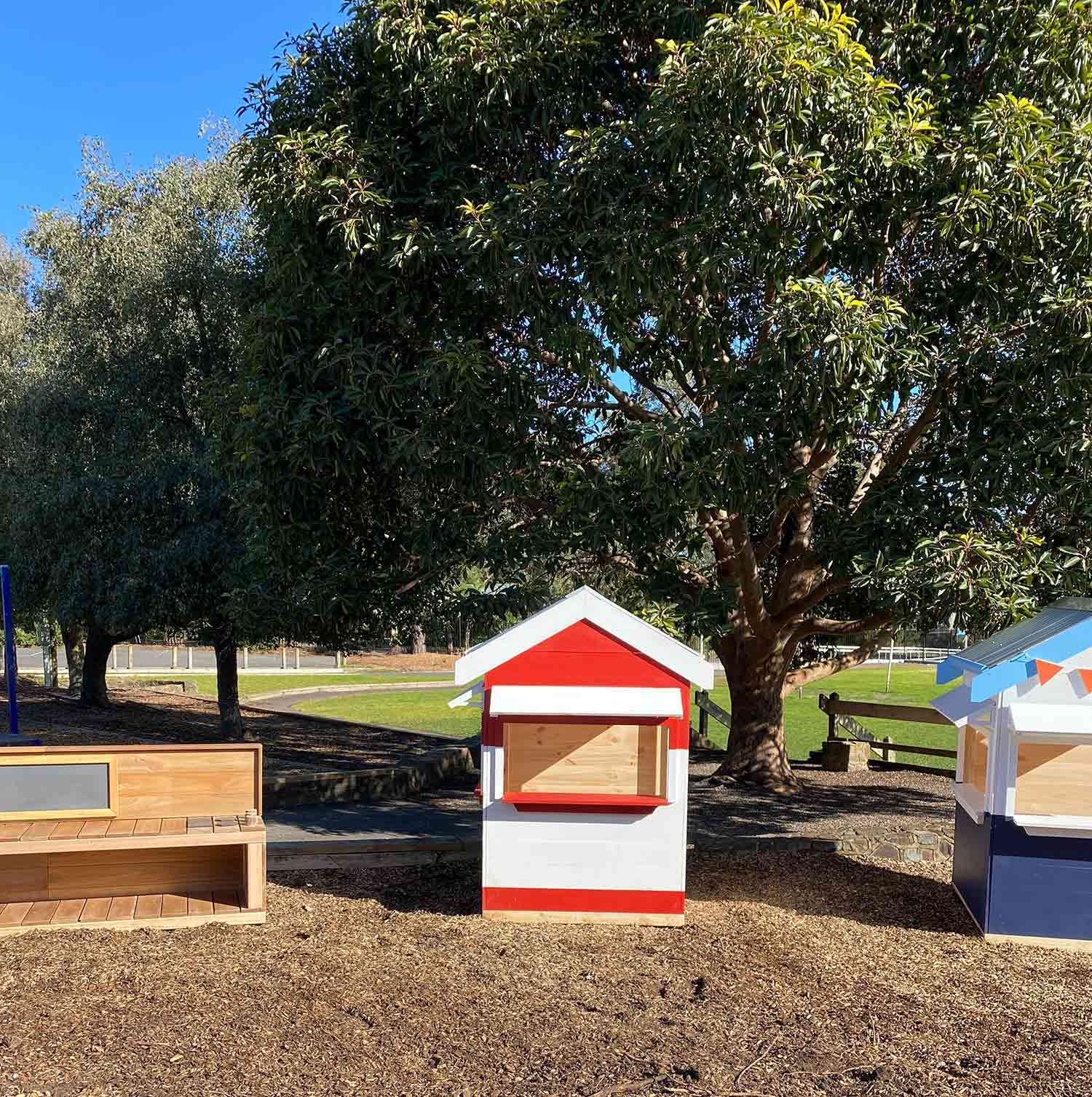 As Dr Seuss might write:
Whether you're small or your tall
You can play in our mall.
You can invite your buddy,
To play in a cubby.
You can shop or pretend,
You can chase a good friend,
You might put out a fire,
Or aim ever higher.
It's where we welcome all,
Since they all hear the call
Of the Belgrave South Cubby Mall.
LEARN ABOUT CUBBY HOUSE PLAY-BASED -VILLAGES FOR YOUR SCHOOL
LEARN ABOUT PLAY-BASED -VILLAGES FOR YOUR SCHOOL
Peruse our Villages catalogue below and reach out to discuss setting your kids up for successful transitions and a world of imagination!
Would you like a call back?
Book a 15-min slot in our calendars at a time that suits you and our Directors will call to chat about your space.
Would you like a call back?
Book a 15-min slot in our calendars at a time that suits you and our Directors will call to chat about your space.
Or send us an enquiry and we'll respond via email.