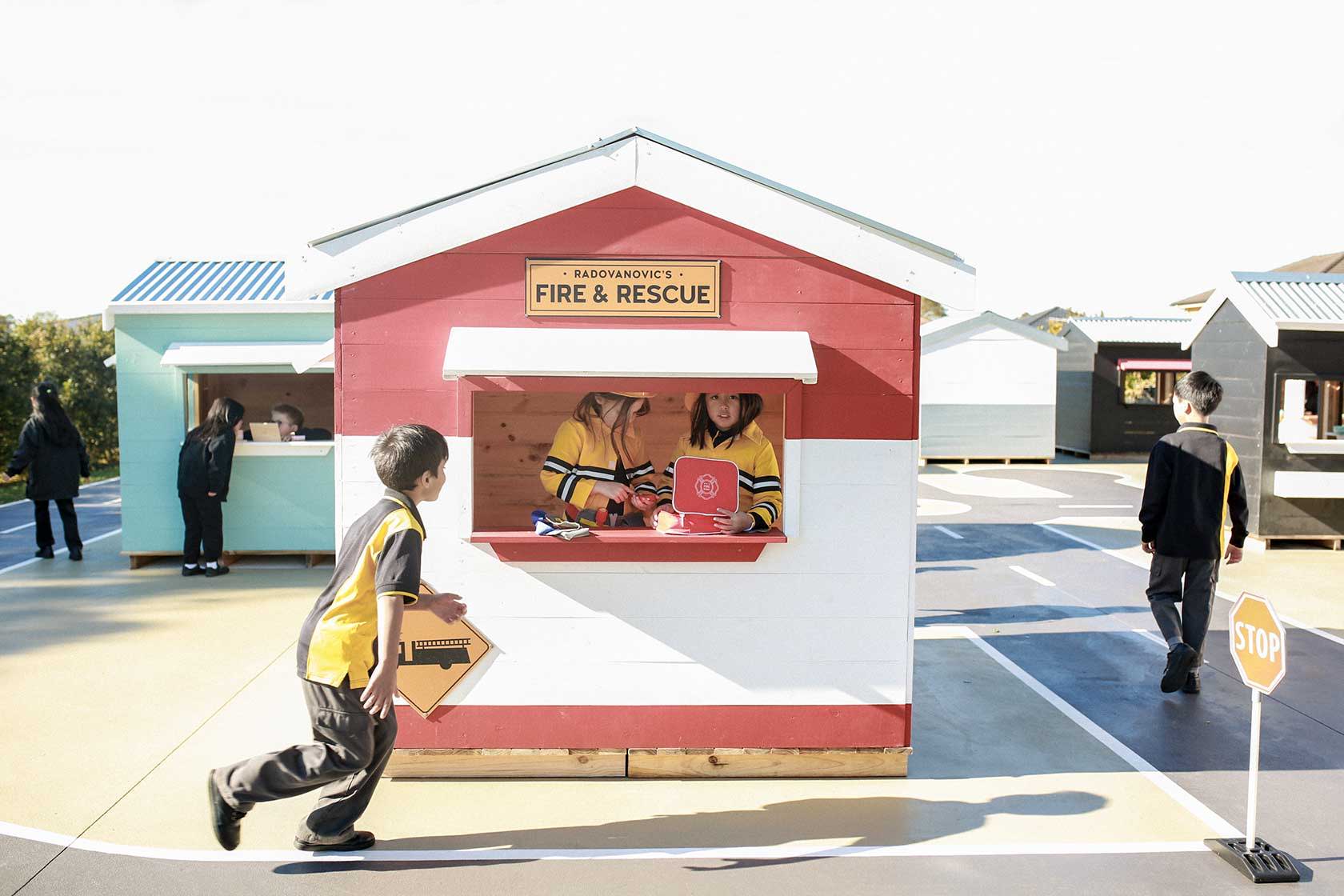 What was our Primary School Cubby House Village Competition?
In 2021, during the pandemic, we created our inaugural Primary Schools competition for one school to win an immense Wooden Cubby House Village prize valued at $20,000. Our goal was to bring hope and joy to students and community amidst the upheaval of life. The prize would provide a brand new play space, fostering imagination, friendship, and pretend play. We wanted to make a big difference by sharing the positive social, emotional, and cognitive benefits of these play spaces with one lucky winner, inspiring other schools in the process.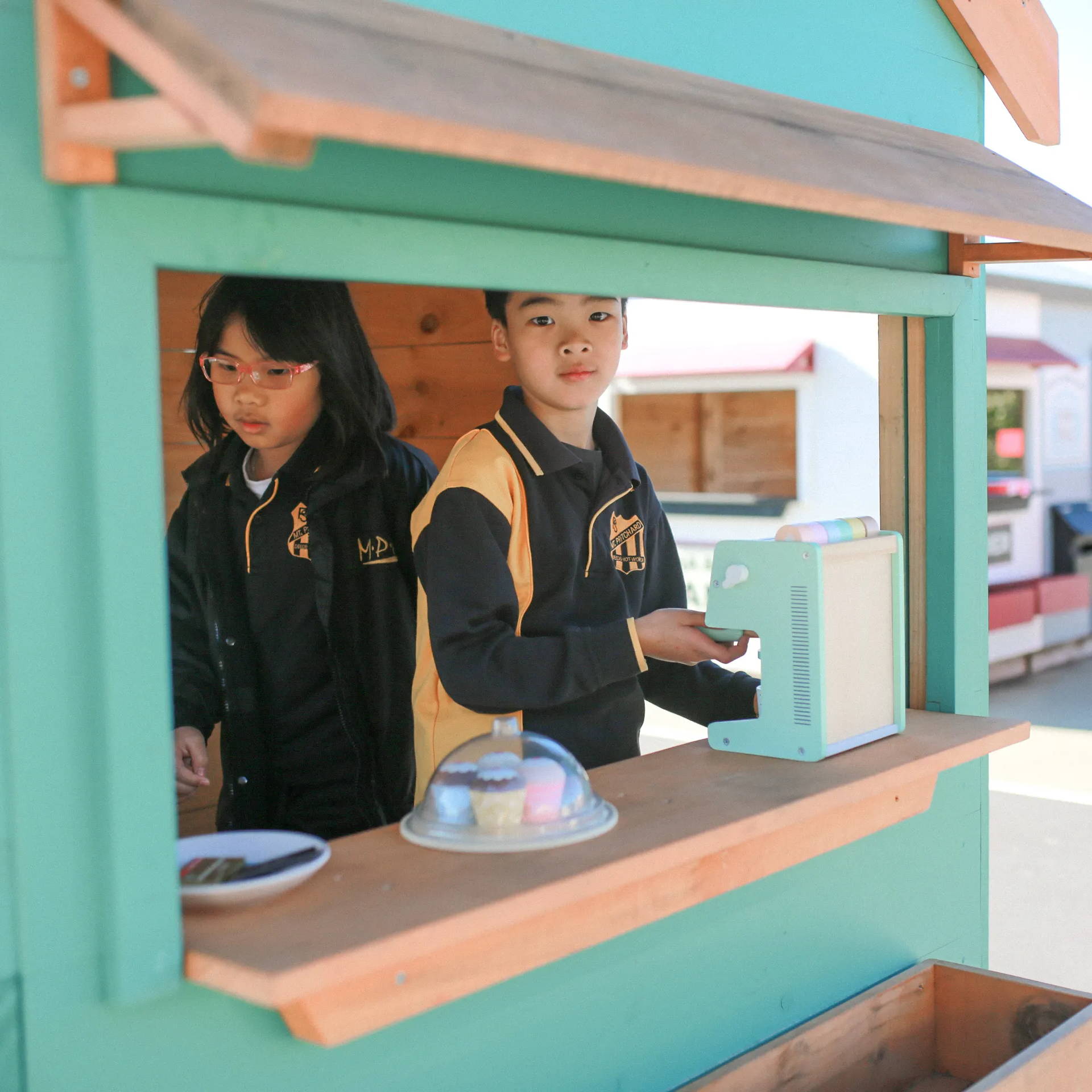 The Emotional Phone Call to the Winners of our Wooden Cubby House Village Competition...

When Mt Pritchard Primary School was randomly selected as the winners, we found out they were in the Western Suburbs of Sydney near Cabramatta, one of the most culturally diverse areas in NSW. At that moment, the area was facing the worst of the Sydney lockdowns, with significant financial impacts on their communities. We knew we had an emotional phone call ahead, and we were really excited about it.
As expected, the response to our call was overwhelmingly emotional. We called Michelle, who was one of the teachers at Mt Pricthard and the entrant to our competition. Michelle shared heartfelt details about their diverse community, the families, and the kids, and how tough things were for them at that time. She was absolutely thrilled to deliver the good news about winning a Cubby House Village for their kids to come back to - "News that their community really needed to hear about now." Honestly, it was one of the best calls we've made in our 10 years of competitions.
2nd Place Prize Winner donates their Cubby House Win to Mt Pritchard...
When I mentioned to Michelle that I needed to call one of their family members who had nominated Mt Pritchard Primary for the 2nd prize - a Cubby House for their home, she eagerly asked me to reveal who it was. To her surprise, it turned out to be her own mum! With different last names, we had no idea this would add an extra emotional twist. Michelle told me her mum would probably donate the Cubby House to the school, and as expected, when we contacted her mum, she suggested exactly that.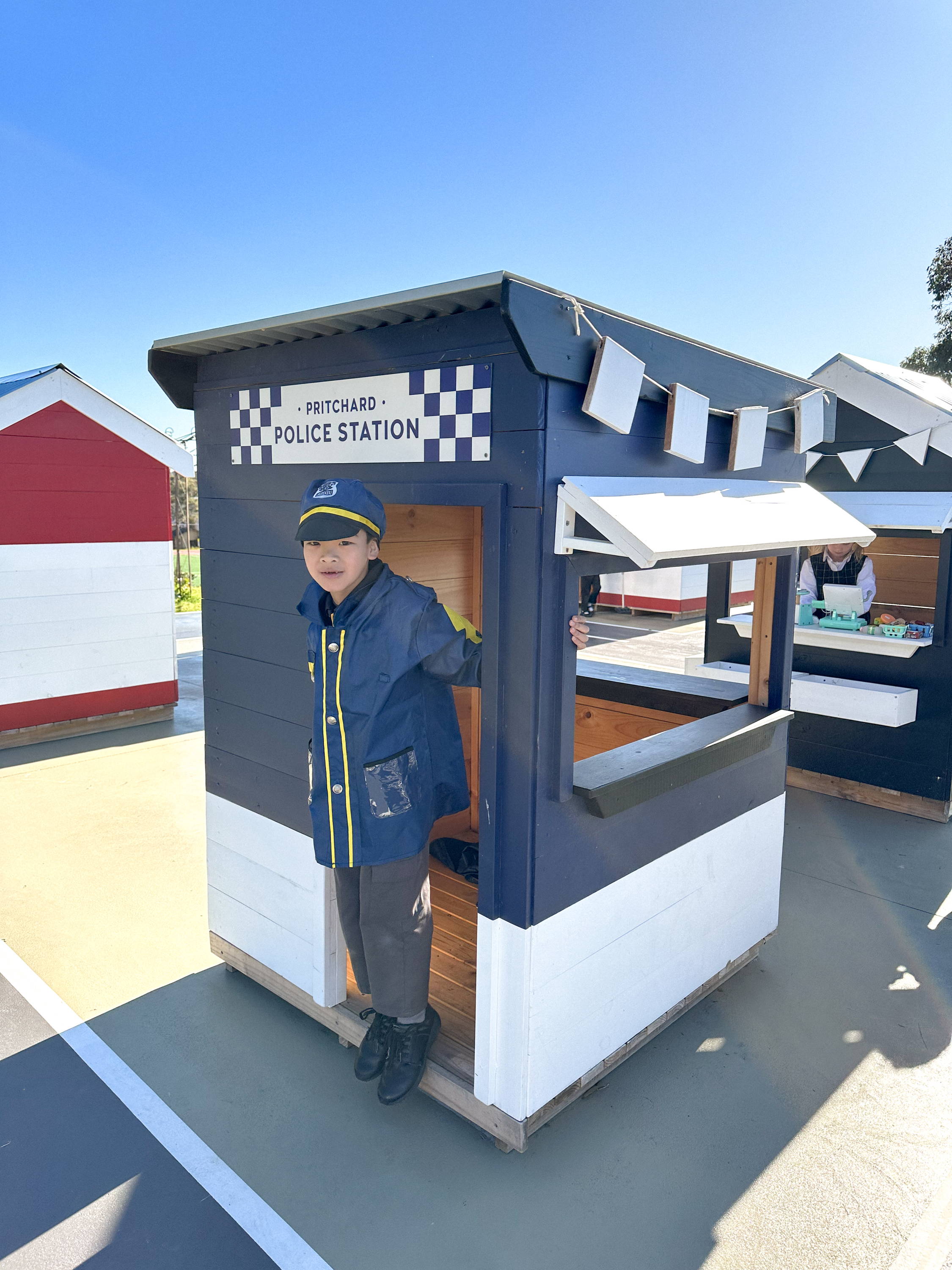 Why it has taken us this long to bring you the story of the Mt Pritchard Primary School Cubby House Village you ask?
Lockdowns, border closures, freight, materials & builder delays & then the Sydney floods! Pheww. Like everyone else in Australia, we were significantly hampered by the conditions around us. Every time we'd go to make the next attempt at delivery another condition seemed to pop up to conspire against our best laid plans.

But rather than focus on what we could not control, let's chat about what we could control and that was the planning and the dreaming of something amazing, a legacy gift of play for the kids now and in the years to come.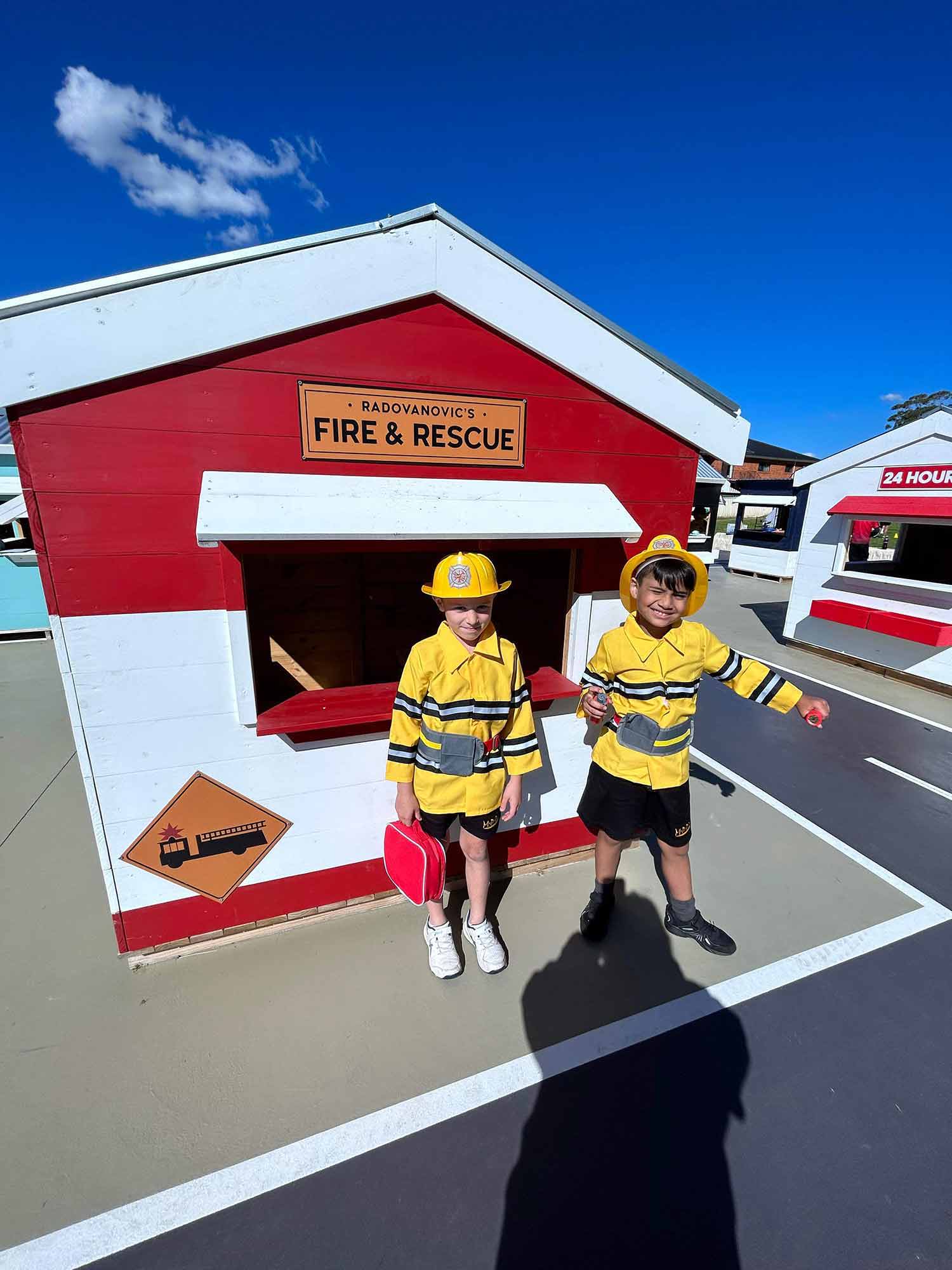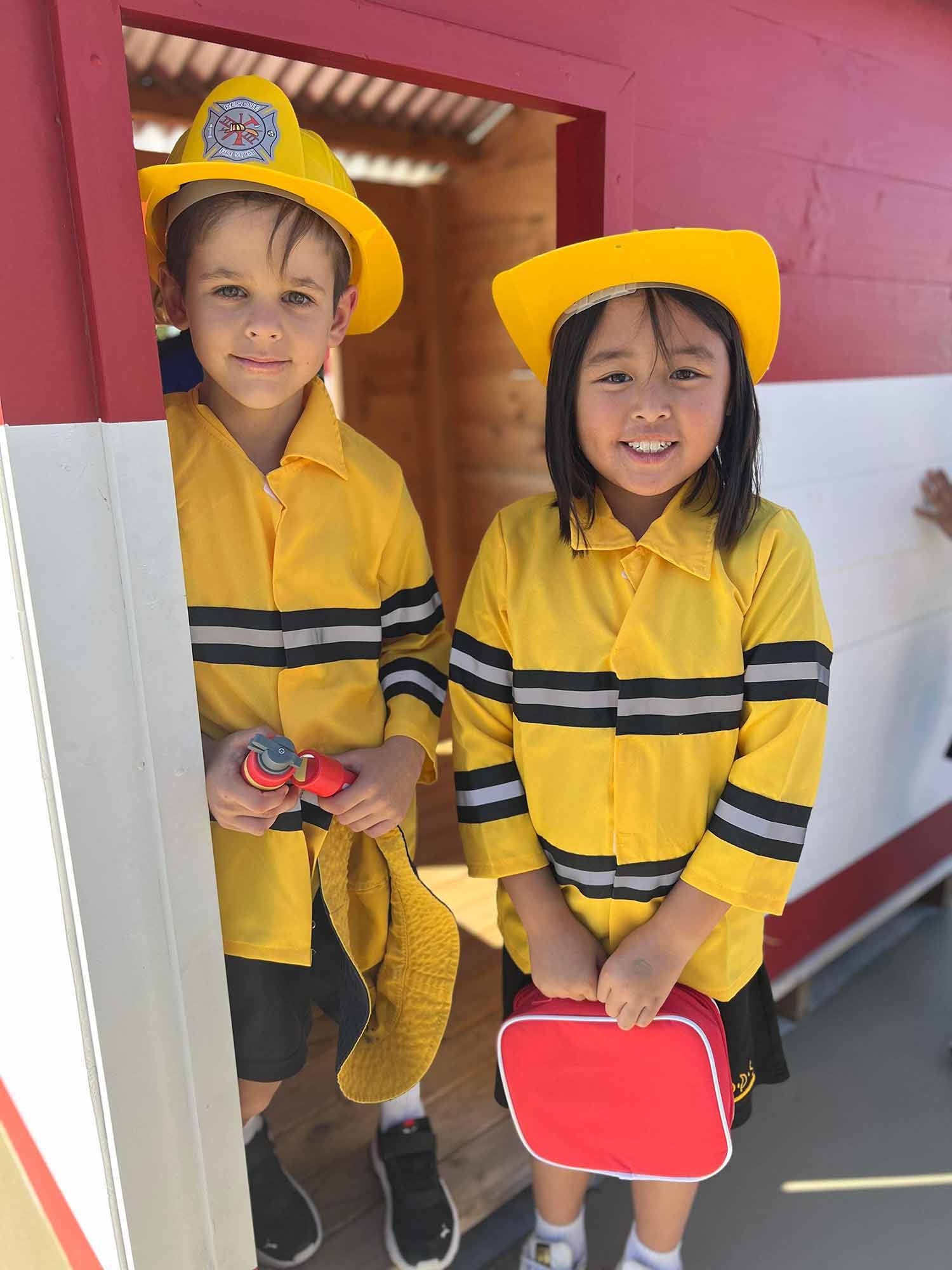 We spoke with Principal Natalie Piccinin about bringing their community together to design the Cubby House Village, how it all came together, how the kids are responding and how they're bringing imagination play into their classes .
Principal Natalie Piccini wasted no time after learning about the prize win. She immediately brought the community together to plan for their new Cubby House Village. They had recognised the transformative power and possibilities of an imagination play village to unite their school.
As Principal Natalie Piccinin put it "an incredible space where children could go and role play, learning about what's in a community, what are the type of services and businesses that are in a community and how it operates. An opportunity for role play across K to six."

After reviewing their budgets, saved funds, and fundraised cash pool, they decided to GO BIG or go home!

Watch the Mt Pritchard Cubby House Village In Action!
Designing their Cubby House Village 'Mt Pritchard Place' using a student-led technology competition
We wanted the students to lead the way in designing the new Cubby House Village. Our stage three students formed small groups and used various technology methods to design the village. Some of them used a virtual tour program to showcase the layout of the cubby houses and streets, which were named after our permanent teachers. Each building in the village was also named after a teacher, giving it a unique touch.

The students were incredibly creative in their designs, using technology, Lego models, and even paper mache to bring their concepts to life. We were amazed by their models and ideas! After careful consideration with the staff, we selected the best design that suited our school's vision.
The students had a chance to present their designs and explain the reasons behind their choices. It was an exciting and empowering experience, allowing them to take ownership of the project and contribute their creativity to building a remarkable Cubby House Village.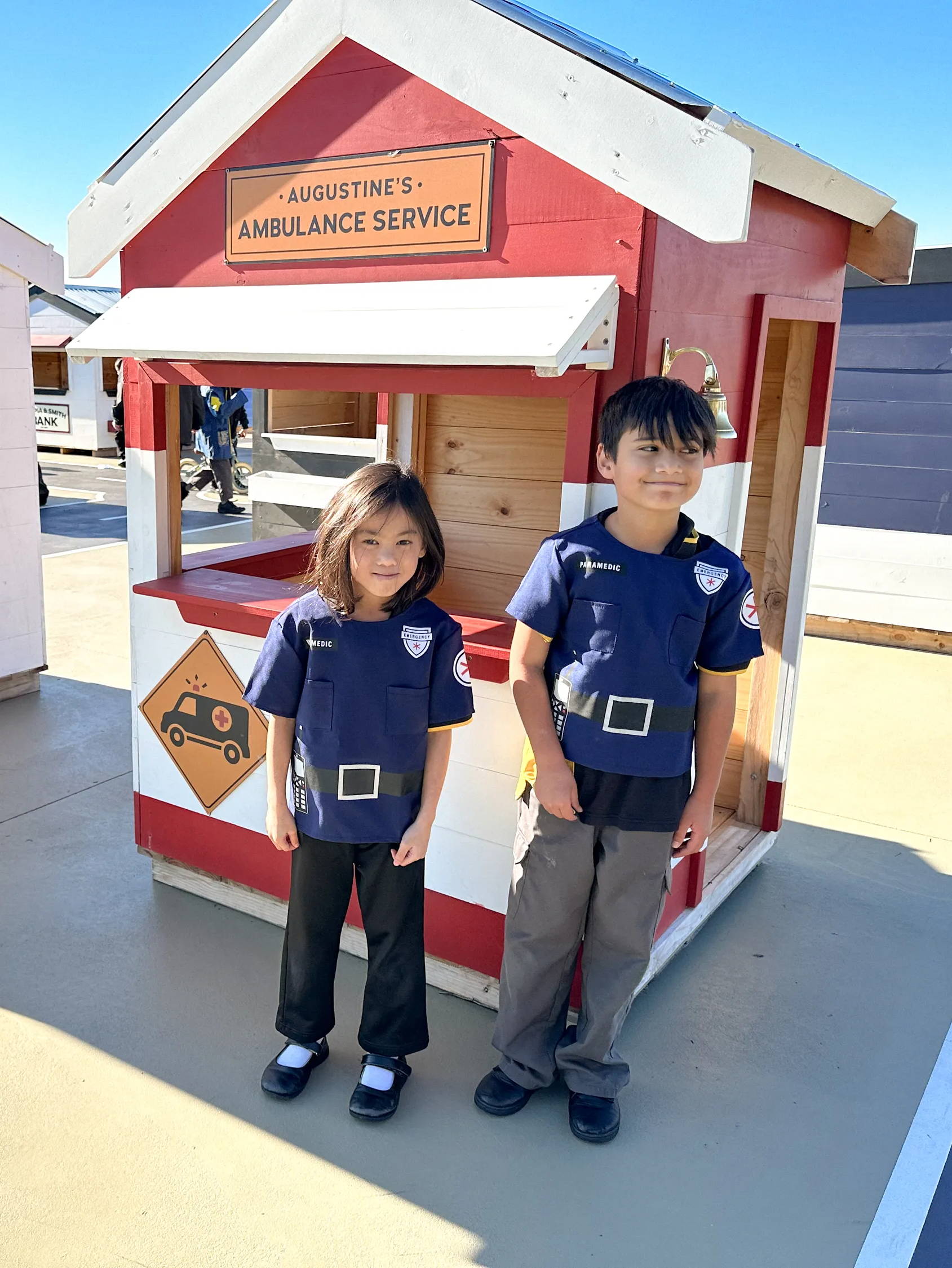 What was involved in installing the Cubby House Village project?
Installing a concrete slab at approximately 20 x 30 metres (600sqm) was no small feat and the single largest expense in this project. Is a concrete slab necessary you ask? No. I mean it is amazing of course, but our cubby houses and cubby villages, built with treated pine feet could be placed directly onto any well drained surfaces such as dirt, mulch, crushed rock and do just fine for many many years. The concrete pad in this instance was used to create a significant road for including bike riding skills and learning about road rules. You could perhaps achieve a similar outcome with just concreting in paths.

Once the concrete slab was installed we installed our Cubby Houses and then the excellent crew at Edu Marking came and painted a beautiful road to complete the setting.

If you would like more information about this project and the costs associated please reach out via phone 1300 505 278 or using our contant us form.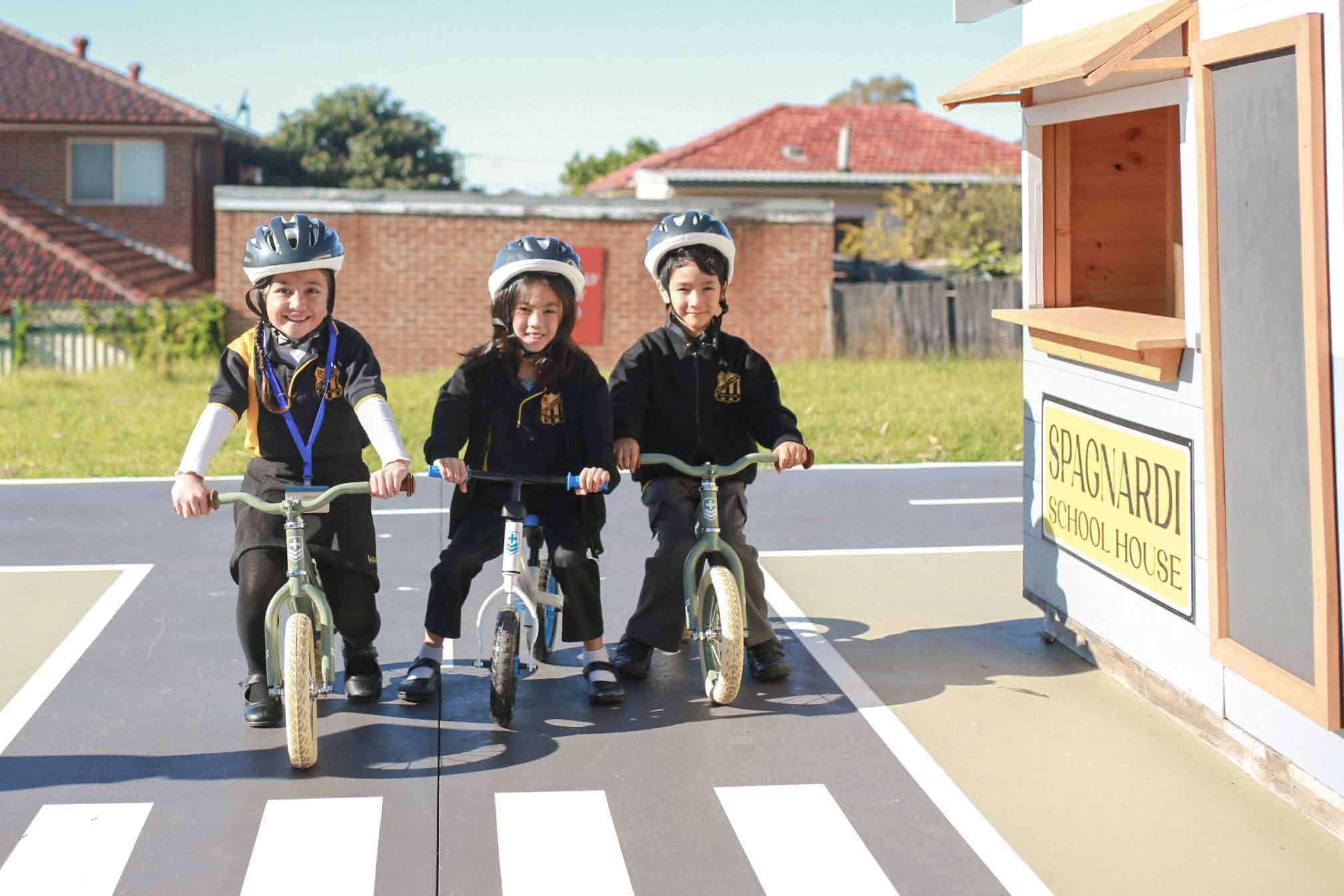 How Have the Kids Responded to the Cubby House Play Village?
As you would imagine the kids and the community including families and teachers have all been overwhelmed with the new cubby house imagination play village and are so very grateful to the leaders at Mt Pritchard for envisioning and championing such an incredible space to be used by so many kids in the coming years. They have been meeting up after school in the space and holding events near the cubby village also.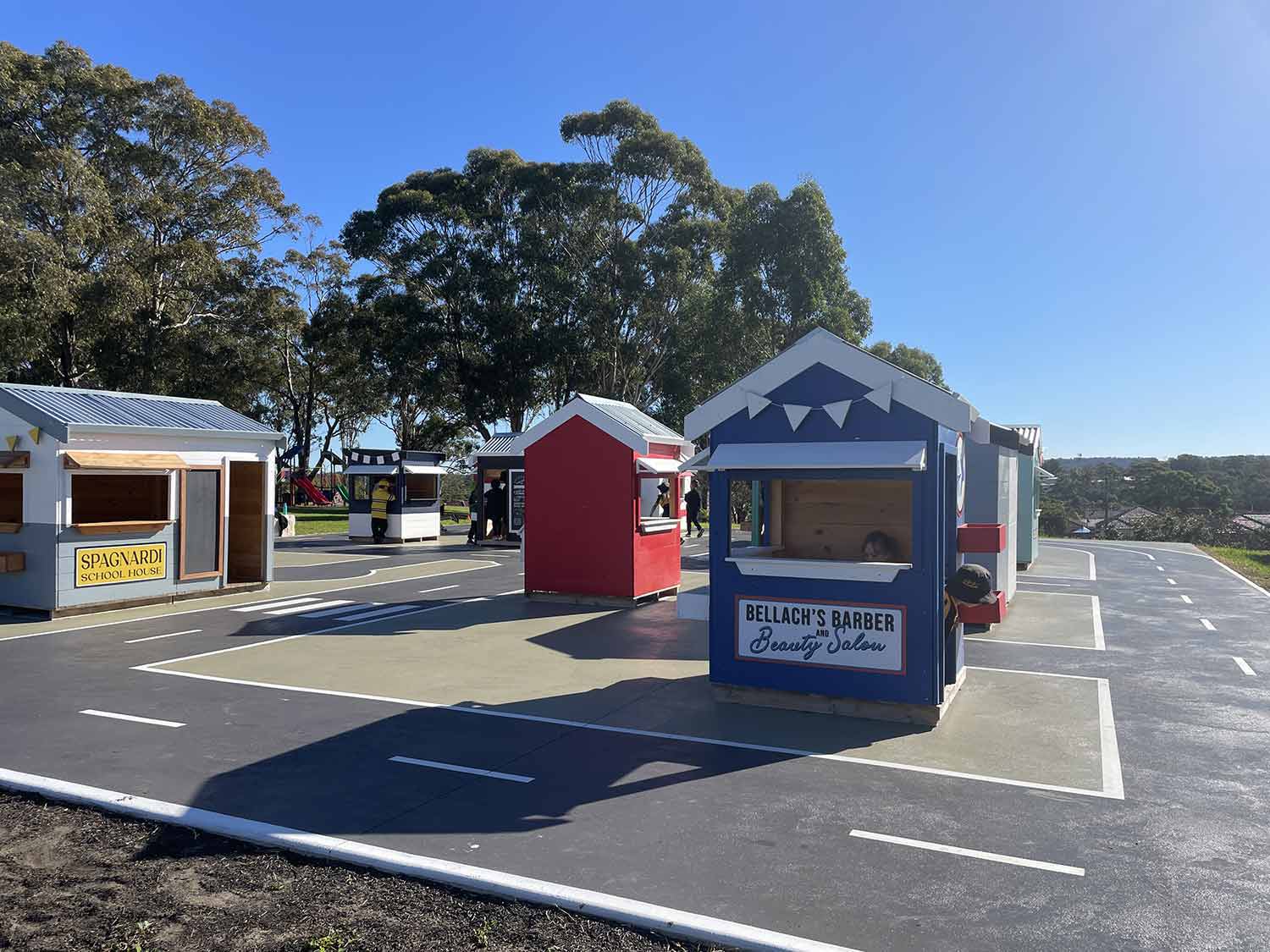 How are you Managing and Encouraging Play in the Cubby House Village? What extras have you added?
We allow different grades to take turns to use it, avoiding overcrowding and ensuring everyone gets a chance to enjoy it.
We went all out to enhance the experience by purchasing costumes for various role-play scenarios. From police officers to ambulance paramedics, hairdressers to vets, we equipped the village with all the little paraphernalia to make the imaginative play truly immersive and engaging.
Our senior kids took on the responsibility of organising the costumes, ensuring they are well-maintained, and putting them away in designated crates after each play session. We implemented a roster system for the grade sixes, so everyone knows their turn to bring out the crates and set up the play area. It's a wonderful way to encourage teamwork and a sense of ownership among the students.
But that's not all! We also have dedicated times for each class to take their students to the Cubby House Village for community learning. Our kindergarten to year two students have their special times to engage in role play and learn about what's in a community. It's like a scaled-down version of the bigger community, where they can explore various roles and understand the importance of community members and services.
The students absolutely love these community-focused sessions. It has been a bit challenging to keep other kids away when it's not their turn, but they are gradually adjusting to the schedule. Overall, the Cubby House Village has become an amazing addition to our school, blending fun and learning seamlessly. It's a place where our young learners can let their imagination soar, discover the essence of community, and create lasting memories.
Are your Teachers using the Cubby House Play Village as Part of your Classroom Curriculum?
The Cubby House Village has become an exciting space for not just playtime but also for enriching classroom activities. Our K-2 staff takes their classes down individually, with allocated time to use the space to support various aspects of the curriculum.
You might wonder, what kind of curriculum activities do they engage in within the Cubby House Village? Well, it's quite diverse! For instance, the space is perfect for history lessons, where students explore the concept of community and our place within it. They learn about the different services that support our community, such as the police, fire department, and hospitals, and gain a deeper understanding of their roles and significance.
The Cubby House Village plays a vital role in our social, emotional, and cognitive development goals. It aligns perfectly with our focus on developing personal and social capabilities through play. From a young age, our students learn how to be self-aware and socially aware, developing social competencies that will serve them well in life.
The older students benefit too, as they learn essential life skills such as taking turns, understanding different roles in society, and how to relate to others. The village serves as a hands-on platform for experiential learning, bringing classroom concepts to life in a fun and interactive way.
Additionally, we have a dedicated program called the School Readiness Program for transitioning students or what we fondly call "prep kids." Three days a week, they visit the Cubby House Village as part of their preparation for the upcoming school year. It helps them ease into the school environment, promoting a positive and exciting start to their educational journey.
The Cubby House Village has become an integral part of our educational approach, fostering a love for learning, creativity, and social growth among our students.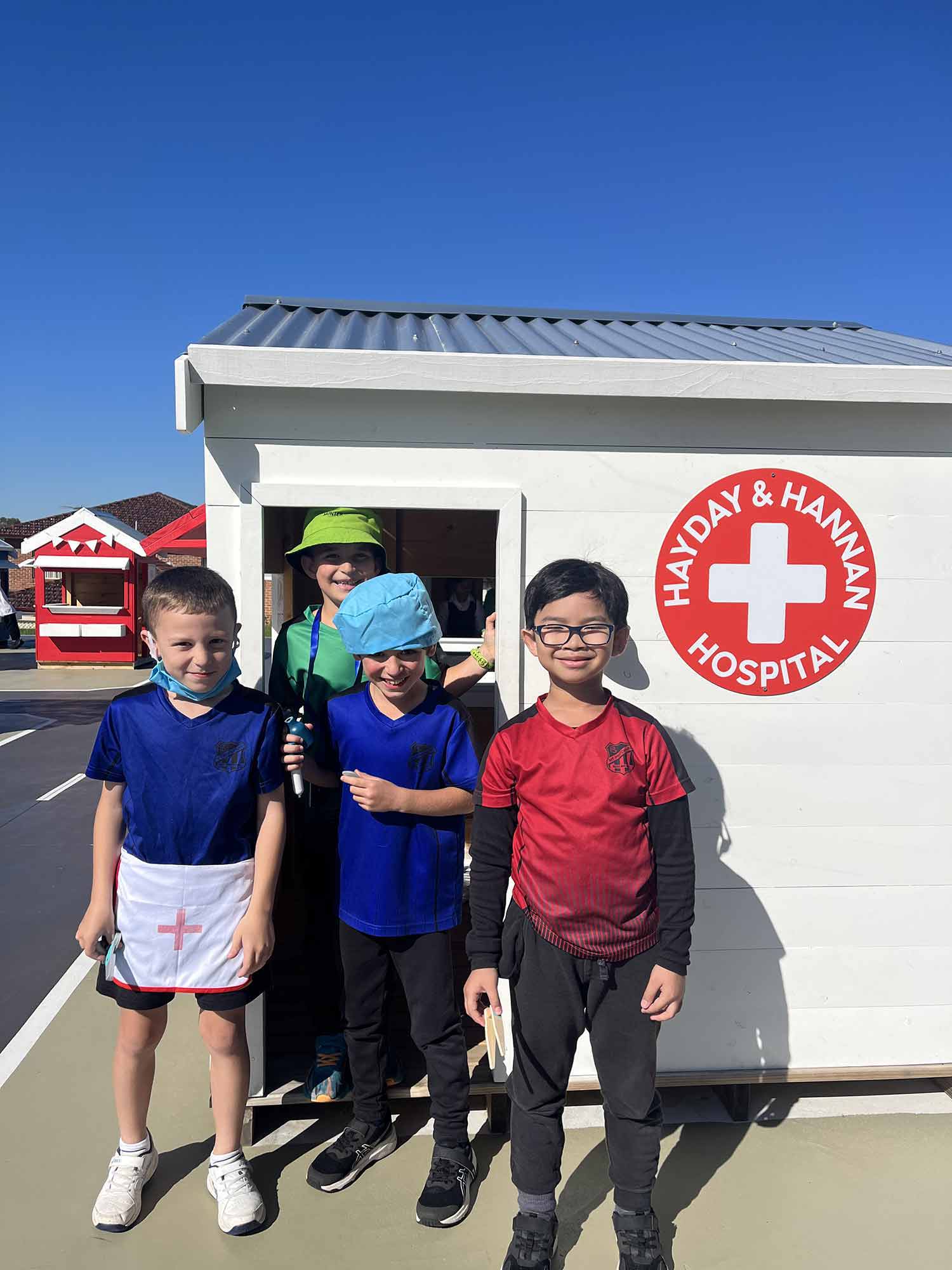 What are Some of the Most Joyful Outcomes you have Witnessed in the Cubby House Play Village?
One of the most delightful things we've witnessed in the Cubby House Village is the abundance of role play and imaginative scenarios that unfold. It's heartwarming to see our students fully immersed in their roles, pretending to be teachers, hairdressers, or even police officers, all with such enthusiasm and humor. The language used during these play sessions is especially fascinating, given our school's diverse cultural background.
With 87% of our students coming from non-English speaking backgrounds and representing 32 different nationalities, the Cubby House Village becomes a lively space where they express themselves in various languages. Many of our parents work in professions like hairdressing, nursing, or the police force, and the children mirror their parents' roles in their play. This brings a beautiful interplay of culture and creativity to the scene, as the kids pick up phrases and mannerisms from their families and friends.
It's a sight to behold as they watch and learn from each other, imitating those around them and building their confidence to express themselves in a creative space. Witnessing these interactions, it becomes evident that children learn about the world by mirroring the world they see around them. The Cubby House Village becomes the perfect stage for them to practice the language and conversations they've observed in their daily lives, fostering their language development and social skills.
The staff's engagement with the space has been truly remarkable as well. They are fully invested in the children's playtime, encouraging their imagination and supporting their growth. It's evident that the Cubby House Village has become a cherished and integral part of our school community, sparking joy, creativity, and meaningful connections among our young learners.
In the Cubby House Village, language and culture intertwine with play, creating a vibrant and inclusive environment where every child's voice is celebrated, and their confidence soars. It's a place where learning, laughter, and imagination unite, leaving an indelible mark on the hearts of all who experience its magic.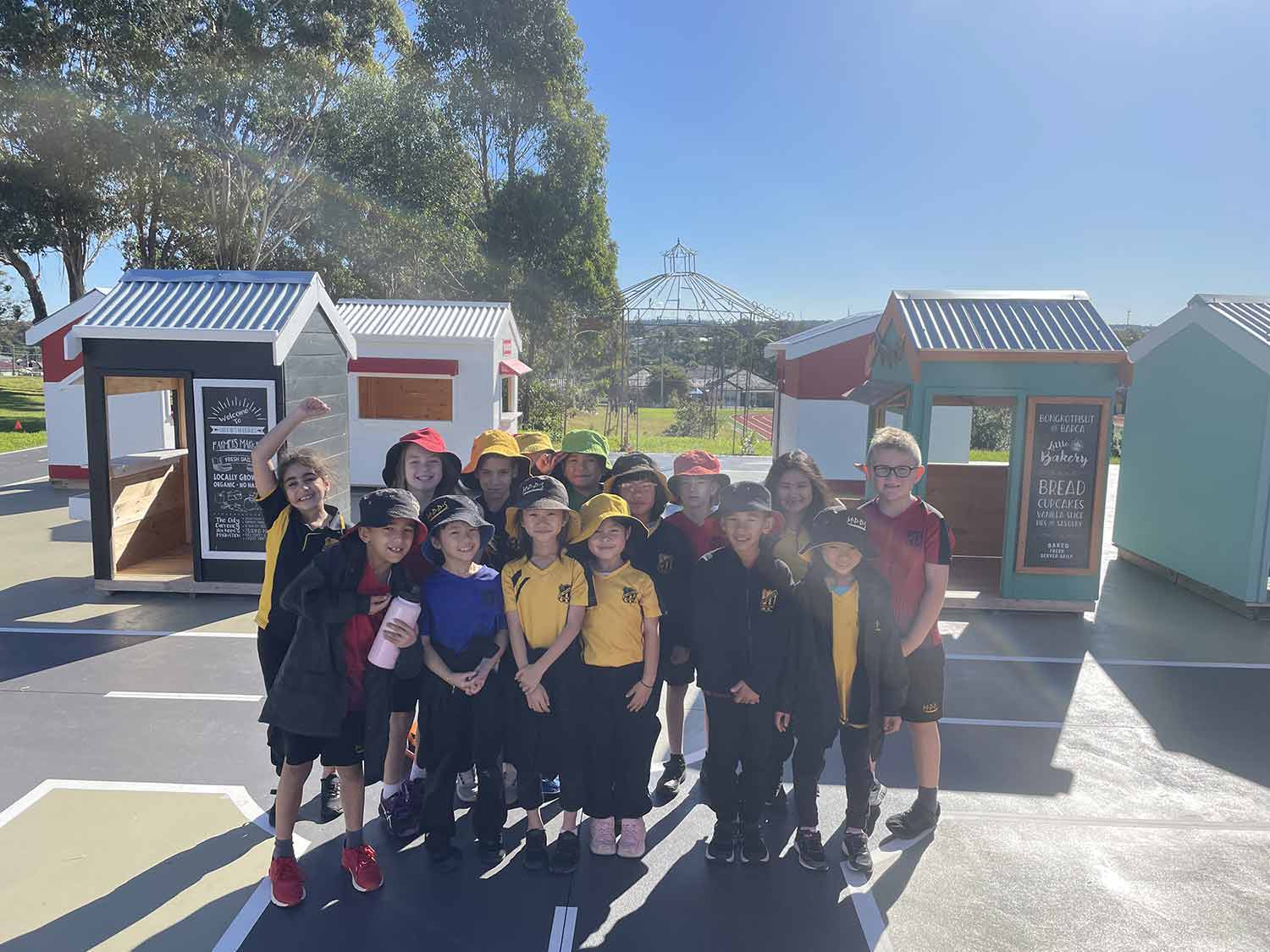 LEARN ABOUT PLAY-BASED -VILLAGES FOR YOUR SCHOOL
LEARN ABOUT PLAY-BASED -VILLAGES FOR YOUR SCHOOL
Peruse our Villages catalogue below and reach out to discuss setting your kids up for successful transitions and a world of imagination!
Would you like a call back?
Book a 15-min slot in our calendars at a time that suits you and our Directors will call to chat about your space.
Would you like a call back?
Book a 15-min slot in our calendars at a time that suits you and our Directors will call to chat about your space.
Or send us an enquiry and we'll respond via email.